An Indian bride wears a minimum of sixteen kinds of accessories.(Solah singar). You feel that is quite a lot to take?  Let us decode the Indian bridal accessories here. Let us talk about Indian bridal hair accessories which includes jewelry like the Maang tikka, juda pins billas etc. So what are the hair accessories that you should pick up? Here is a detailed list.
1. Maang tikka and Matha Patti
The maang tikka and Matha patti has many avatars depending on what kind of Indian bride you want to be. While antique jewelry and temple jewelry styles look beautiful with Kanjeevaram sarees diamonds and Kundans rock the stage in a Banarasi saree or a lehenga.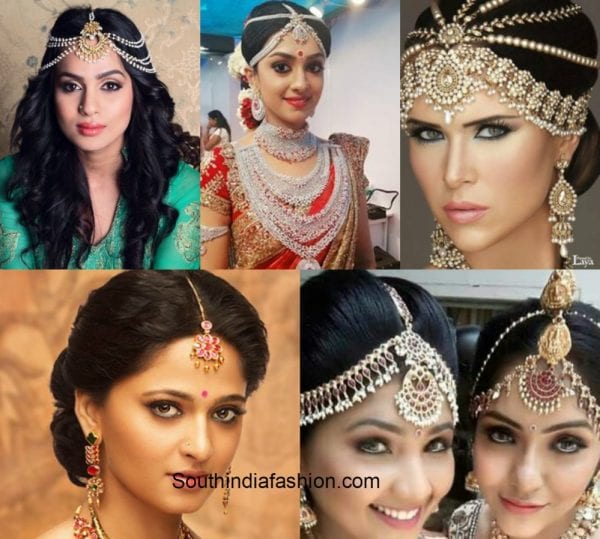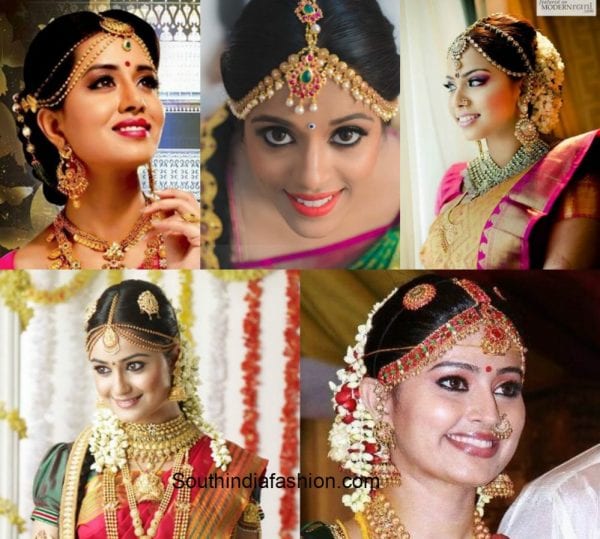 2. Raakodi / Juda Pins
South Indian brides are more inclined to braids than buns. So Rakodi or the billas are a trademark. These Rakodis are used at the start of the braid similar to a juda pin. A juda pin makes the bun looks literally royal with all the bling in it. So the brides who are trying a bun for their big day do not forget to pick out the kundan and polki juda pins.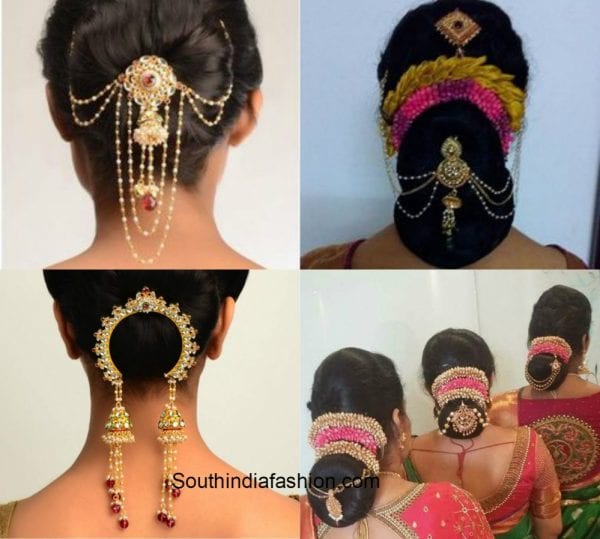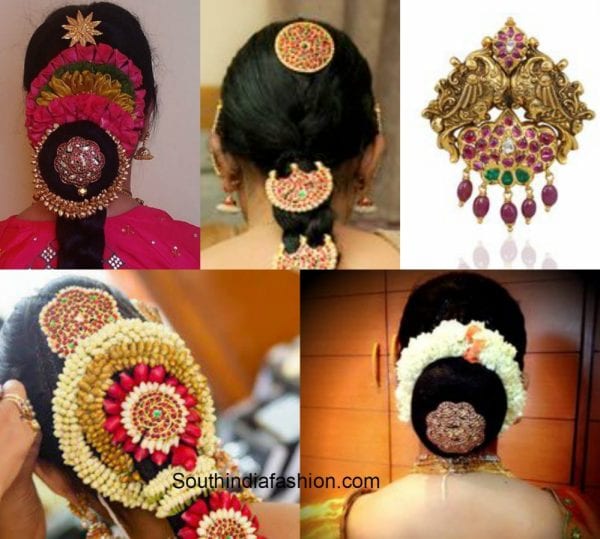 3. Jhoomar/Paasa
An apt accessory for especially your lehengas and Shararas this is a must have bridal hair accessory which would transport you back to the royal era.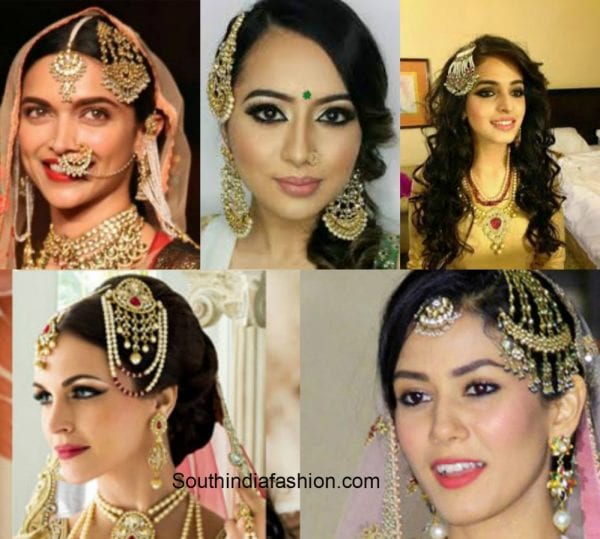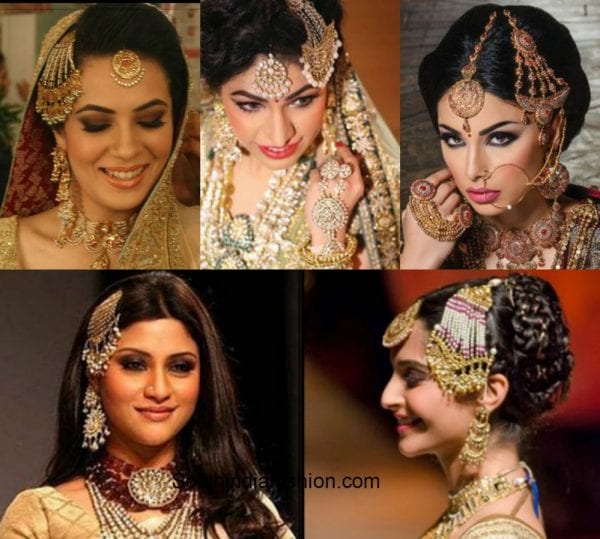 4. Veni and the flowers
Hair do with flowers was the mantra of brides. Now trends have changed and the flowers have reduced. Instead venis or intricately woven flowers in a semicircular pattern. This is now done with fake flowers too so it can match your saree.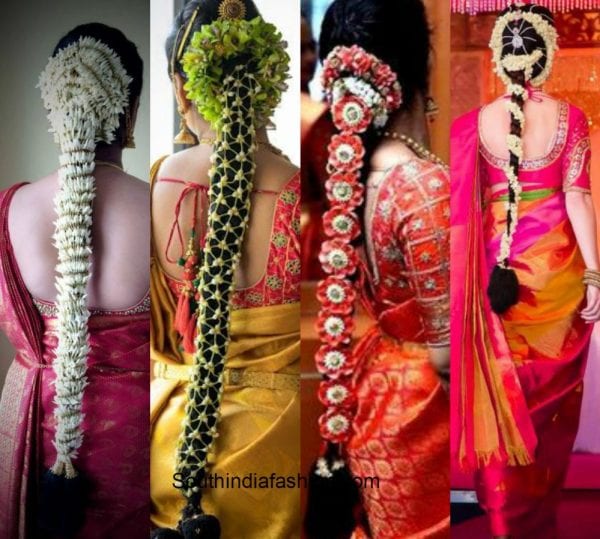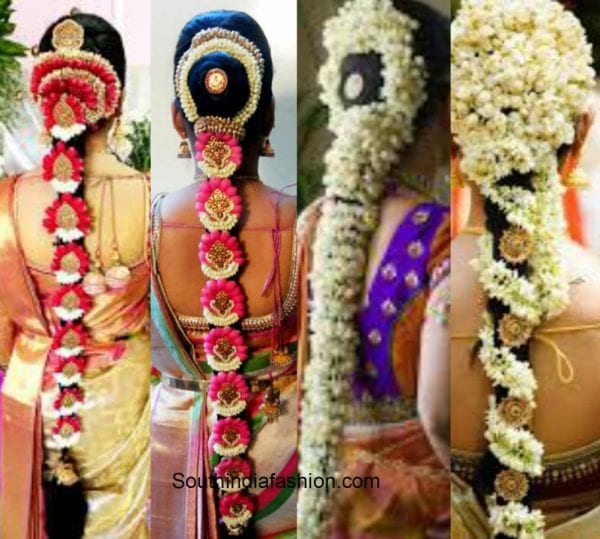 5. Stones for the braid
When you have a long braid for the wedding then it looks plain without any bling. So billas or stone jewelry is added to your braid in each leg giving it a fancy look.  They come in various kinds including temple jewelry to diamonds.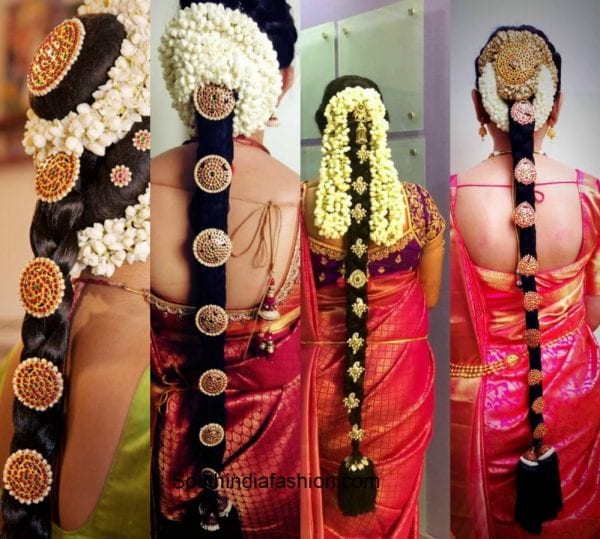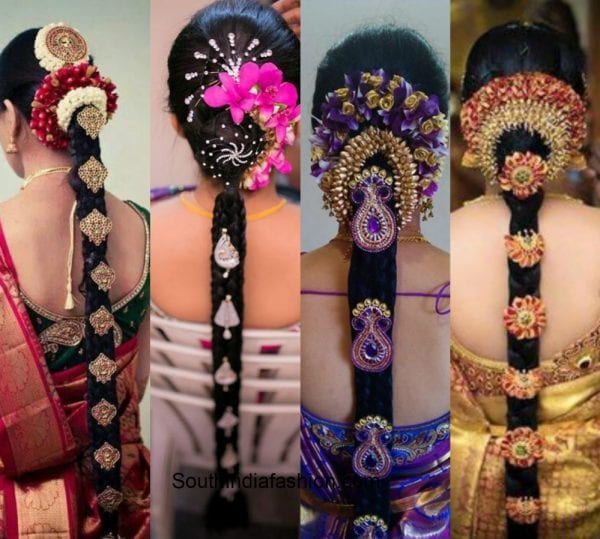 6. Jeweled braid
More than adding a stone for each leg of your braid you can cover your entire braid with this jeweled strip that makes it look like you have a braid of antique gold or diamonds. Best with Kanjeevaram sarees.
7. Tiaras
Tiaras look royal and glam with the pretty ball gowns for receptions. Floral crowns have now become a hot favorite for the cute mehendi ceremonies worn by brides and their entourage alike!
So ladies all these bridal hair accessories are a must have. Any haircuts, try doing it atleast a month before the big day. Go for regular hair spas and keep your hair nourished.  Remember to take care of your hair for D day!!