You really like all your mom's silk saree that are hanging on her wardrobe, don't you?? As the silk sarees are so rich you can wear them only on specific occasions but what if we tell you that you can recycle silk sarees and create some amazing wedding outfits from it?? Excited?? Well if your mom is ready to give few of her silk sarees to you then here are some tips on how you can create stunning wedding outfits by recycling old sarees.
Kurta
If your mom old silk sarees are destroyed from one part then you can reuse old sarees by creating a short top or long kurta out of it, depending upon the fabric size. You can easily wear the silk short kurta or top with a long ethnic skirt to any wedding function.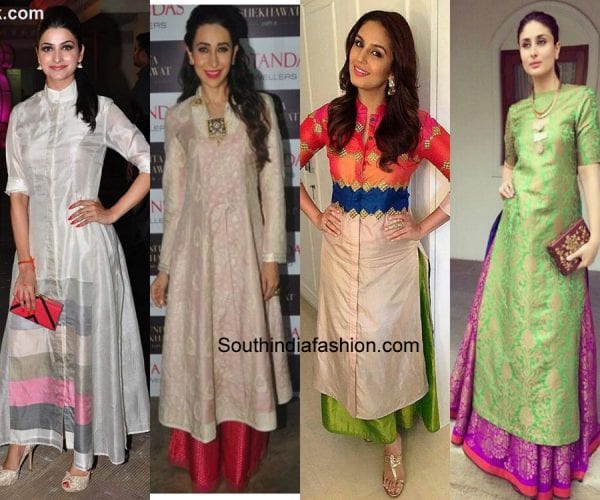 Ethnic Skirt
You can very easily recycle old sarees into an ethnic skirt. You can either choose to create a full flared skirt or the panelled one depending upon your choice of fashion. You can wear the skirts with off shoulder tops or trending crop tops to the wedding.
Dupatta
This one is the easiest thing to do by reusing old sarees and will also look the best. Tear the saree in a dupatta size, like approx 2.5 meters and you can wear it with any silk kameez. Its even better if you wear a simple and plain kurta and team it up with the silk dupatta made by recycling old sarees.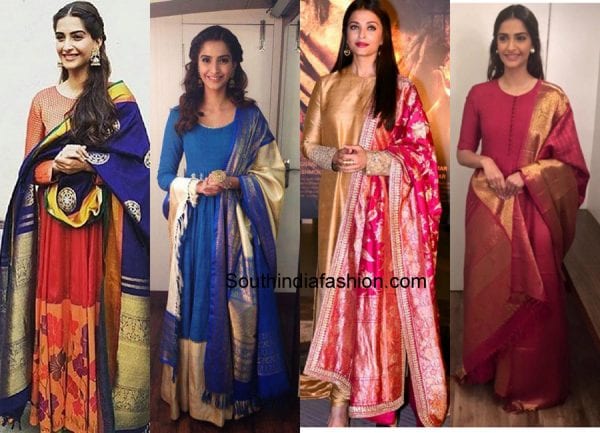 Wide Legged Pants
So, you thought you can only create ethnic outfits with your mom's old silk sarees? Then you need to certainly change your mind as you can create stunning wide legged pants by reusing old sarees. You can wear these pants with smart collared shirts, crop top or kurtis.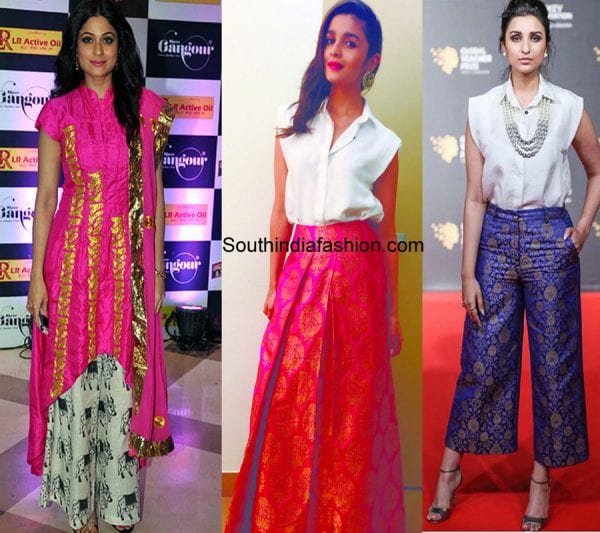 Dhoti Pants
Yes, you can even ask your tailor to create nice dhoti pants from your mom's old silk saree. You can team the dhoti pants with silk kurta or top. But if you are short heighted then please don't go for this option and ruin your mom's prized possession. The dhoti pants have multiple pleats and hence it make the people wearing it look shorter.
Anarkali Suit
This one again is a good option of wedding outfits that you can create from your mom's old silk saree. Any silk anarkali suit will certainly cost you more than Rs. 10,000. So, reuse old saree and make some smart move here and save good money for yourself. If the saree material is not enough to make both kameez and churidar out of it then you can just go for the kameez and wear it with some matching bottom like cigarette pants, palazzo, leggings etc.
Every woman is very much attached to all their sarees especially when it is a precious silk saree. No one would like to keep them hanging in their wardrobe just because of a slight stain or any other defect, hence the best way is to recyle them and we have already suggested you some great ideas for the same.