These days everyone have the craze for online shopping and why not when you get the best designs at lucrative prices. It's not only about the prices or designs but it's also about shopping from the comfort of your home or office. The best thing about online shopping is if you don't like the product you have all the freedom to return it and get the amount back to your bank account. But still there are few such types of apparel in which you have to keep certain things in mind while buying them online. One such apparel is saree blouse, but don't you worry as here we are sharing few tips on things that you need to know before buying blouse online, read it:
Take the Correct Body Measurements
While buying blouse online, make sure that you take the correct measurements of your body. In fact you can also leave a bit of margin while noting down the measurements. As the body size keeps on changing, its always good to keep an extra margin for your saree blouse. Note the bust size, cup size, above around bust size, arm holes, length of sleeves, length of blouse, depth of front neck and back neck and then finally enter these details in the form provided by the online shopping site.  Also if you have anything specific to mention like you want zipper instead of hooks in your blouse then you can always write an extra comment about it.
Check the Size Chart
Its very important that you check the size chart of each blouse that you want to buy rather than thinking that all the blouse will be having the same size chart. Every brand has a different size chart and if you are buying 3 blouses, each of different brands then you have to take your measurements and then check from their measurement charts. Might be possible that as per your measurements, one brand size chart is showing size 38 and the other is showing size 40, so for one you will tick on size 38 and for the other you will pick size 40.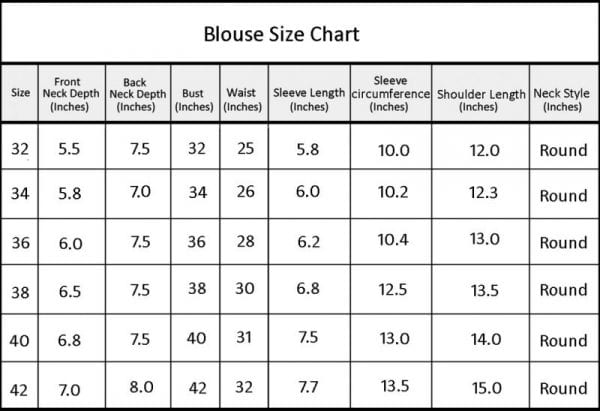 Check the Fabric
Rather than just focusing on the color of the blouse, its also very important that you check the fabric of each blouse before ordering. Like say you want an orange blouse to match it up with a wedding saree, so you can't just pick orange cotton blouse as it would look odd with a wedding saree. You need to check the fabric and work of the saree and then choose the blouse fabric smartly, so that it doesn't looks odd when paired them together.
Check the Return and Refund Policy
To be on a safer side, it's always good that you check the refund policy of the seller before buying blouse online because if incase you don't like the product then it will become a headache for you to return it if the return policy is not in your favour.
Avoid Buying Readymade Blouses Online If you Don't Know your Measurements
If you don't know your body measurements or you don't know how to take your correct body measurements then avoid buying readymade blouses online.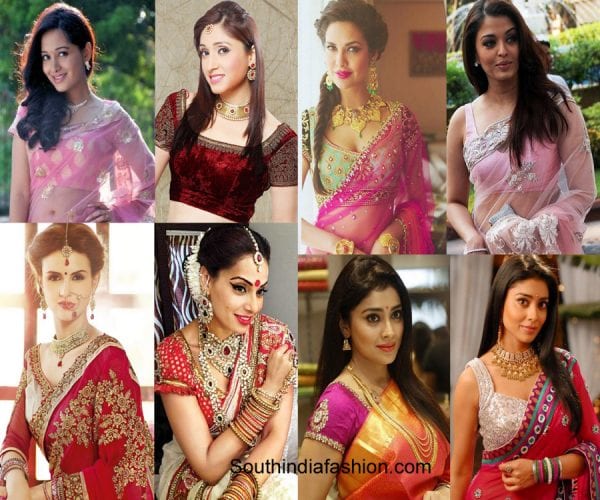 Check the Reviews
Last but not the least, always check the customer reviews about the product that you are going to buy as it may help you in making your decision. You can check the customer reviews on the seller website, their facebook page and other social media accounts.
So, there are 6 useful tips to keep in mind while you buy blouses online, hope this will help you in your next online shopping.