With so many weddings to attend in the coming days, it's time to take out all the lovely sarees from your closet. Sarees are evergreen and no other outfit can make you look as graceful as you can look in a saree. Whether it's gold dipped Kanjeevaram or light weighted chiffon saree, every saree brings the best out of a woman. The most amazing thing about saree is that you can wear it in various styles and create a new look everytime. So, if you are confused about how to wear a saree in various weddings then check this post where we will tell you 6 amazing ways to style your saree.
Pant Style Sarees
If you don't want to get a complete traditional look for the wedding then you can try Pant Style Saree. This style was introduced by the popular Indian Fashion Designer, Anamika Khanna. This Saree Style is quite easy to wear as compared to the regular draped saree. All that you need to do is say good bye to the petticoat and wear legging or slim pants. With legging and straight pants, you can drape the saree in dhoti style. Saree in Pant Style looks quite contemporary and fashionable.
Lehenga Style Saree
If you want to carry a lehenga look to the next wedding you attend then you can style your saree in lehenga style. If you don't know how to do that then you can also buy a readymade lehenga saree which will give you exactly the same look as the lehenga. You can take the dupatta as you want, in traditional style as sidha pallu or you can also drape as saree style ulta pallu.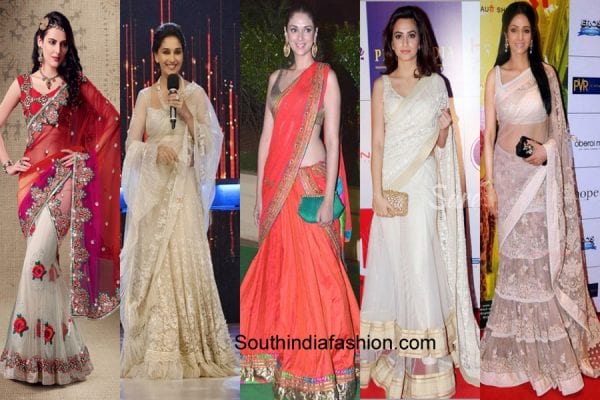 Saree as Gown
If you love to flaunt the pallu of your saree everytime then this one is just for you. This style of saree is actually a western gown with a pre-stitched pallu attached. You can wear this look to the Hen party and set the oomph factor too higher.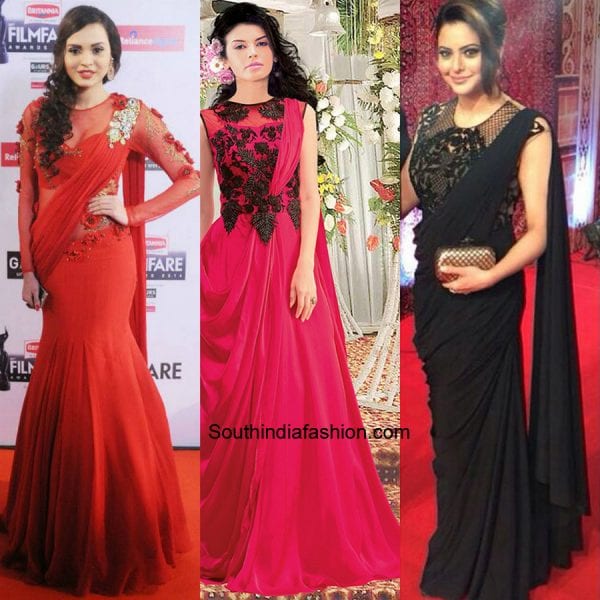 Double Pallu Saree
You must have heard of double lehenga dupatta but Double Pallu Saree?? Confused?? Well, this was the style which Sonam Kapoor made popular by constantly draping a saree in double pallu style. To get this look, all that you need to do is carry one pallu in the normal ulta pallu style and second pallu you can just rest it on the right shoulder or you can wear it as double sided dupatta.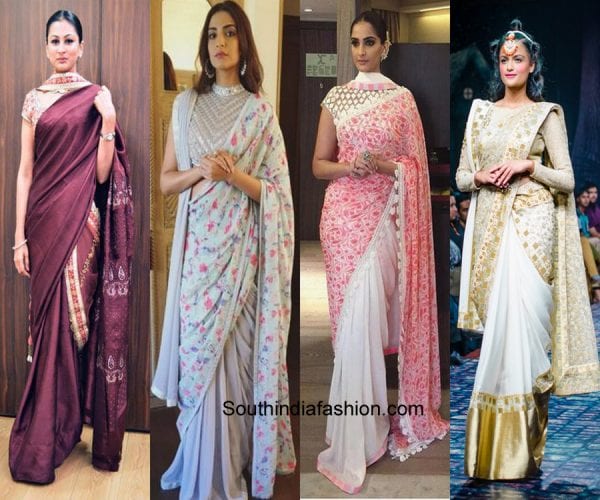 Saree Styled With Belt
You can either pick an Indian style kamarbandh or if you want to get some fusion look then you can tie up your saree around the waist with a western style belt.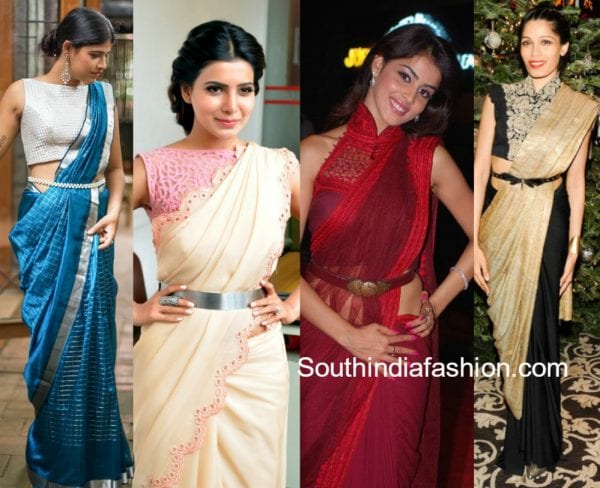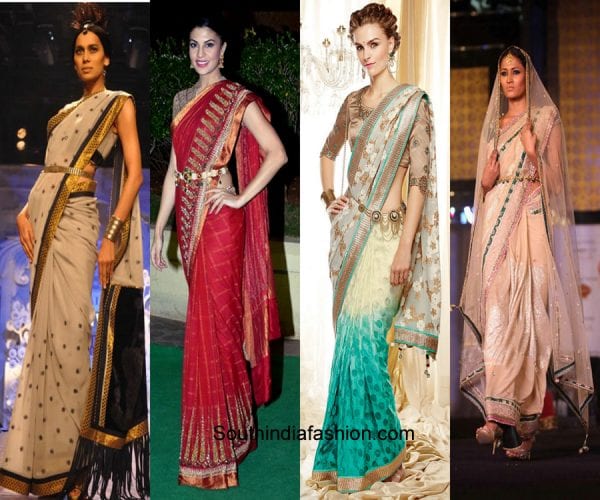 Team Up with Designer Blouses
Designer Blouses can add wonders to even the simple looking saree. You can team up your saree with different designer blouses like boat neck blouse, high collar blouses, sheer blouses, maharani blouses etc.
Try out these 6 amazing ways to style your sarees and watch out for the number of compliments that you will receive.