Saree is one of the most loved outfits which have gone through constant changes from time to time. The best part of the saree is its versatility and that's the reason why this traditional Indian outfit is still ruling the fashion world. You can drape a saree in so many ways, creating a new look every time. You can find a saree in number of fabrics like georgette, silk, net, crepe, tissue etc. But when it's an evening or night party every woman prefer to drape a net saree. But before you wear a net saree to any party, here are few tips to wear a net saree which you surely need to follow in order to avoid any kind of embarrassment in public.
Don't Pleat the Pallu
The entire look of a net sari will get ruined if you pleat the pallu. The best thing is to leave the pallu and let it flow so that the net pallu work in displayed completely.
Choose the Petticoat Wisely
The satin fabric has a shine feature which makes it the best thing to wear underneath the net saree. Always choose the best matching satin petticoat with your net saree. The normal cotton petticoat can ruin the entire grace of a net saree. You can also wear shimmer petticoat as it have a glittery feature which enhances the look of plain transparent net saree. Also one important thing is that with net sarees straight fit or fish tail cut petticoats are paired rather than the regular wide ones. 
Tie it Around the Waist Bone
The net saree already have the transparent feature and hence it's not necessary to reveal too much otherwise. Place a perfect balance between elegance and glamour by not tying the sari too high or too low; instead tie it around the waist bone.
Keep Makeup to the Minimum
You don't have to dip yourself in the makeup. Let your net saree do wonders for you, the excess make up will only make you look too gaudy. Keep the makeup simple so that you net saree could receive all the attention.
Pleat it Right
While you pleat the saree make sure that you pin it perfectly. If you don't pin it neatly then you might slip off while walking.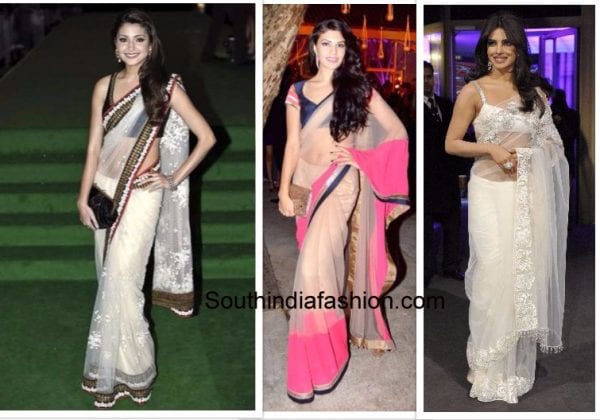 Perfect Stitched Blouse
When you are wearing a net sari, you need to be extra careful with the blouse. A perfect stitched blouse will cover all the flaws of your upper body and give you a nice fit. Also make sure that while you wear the saree, your bra strap should not be visible as it would look odd. You can ask your tailor to add snaps inside the blouse shoulder to hold the bra strap.
So now when you know all the tips to wear a net saree just follow the above tips and rock the party in net sari without worrying about any oops moment.