Kanjeevaram sarees are a must have in every woman's wardrobe. They can be segregated as bridal sarees, Kanjeevaram sarees for cousin's weddings, Kanjeevaram sarees for functions and the list is endless. There is some charm to it, that is why this is one of the prized possessions for all. There are some classic combination Kanjeevaram sarees that everyone should have.
The yellows
Yellow is a standard color when you are choosing a Kanjeevaram saree. Bright yellow, mango yellow the choices are endless. The classic combo includes yellow with pink border, yellow with green border and yellow with maroon border. You can tweak those border colors a little but an yellow Kanjeevaram is a must have!!!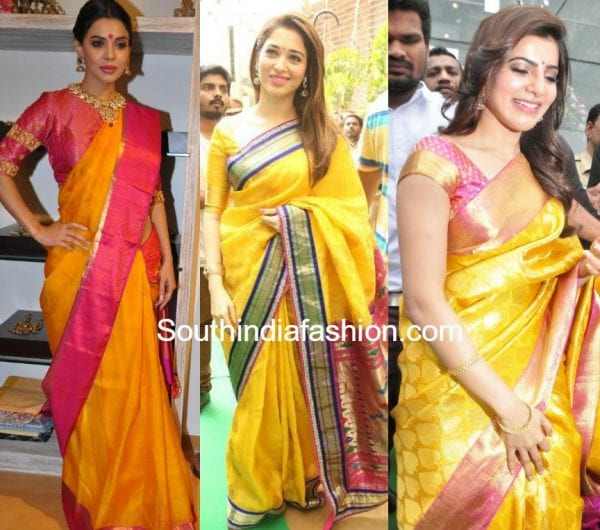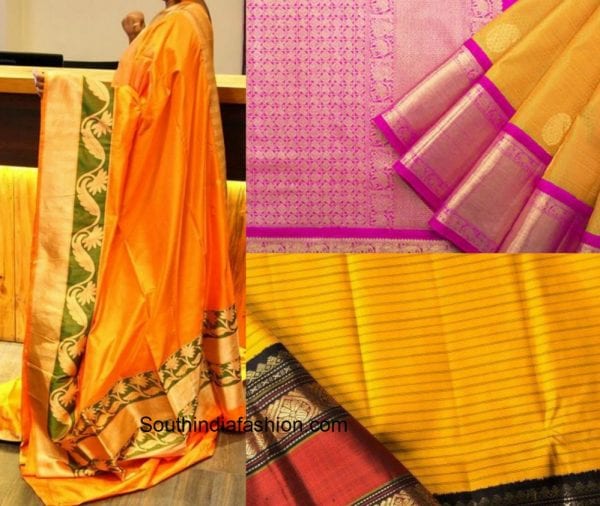 The Greens
Another classic and preferred color for Kanjeevarm sarees the green Kanjeevaram with the maroon border had ruled the hearts of many. Equally does the parrot green with purple/blue borders.  These are very apt for weddings of family as you need to be in hard core traditional attire.
The pinks
Pink is one of the hot favorites for brides now a days who are moving away from the reds and maroons. Pink Kanjeevaram sarees with heavy zari work and gold border is a great choice if you are a bride to be or a bridesmaid to be(provided the bride is not wearing pink!!)

The blues
Kanjeevaram sarees have a special trademark blue. The MS blue. So a blue Kanjeevaram is a must buy. The MS blue with a maroon border is an epic combo. Apart from that the blue with green, gold and pink borders are also a steal!!!
The Maroons and Reds
The go to color for every bride and is called an auspicious color. They complement everyone and look stunning with contrast or zari borders.
The Golds
The most opulent of all, adding richness to the already rich Kanjeevaram saree, a gold color one is something that can be worn as a bride or for any other wedding. You can dazzle up the quotient with the jewelry!!
Whites and Blacks 
Whites, Blacks are other options of Kanjeevaram sarees that you should have in your wardrobe. They are evergreen and perfect.  Try contrast blouses to break the monotony!!
An important thing to remember with Kanjeevaram sarees is try to go OOT with the blouses. The bling makes the saree more beautiful. You could have more than one blouse option for each saree that would give you a new look. Invest in some traditional temple jewelry pieces. They work their magic when teamed with Kanjeevarams. So ladies hope you have started making a checklist already!!!