In South India Kanjeevaram sarees dominate every function. Vibrant colorful hues of these sarees makes everyone look and feel so beautiful. Our ladies love flaunting them. Kanjeevaram sarees have evolved over the years to suit the mood and taste of the generation. However the penchant for heavy border Kanjeevarams has not changed much.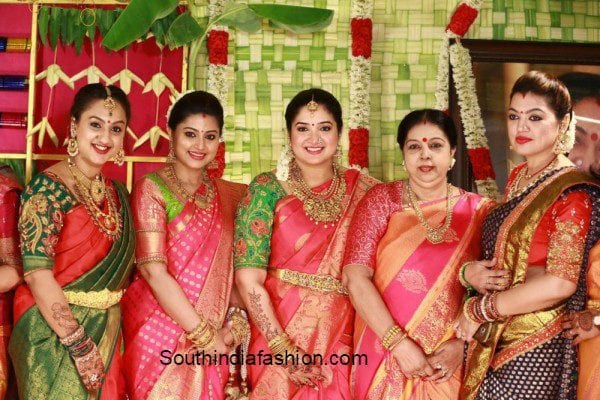 In the earlier days the wealth of a person was showcased even in the heaviness of the sarees the women wear. So a lot of gold, silver were added to the zari of the Kanjeevaram saree. This OOTD reflected in Bridal sarees where the heavier the border, the bride was considered to be more opulent.
Heavy border sarees look very regal and they are a bride's best friend. They come in a variety of options like a heavy gold zari border that makes you soak in bling and gives you that oomph when you pair it up with antique gold jewelry.
The contrast borders are equally fabulous and they give you that pop of color that you are looking for. You can try out multiple blouse options with such sarees like a contrast color blouse, a gold blouse or even a two tone blouse that features both colors of the Kanjeevaram saree.
Earlier these heavy borders used to have the motifs like rudraksh, peacock, lion motifs. These are the most popular and are sought after even today. Now a days these have been modified to make it more modern.
You should have some exotic heavy border Kanjeevaram options. This would make you stand out in other weddings where you cannot wear your wedding saree.
Pair it with good jewelry and  take the traditional route with the accessories. This look will surely be a hit!!!