Saree is one such outfit which is the weakness of every girl and women. Every girl wants to own the maximum number of sarees. India is one such country where you can find different variety of sarees in each State. Let's have a look at 8 saree types from different states of India which you must have in your wardrobe.
Banarasi Sarees from the city of Ganges, Varanasi
This is one of the oldest and richest textile of India. The silk is hand woven and then the 9 yard saree is made. Owning the silk sarees not only adds to the royal factor but its also like holding an ancient art in your fashion closet.
BUY BANARASI SILK SAREE ONLINE HERE!!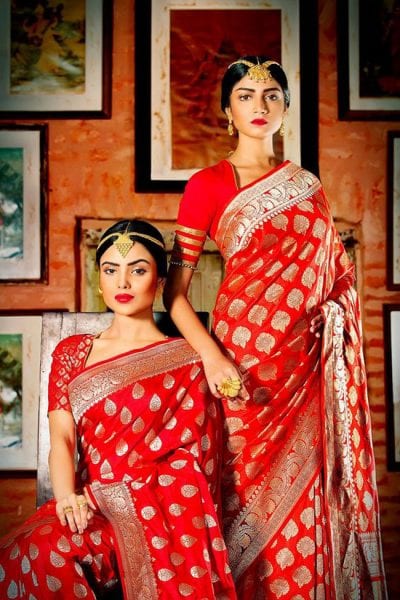 Ikkat Saree from Orissa
Again this is an age old art of India, Ikat or ikkat is double weaved fabric that is woven in the silk and cotton sarees. You must have atleast one period outfit like Ikat saree in your wardrobe.
BUY IKKAT SAREES ONLINE HERE!!
Leheriya Sarees from Rajasthan
These sarees are made from the age old process of tie-dye and are very popular in Rajasthan. The saree is further decorated with resham embroidery, mirror and gota work.
BUY LEHERIYA SAREES ONLINE HERE!!
Bandhej or Bandhani Sarees from Gujarat
Gujarat is the famous textile market of India and the Bandhej Sarees are manufactured there. These saree types are also made from the tie-dye technique. Small knots are tied in a fabric at various parts and then it is dipped in colored water. The fabric is then dried and then the knots are opened and beautiful patterns are created.
BUY BANDHANI SAREES ONLINE HERE!
Kanjeevaram Sarees from Tamil Nadu
Kanjeevaram Sarees are famous for its richness and are the specialty of South India. Kanjeevaram Sarees are quite expensive as the thread used in the embroidery of the sarees is dipped in melted gold and silver. If you don't have this saree in your closet then you are missing one royal outfit in your wardrobe.
BUY KANJEEVARAM SAREES ONLINE HERE!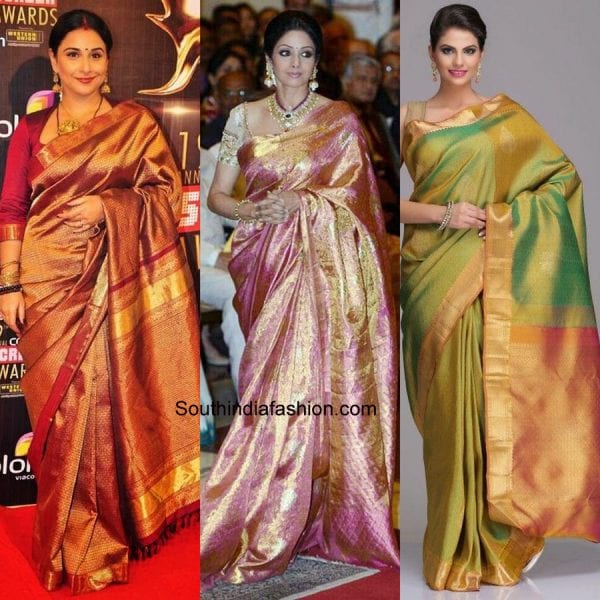 Kasavu Sarees from Kerala
You must have seen various women in white cotton saree with golden border, those sarees are called Kasavu Sarees. Women wear this saree during the Onam festival. You can have this regional saree types in your fashion wardrobe and wear it during the festive season. (BUY ONLINE)
Jamdani Sarees from Bengal
These saree are originally from Dhaka, Bangladesh and are also famous by the name of Dhakai-Jamdani. Usually the Bengali Brides are dressed up in the Jamdani sarees. The floral motifs on these saree definitely make them worth having in every girls wardrobe. (BUY ONLINE)
Paithani Sarees from Maharastra
Named after a town Paithan in Maharastra, Paithani Sarees are hand woven and are made from fine silk and that's the reason they are very costly. Every Maharastrian woman have atleast one Paithani Saree in their wardrobe. The main features of this saree are the oblique square design border, pallu decorated with peacock design or with the designs if Ajanta and Ellora caves.
BUY PAITHANI SAREES ONLINE HERE!
So, above we have suggested some popular sarees from different states of India which every girl must have in their fashion wardrobe. If you are missing any one of them in your closet then buy it right now.