Tell us honestly, since childhood how many times have you opened your Mom's wardrobe and stare at all her old sarees and have thought, Oh Man wish I could wear all these!! Actually you can wear them but at same time, the second thing that must come in your mind is, won't I look too old fashioned in all these? Well here is when you think wish I could reuse old sarees, especially those one which you really admire since childhood.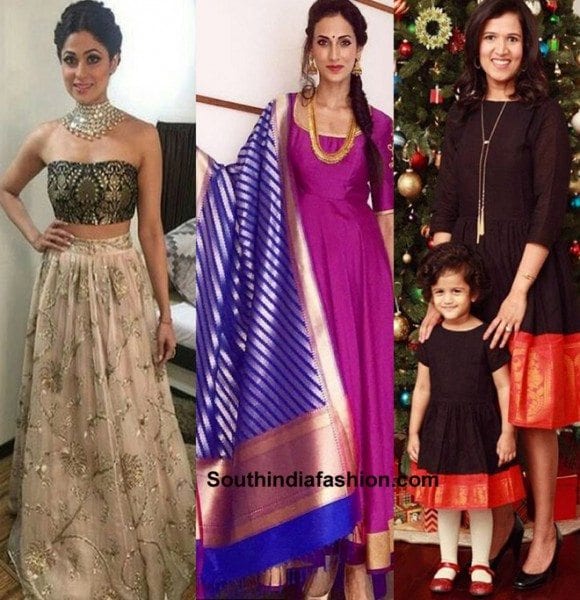 6 Different Ways to Reuse Old Sarees
The fact is every girl has an eye on her mom's sarees since childhood. But sarees also lose their charm after a period of time, however if sarees are maintained well and are taken care of properly then they can be used for years. If you use your mom's saree and transform it into something beautiful then your mom's will also feel happy that her favourite sarees are still being used and not getting thrown away. So, below we are suggesting few ways to reuse old sarees and transform something magical out of it, as per today's trend.
1. Change the Border
Even if you change the border, the look of the saree can be changed entirely. These days you can find variety of saree borders in the market like silk border, zardosi work border, kundan border etc. You can also pick up a contrasting border for the saree and reuse old sarees to a new one.
2. Convert into Saree Dresses
If the saree is too old and some part of it doesn't look good and wearable then you can use the fine part and create a dress out of old saree reuse. You will also create a unique style statement with a saree dress. Depending upon the size of cloth you can choose about transforming it into a short dress, knee length dress or a long maxi dress.
3. Turn them into Kurtis
Well kurtis are such a boon to all the Indian women, almost every Indian woman have this lovely outfit in their wardrobe. You can very easily convert an old saree to a modern day kurti, all you need is a perfect tailor who can make a perfect fit for you.
4. Convert Sarees into Ethnic Skirts
Ethnic Skirts are in trend like forever, you can wear them to weddings, parties, festivals or casually also depending on the richness of the fabric.
5. Create Scarves and Dupatta from Sarees
If you feel that major portion of the saree is of no use then you can cut the fabric that is fine and create scarf out of it. For chiffon and crepe old saree reuse, you can create very fashionable scarves which you can even wear with your western dresses and jeans top. From the kanjeevaram and cotton silk sarees, you can also create a dupatta for salwar kameez.
6. Potli Bags
These days potli bags are in fashion, you can create a matching potli bags with your saree and decorate it with some gota, mirror and beads work.
Try out these amazing 6 ways of reusing sarees and don't forget to share your experience about the same in the below comment box.