It is already the Diyas, sweets and Pataka time. The beautiful Diwali season brings along with it the numerous Diwali parties. The confusion of what to wear obviously follows it big time!! So what are you wearing for the Diwali party next weekend? Is it the regular Anarkali that you wore last month? Is it the Chudidhar that you wore for your friend's wedding and you hope they cancel coming to the same party? Well. Forget those options and check these choices out. You will be the chosen one in all parties with this Diwali fashion.
1. Brocade skirts/palazzos
The trend that is picking up really well is the Brocade skirt/palazzos with the western twist by wearing it with a shirt or a tee. As much as this sounds different it nails the right effect. The bling given by the brocade says you are totally Diwali ready and the contrast plain top/shirt/tee adjusts the bling just right. You can team this up with boho jewelry or statement jewelry pieces and rock the event!!
2. Jumpsuits with a Desi flavor
Wearing a jump suit to a Diwali party is a good idea. But the regular jump suit does not have enough "desiness". Not to worry. Try out one of these Desi jumpsuits and go to those "Indian" theme Diwali parties. You sure will be a head turner. If there is special crackers bursting then you are all the more dressed right since jump suits give you enough room and space to run and jump as you please!!
3. Patialas with a twist
Patiala suits are another fancy option to wear for Diwali parties. They are comfortable at the same time when accessorized right with the juthis and fun jewelry they look absolutely beautiful. Try wearing natural fabric Patialas in bling colors like gold or rich jewel colors like blue or green for maximum effect.  Try jackets over the kameez for added festiveness!!
4. Tunics with Cigarette pants
Diyas and crackers go hand in hand with Diwali parties. So why don't you try out cigarette or straight cut pants with a gorgeous tunic?? They look really classy and the length of the bottom can be made to capri(three quarters) length or a sharp full length that would be very comfortable for you to light diyas or burst crackers.  This is a winner when worn in any shade but wearing it in lighter tones enhances the outfit even more.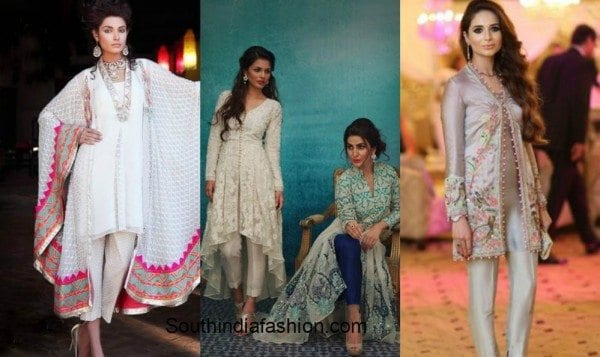 5. Sarees
For those classy dinner parties with fairy lights and formal setting you really should be wearing a saree!! Try some jewel tone sarees with very light fabrics and channel the Raj Mata in you. The georgettes with work would be a great choice. If you want to be a little different from the rest you could always try the belted saree or team up the saree with a cape blouse.
6. Skirts
Cropping up the tops much too often? Team up those skirts with pretty good length tops or just a peek a boo crop top and set the tone for the party. Vibrant colors are always a great choice. Try not to go for very flowy or dramatic skirts as it might hinder you lighting up diyas or doing the rangoli.
Diwali parties involve lamps and crackers. So make sure you use natural fabrics a lot. Try not to go too flowy or dramatic with your outfits. Enjoy your Diwali parties to the fullest!!!