A trousseau is a must for every bride. The trousseau is the set of clothes, accessories, shoes bags and everything that the bride carries to her new home. Now a days shopping for one's trousseau has become as important as your wedding wear. Here are our top picks of clothes that you can add to your trousseau.
1. Saree gown
Saree gowns are really funky. Imagine that you have to go for a function or an event. You need to wear something "Desi" but you do not feel like it. What is the best thing to do? Just take out that saree gown from your trousseau and voila you have the desi look combined with the trendy dress image. A saree gown can be customized making it to a full drop dangerously low back(for the daring new brides) to the little more sober at the same time trendy (for the rest of you ).  You can accessorize it with an evening bag or clutch and high heels. You are set to rock!!
2. Jacket lehenga 
For at least one of your wedding festivities you would surely be buying a lehenga.  For your trousseau why don't you try the jacket lehenga? It is totally in trend and can be done in a variety of fabrics ranging from brocade to heavy embellished stuff. It makes you look regal and is the perfect dress to wear for that friend's wedding who is getting married 2 weeks after you .
3. Cape lehenga
The cape lehenga is another trending and beautiful piece that should be in your trousseau for sure. If you have not picked it up yet please do it without any delay. The short cape blouse or the long trailing cape with immense detailing or the cape that covers the embellished blouse like a cloud, you need to have one of these.  Try the cape lehenga in pastels and gold to make it look very breezy and feminine.
4. Silk sarees / Designer sarees
No matter how many sarees you have, it is always less. As a new bride you really should not be repeating your own wedding sarees at weddings as everyone would have already seen them. Always invest in some good Kanjeevaram and Banarasi silk sarees. You could also pick up other kinds of silk sarees like Paithani, Chanderi etc. But remember a Kanjeevaram and Barasari are a must for your trousseau. You need not always rely on traditional colors. Experiment with colors and your blouses to make yourself stand out in the occasions.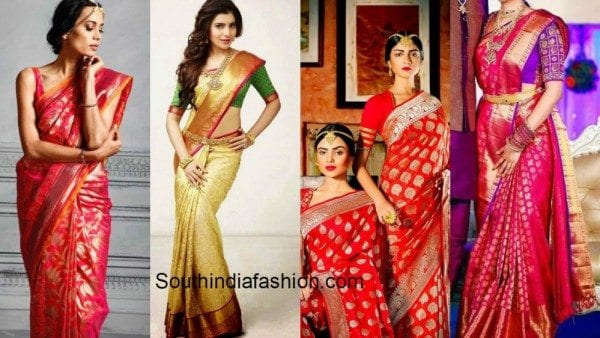 When silk sarees are there designer pieces can never be left behind. With so many options to choose from like net, chiffon, georgette and much more channel your inner charm and go wild and pick various options. Try some sexy blouse designs like a backless or halter style to add oomph.
5.  Indo western Wear
For the current generation bride a few different pieces should be a yay for her trousseau. Clothes like the dhoti saree, crop tops, drape kurtas and pant sarees have scorched the ramp and will make heads turn wherever you go. This is a sure add on for your trousseau.
6. Heirloom Pieces
Stuff from your mom's or grand mom's wardrobe adds a lot of weight to your trousseau. Not only are those pieces beautiful memories but they are always the classics that never go out of style. Plus you can always make it into something totally different to suit your style. For example, a saree can be transformed into a suit or a lehenga.
When you are shopping for your trousseau shop for timeless pieces along with the in trend pieces. Do not forget to pick up accessories, bags for each dress and also footwear. They complete your look and you need to give importance to it.  Do not buy everything you see. Fashion keeps changing. Keep reinventing your style. You should shop according to your body type. I hope we have given you all the right ideas to make your trousseau a super hit!!!