Let's get you back to school days and in a fashionable way that too. Wondering what we are talking about, and how it is related to fashion? Think no more, because we are here to show you how Indian designer Satya Paul is bringing back the innocent times on ethnic wear. Cartoon print sarees are hitting the shelves and being worn by Indian women like there's no tomorrow. Our Indian celebs show us how to flaunt the quirky styles in many ways. Take a look.
If you are bored of the run-of-the-mill floral prints, cow prints and other patterns on your sarees, look at cartoon prints for an answer to all things fashionable this time. Have a little fun and revamp your wardrobe when you head out to work or maybe attend a formal
gathering. Do this all with a touch of humor and craziness on your ethnic wear.
If the international designers could have comic art printed on their haute lines and prêt-a-porter wear, our Indian designers have upped the ante for the world to see. Therefore, cartoon printed sarees this season is a must-have!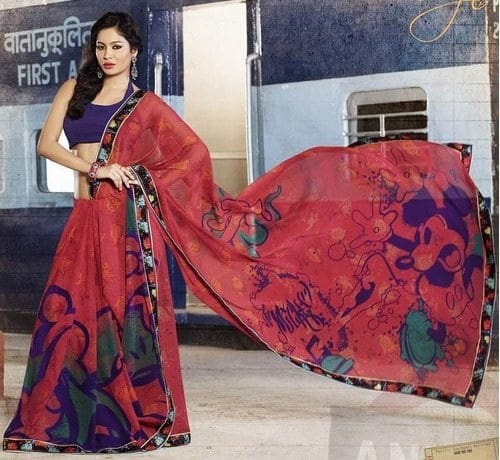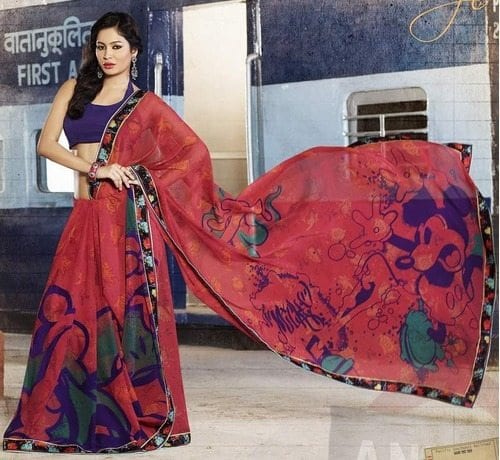 Some of us may choose the cartoon printed ensemble in a minimal way, maybe not the saree but the blouse only with a solid colored nine yard drape; which is okay! What you could do is to go in for blouses with cartoon prints like the one donned by designer Shilpa Reddy. You could also think of completing the look with a fancy cartoon printed clutch as an accessory.
For a very quirky yet bold statement to make, cartoon printed sarees by Satya Paul – THE DISNEY COLLECTION for example, can help make heads turn wherever you wear them too. Wear it at your kiddies birthdays or maybe at the concert for your son or daughter to get into the spirit with; the options are a plenty to choose from.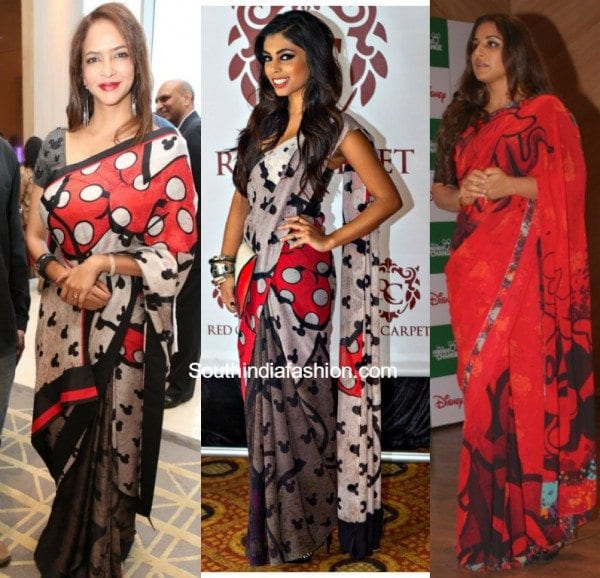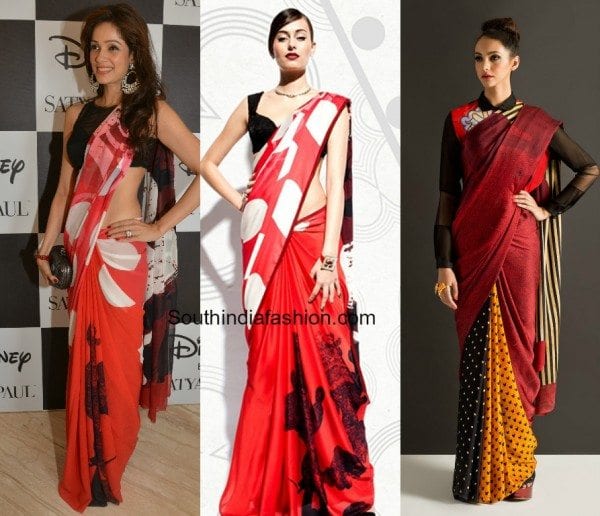 Comic prints and cartoon prints are haute trends now, and can be worn on fabrics such as satin cotton, georgettes, silks an crepes too. The best part is that the neutral dark shades work well with matte warm colors on cartoon printed sarees, and can be styled with low V necks, boat necks or square cut cool toned solid colored blouses too.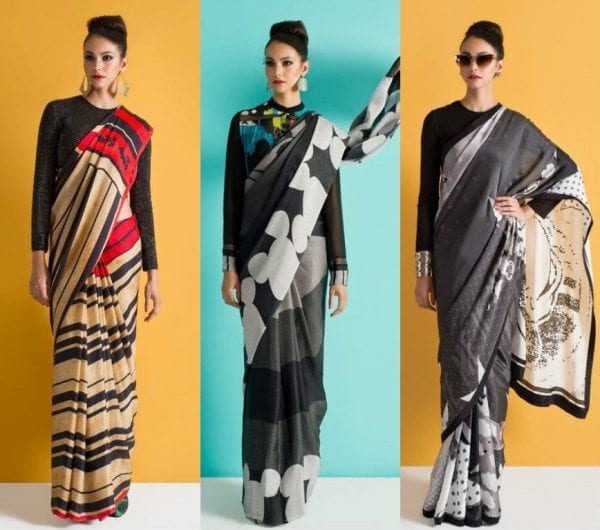 Inspiration drawn from Mickey Mouse and Minnie Mouse, designer Satya Paul incorporated the elements of childhood with prints from the world of cartoons onto sarees. Such representations could be interpreted in many ways, especially relating to childhood memories. From polka dots to stripes, vibrant colors to dark cool tones printed on the fabric, the look comes complete with elegant topknots and low buns, and smokey eyes with healthy blushed cheeks. Chunky accessories add to the charm, which is exactly what balances the chic and retro look.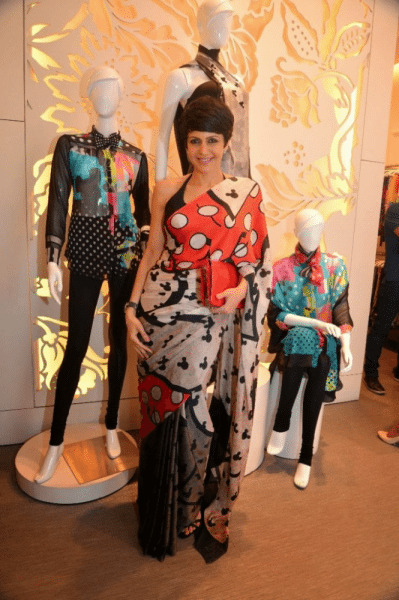 Gorgeous actress and personality Mandira Bedi shows us exactly how a minimally embellished cartoon printed saree by Satya Paul can do wonders to make a hip fashion statement in cartoon prints on an ethnic ensemble come through. Makeup wise the look is minimal and au natural, and the red leather bag compliments the scene. Heels are a must to accentuate the body frame and the short hair compliments the personality too.