Crop tops are here to stay . They have taken over the cool quotient image and every girl wants to have a crop top in her wardrobe and wear it and own the look. Then again, the minute she thinks about wearing the crop top there are lot of questions that comes to the mind.
Will it suit me?
Will I look fat?
Is it appropriate?
Well the answers for all these questions and much more are right here. Take a look at our style tips on how to wear crop tops..
A crop top is one of the coolest tops that has come to existence. Unlike the myths and thoughts, this can actually be flaunted by women of all shapes IF worn right.
A crop need not show your entire mid riff. In fact a peek a boo crop top or a crop top that shows minimum skin will be much more easier to carry off as it gives you the confidence. Such crop tops can be worn with high waited skirts and palazzos. Even if you have a little tummy your skirt/palazzo can hide it quite well .
Do not wear a crop top and overdo the accessories. A crop top by itself gives you a lot of attention. Along with this if you overdo the accessories then it starts screaming for attention. This might spoil the overall "trying to look good " effect. Just a statement necklace will do the trick for you . You can swap the statement necklace for a long chain also. This looks equally trendy.
If you want to wear a crop top but you are not very comfortable in public there is always the jacket option. Go ahead and wear a light cardigan or jacket on top of your ensemble. You could also try wearing a crop top with a maxi flowy skirt. The final effect is definitely super pretty.
Do not wear a tight-tight crop top unless you are comfortable to carry it off. Crop tops can surely be loose and it will look lovely if you wear it with a skater skirt or trousers .
Remember the tied up shirts in the earlier years? They look fabulous as crop tops too. You can team them up with capris pants or good old denims or shorts and rock the look. You can also pair the crop top with a pencil skirt and make it look classy.Wear a loose crop top over a tight dress. It gives a beautiful effect .
If you are not very comfortable wearing a crop top and yet want to wear it, then you can even team a crop top with a pair of coveralls/overalls that will show skin only from the sides. Still cute still wearing crop top !! Yay!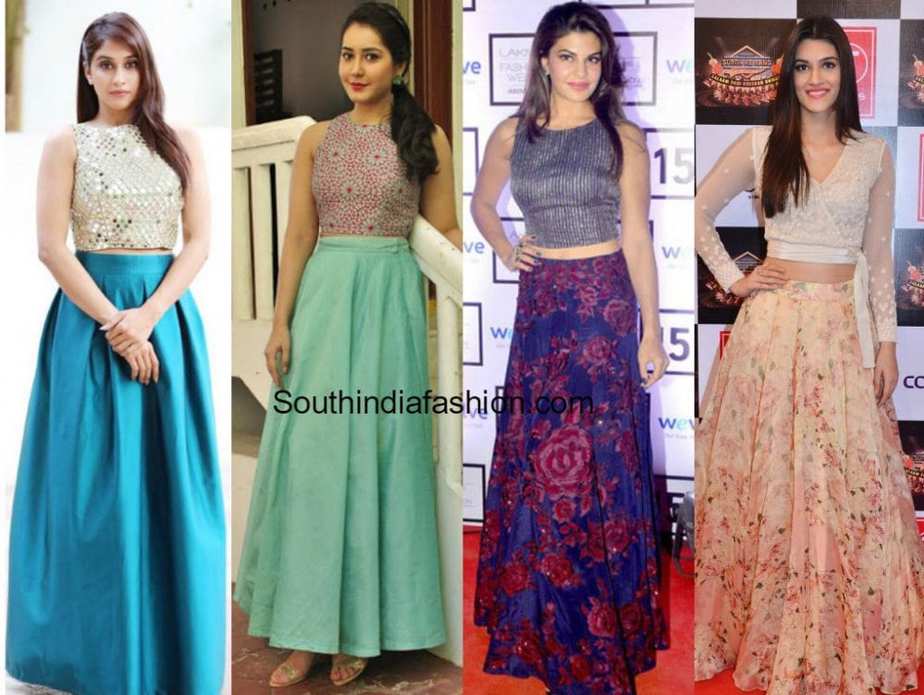 The desi crop tops have also invaded the market. Crop tops with lehengas crop tops with sarees and what not!! You could always pair your westernized crop tops with your lehenga or saree and look beautiful but doing vice versa of wearing your saree-blouse as a crop top is a big no no.
Crop tops can be worn by women of all sizes. You just need to know how to carry it off. Also know that muffin tops are not attractive and too tight bottom wear can spoil the look of your crop top.
Remember to keep it simple and be confident. It takes you a long way!!