Below are our 5 must have Indian ethnic wardrobe essentials as these are forever trends and will never face fluctuation in the fashion graph.
1. The cotton saree
One of the classiest garments that can be a part of a girls wardrobe, a cotton saree is something very beautiful. Its beauty is its simplicity and it goes well for almost any occasion and also passes of well for formal or work wear. You can pair up a cotton saree with a neat high neck, sleeveless or a collar blouse to make the saree stand out. A cotton saree has to be tied and pinned up neatly to add to the charm.  Cotton sarees in block colors with earthy prints always catches the eye and like we see in movies it showcases strong women of independent spirit!!
2. A chikankari salwar kameez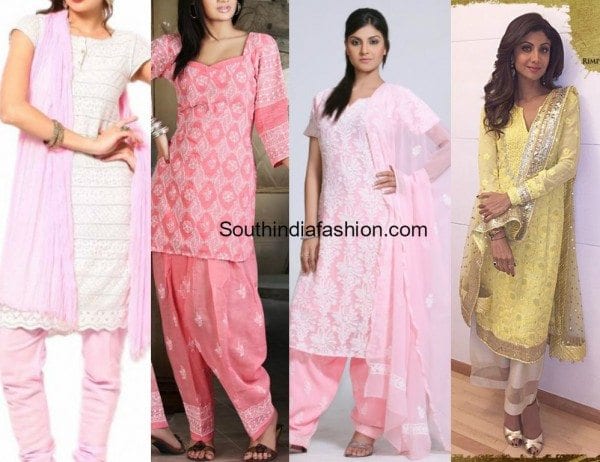 The salwar kameez fashions keep changing. One kind I feel should be a part of everyone's wardrobe is a chikankari dress.  Its pretty pastel hues with the delicate chikankari work on it looks like the perfect "girls garment". Every girl needs to have at least one of this in baby pink, pista green or just white. You could get it customized according to your comfort but I would recommend a sleeveless with a square neck line and a chudi bottom. A beautiful fit for a beautiful dress.
3. An anarkali dress
An anarkali dress is something that has been around from literally since the Mughal era. So we can call this one of the royal ambassadors. The minute you wear an anarkali you seem to feel that royal elegance which makes you want to walk more gracefully and give the dress its due honor. Intricately done anarkalis will always stand out in a crowd and this is always a must buy if you are doing wedding shopping for your friend's wedding or buying your own trousseau. Be it the full length or the ankle length one choose wisely. It should have good "kalis" or pleats which is the whole idea of the dress.
4. A Lehenga
A perfect dress for wedding festivities we need to have a lehenga in our wardrobe that can actually be reused and sometimes it can even be worn as a half saree. Accessorize it just right and you will be the hit of the function. Remember it is ok to try the non-bling lehengas as those can even be worn for dandiya parties. You can style it according to the function and rock the look!!
5. The traditional silk saree
My go to for every wedding is a traditional silk saree which can make you look a class apart.  It suits all body types and the best part about the silk saree is that it can be handed down to next generations. In fact the silk sarees of the older generation look so breathtaking that you would be thankful to your mother that she preserved the saree just for you. Wear it with traditional jewelry to complete the look!