India is all over the world, and in Hollywood too; we aren't talking about the entrée of Bollywood heroines into the limelight of the west. What we are talking about here is the graceful nine yards- the sari, which has made inroads into the hearts and many wardrobes amongst the Hollywood biggies. Some celebrities have worn them to red carpet sagas, fashion shows, press conferences and very important events, bringing the humble saree to the forefront of world fashion. Here are a couple of celebrities who rocked the Indian saree..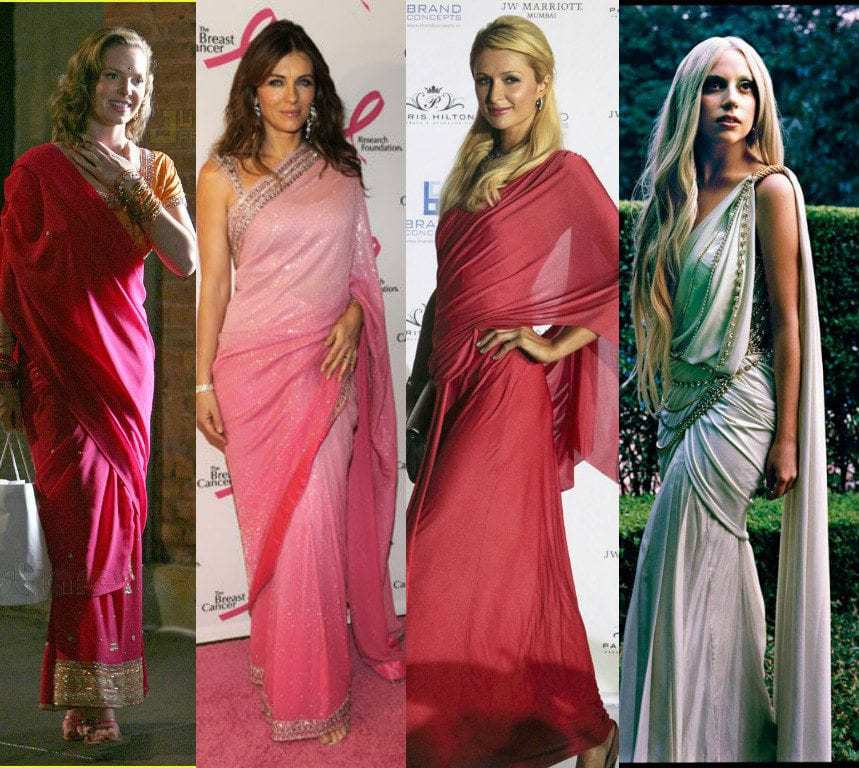 1. Pamela Anderson
The former Baywatch babe, Pamela Anderson was spotted wearing a lovely pristine white saree, when she made an entrée into the Indian version of Big Brother- Big Boss. She brought the TRPs up, not just with her presence but also with the way she carried herself in the famed white saree!
2. Nicole Scherzinger 
PCD singer lead, Nicole Scherzinger may have challenged the boys out there with her top hit "Don't Cha Wish Your Girlfriend Was Hot Like Me" and truly so she did the same with her band of girls in all black sarees, with gold borders.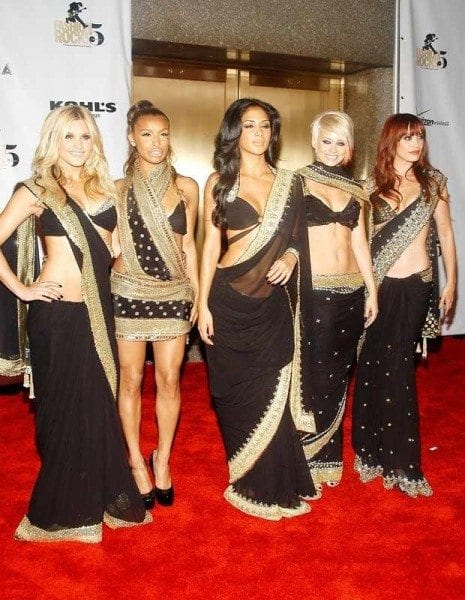 3. Naomi Campbell
The 'Black Beauty' of western fashion as she is known, supermodel Naomi Campbell, strutted her hot self in a sheer black embossed saree by Sabyasachi.
4. Paris Hilton
Baroness and multimillionaire, Paris Hilton, she's known for her sense of fashion, her social life and her love for singing. When she did come to India to promote her brand of luxury items, Paris was dolled up in various shades of gray by eminent designer Tarun Tahiliani in a gorgeous net saree embossed with pearls.
5. Elizabeth Hurley
Hollywood diva Elizabeth Hurley is known for her stylish moves and her fashionable lifestyle, and in a pink chic designer saree with a seductively cut choli, embellished zari work over the pink base and a lace borer, Elizabeth Hurley looks stunning.
 6. Madonna
Rebel at heart and a true human to nature, singer Madonna embraced spiritualism at the peak of her career and renounced many ways of her life. Madonna promoted Indian art and culture, tradition and values across the world, donning a blue saree with chunky oxidized bangles and a statement neckpiece, draped casually over shoulders.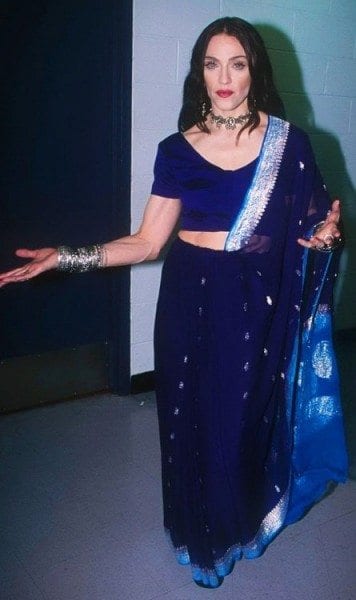 7. Alyssa Milano
Alyssa Milano, Hollywood celebrity shows us how to drape the saree like a kimono jacket, and she wears the high necked blouse as a tank top to gel and blend into the desi avatar with utmost élan and grace. The bindi on the forehead with minimal makeup completes the look. Eye catching statement here would be the graceful back to front draping of the pallu!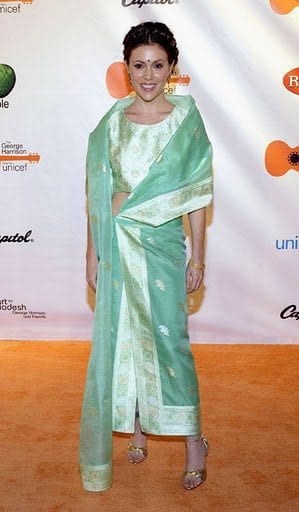 8. Victoria Beckham
Known for her graduate bob cut hair do and reigning the world of fashion as a diva, Victoria Beckham looks stunning in a red saree embellished with zari and zardozi karigari. The look comes complete with tong touched soft curls and a low cut square neck choli for company.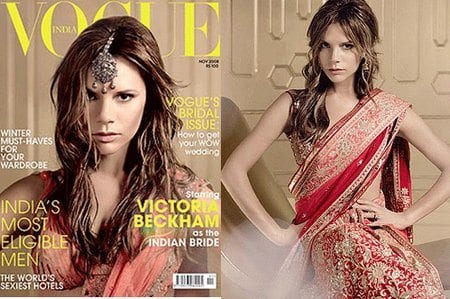 9. Julia Roberts
Pretty Woman, Julia Roberts caught our breath in her movie Eat, Pray, Love- her acting prowess drove home a message very strong, but when she was in India doing her part in the movie and playing counselor to an onscreen actor at her wedding, Julia sported the gujrati styled silk bordered bottle green sari with grace- pleated and draped to finesse.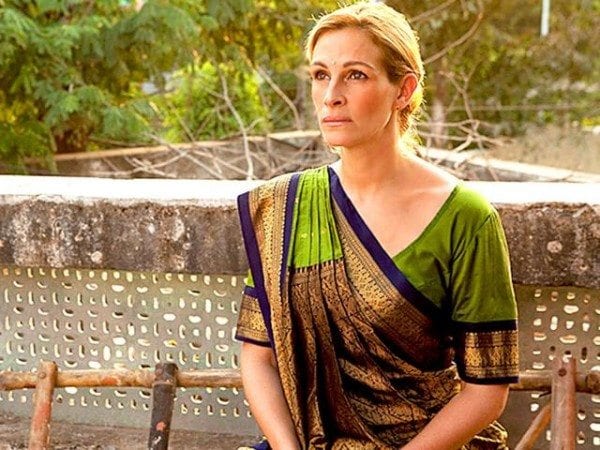 10. Oprah Winfrey
CEO Of HARPO Inc. and famous talk show hostess Oprah Winfrey paid a visit to India, the Bachhan family and Mumbai at large, and she also was spotted twice in a saree- once at the dinner with the Bachhan's in an orange red silk kanjeevaram, and the other time when she had to stop by at a VVIP inauguration- she wore a matte bottle green saree with a black choli. Simple, minimal and yet chic!
Others:
Selena Gomez in a maroon saree: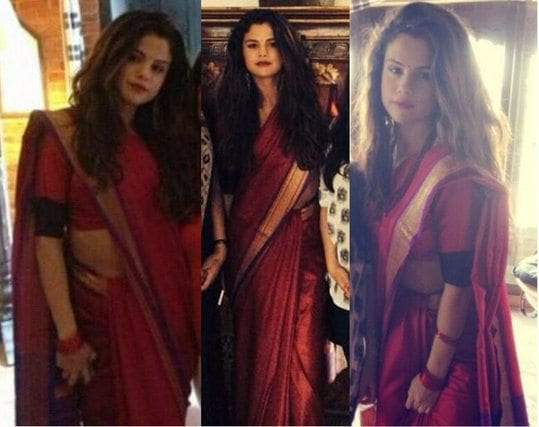 Lady Gaga in Tarun Tahiliani Saree:
Katherine Heigl in saree:
Aren't we just proud that the west looks at our humble nine yards for fashion statements to make?