If you find the thought of wearing pumps, heels and wedges with ethnic Indian wear too cumbersome, chances are you are right. Most Indian women prefer their flats and ballerinas, mojaris and kolhapuris to pair with ethnic ensembles, which completes the desi look for sure. And if you do not know how to pair them well, here is what we would like to show you – five fab styling combos with flat footwear!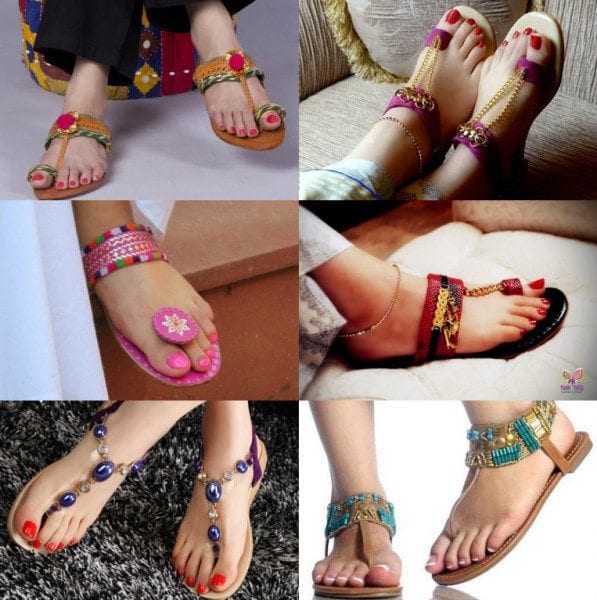 1. Elegant oxfords for casual day outings
With the amount of running and movement one has to do everyday, your feet takes a beating and the sore toes cry for mercy. Instead of wearing heels for the feel or pointed shoes to work on a Friday, you could team up a pair of chic oxfords in self-colors or prints with short kurtis and loose dress pants for the bottom. The hip length kurti should be ethnically embroidered, which balances the overall look! Complete the look with a statement bag in neutral tones, in contrast to the color of the oxfords worn, keeping the makeup minimal with a healthily flushed pair of cheeks and dark eyes. (BUY HERE)
2. Greek arty flats for the special events 
For a very boho chic touch to the ethnic day at work or for special traditional events, you could now have your feet beautifully adorned. Wear your mirror worked or block printed lehenga skirts with a crisp self-colored top, and complete the look with a pair of arty flats for the feet. Complete the look with sultry eye makeup and pink lips, wavy bohemian hairdo's and a jhola or an ethnically embroidered clutch in hand for company. (BUY HERE)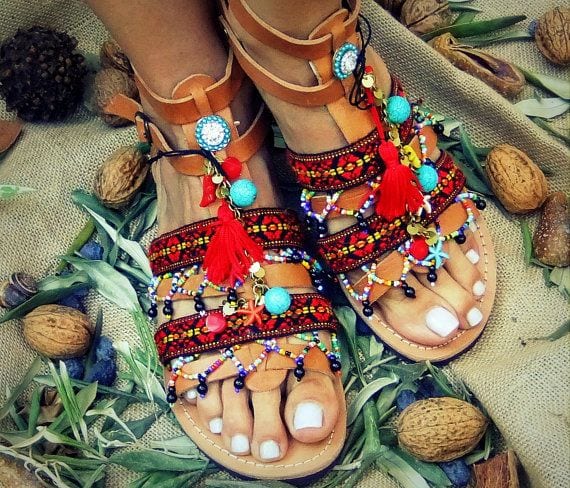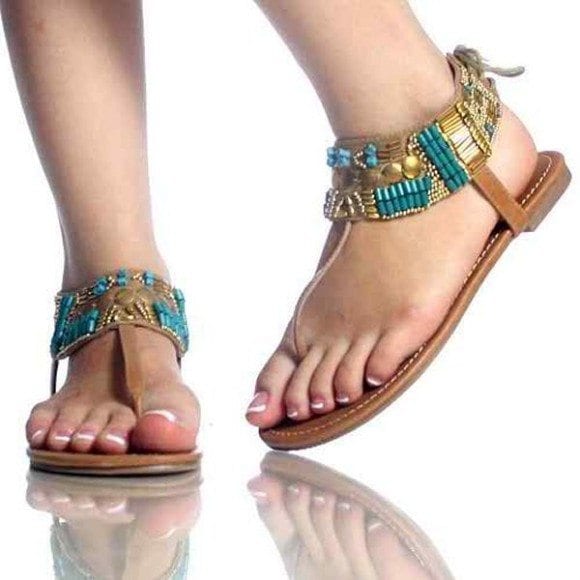 3. Mojaris for the summer-friendly chic look
Chic, simple, stylish and very carefree, ethnically designed and embroidered mojaris for the feet can bring in a pop of color when needed to add pizzazz and style to the gracious ethnic wear on you. Pair up silk kurtis with ankle length palazzo pants, and a pair of embroidered mojaris to complete the look. You can go one step further and wear your hair loose, carrying a tote bag in hand and a long neckpiece for a statement to make.
BUY MOJARIS ONLINE HERE!!
4. Lace up brogues for honeymooning
Summer destination weddings at a hill station are fun, but at the same time you have got to plan your ethnically chic trousseau well. Pair up as a one piece the elegant palazzo and kurti set, long and flowy till the ankles or beyond with lace-up brogues for the feet. The lace-up brogues help keep the feet warm and toasty, and yet doesn't mar the overall look of the resplendent fashion statement you make. Complete the look with gorgeous smokey eye makeup in metal tones, chic statement neck and ear pieces, a clutch in hand and gorgeous bangles for the wrists; hair tied into a chic bun or a topknot with flowers complements the look.
5. Thongs for the feet for a boho-chic movie date outings
Maxi skirts with a desi touch, floral prints or maybe with prints and patterns on them are so in for the summers. When you pair them with chic embroidered or self-colored and styled thongs for the feet; the duo makes for a deadly combination, leading all eyes to you. Keep the look quite summerish with a healthy blush on the cheeks and the hair falling loose over the shoulders, with a bag in neutral tones in hand and earrings in plain gold or silver to balance the aura as well.
6. Kolhapuri chappals for that ultra desi swag
You could either wear metallic toned kolhapuri chappals or rustic brown-red ones to combine and make a statement with anarkali suits, salwars, lehenga skirts and tops or with sarees, and yet be all desi at the special event you'd be attending. Complete the look with a clutch in hand, a chic hairdo- low messy bun, statement neckpieces that hang low and gorgeous eye makeup in smokey metallic tones to balance the look.
BUY KOLHAPURI CHAPPAL ONLINE HERE or HERE !!
Beautiful Women's ethnic flats online:BUY HERE or BUY HERE!!
Have fun ladies and do shake a leg, because the heels are out and the flat desi numbers are in!