Green is the hot color trend this season and looks incredibly fashionable as bottom wear. However, it's definitely not easy to pull off the bold color. There are different shades of green like military green, emerald green, mint green and so on. And the trick is to choose the perfect one for you and style everything right. So, today's outfit focus is on the edgy green pants and some tips on how to style them.
Green pants can be worn as palazzos, culottes, straight cut trousers or even as a casual pair of denims. Style them right for the right occasion and always make sure you mix the right kind of colors. Choose neutral shades if you want to wear them at work or for casual meetings and go with bold, edgy colors if you want to make a statement in them.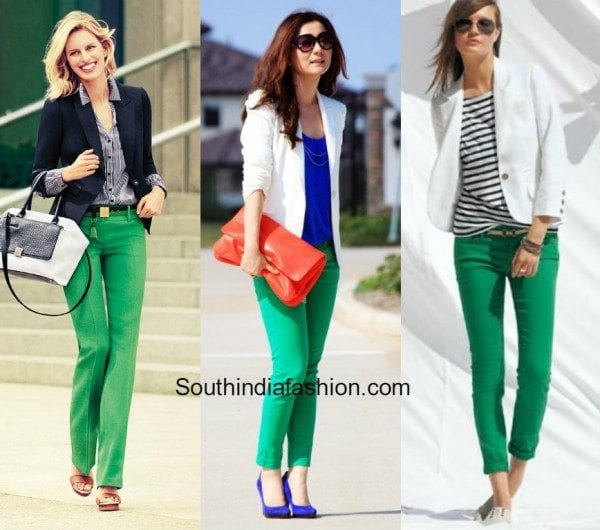 Green pants look fabulous for work wear too. Wear it with contrast colored blazers to complete the corporate look. Mix prints for an instant statement. But, do not over do it as the color deserves all the attention.
The colors black and white blends extremely well with every shade of green. Team up your monochrome pieces with green pants and you can easily flaunt them from day to night. Be it a casual brunch out with your friends or a corporate meeting, the chic green color can effortlessly make you stand out.
The versatility of the green pants is that they allow you to style them in endless different ways. Layer it up with jackets, shrugs or accessorize with statement jewelry and make heads turn.
So this summer, pair your green pants with neutrals, bold prints, summer shrugs or try the color blocking trend. Spoil yourself with unlimited choices and show off your green pants with great style and confidence. Also, don't forget to let us know how you've done it! 🙂