Nets are making it big on runways and red carpets this season. From gowns to tunics, sarees to lehengas designers are reinventing the fabric to give a modern twist. Or maybe even adding a retro twist to contemporary silhouettes will do the trick of wearing the delicate fabric gracefully? Well, this is exactly what Peppermint Diva's new collection reflects. Read more to know what it's all about.
Netted sarees and lehengas in refreshing colors enhanced with bursts of sequins, pearls and bead embellishments all over.
The pastel shaded frill sarees are embellished with delicate floral designs and are contrasted with bright floral embellished blouses. Deep back necks and pretty tassels accentuates the beauty of the fusion sarees. The flimsy fabric allows you to experiment with different drapes and styles.
Netted lehengas by the Peppermint Diva are again of the same concept but here the skirts are designed with asymmetrical cuts and silhouettes. They are also lined with vibrant floral fabrics for the vintage feel and we also see a lot of dhoti style sarees in the same collection.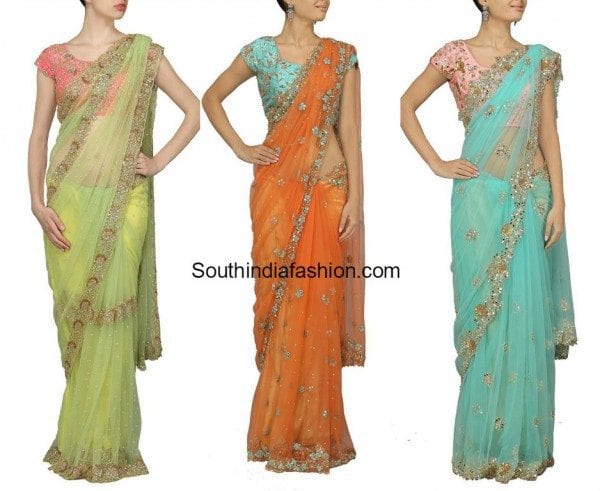 The Peppermint Diva's new collection serves us with evergreen designs and makes it a lot more easier for us to flaunt the best outfits for this summer festive season. Be it for the bridesmaid's outfits, wedding invitees or any festive occasion, choose from their wide range of fusion ethnic clothing and ravish with grace and elegance.
You can shop Peppermint Diva collection online HERE!!