When it comes to showing off your trendy designer sarees with a graceful twist, the timeless floral blouse designs are always in season. Whatever the occasion maybe, if you are looking for an evergreen yet stylish embellishment for your saree blouses, the floral embroidery is the way to go. Be it a lehenga blouse or a saree blouse, the floral embellishment is one of the hottest trending blouse designs and are definitely here to stay. Depending on the style of your outfit, the floral embellishments can be customized in endless different varieties. From the traditional floral zardosi embroidery to the colorful floral thread work there is a design for every outfit style. Read more for some tips and tricks to nail the fascinating floral blouse embroidered design trend.
Team up your designer sarees with heavily embellished floral blouses. Be it any chiffons, georgettes or designer sarees, the blouse design always enhances the beauty of the saree. And when you are experimenting with florals, going bold is never too much. You can also opt for heavy floral embellishments in sober pastels for a subtle look.
Cutwork floral designs, floral illusion blouses or delicate floral creeper thread work on sheer nets are some of the best options to rock the trend. If you are going heavy with the floral designs, try out simple necklines like boat necks or round necks to let the embroidery grab all the attention.
But if you want to make a statement with just a hint of floral design, the options are again endless. Even a small amount of floral embellishment on trendy blouse designs can work wonders and effortlessly set you rock. Deep back necks with a dash of floral embroidery on the neckline, shoulders or sleeves will make a lasting impression.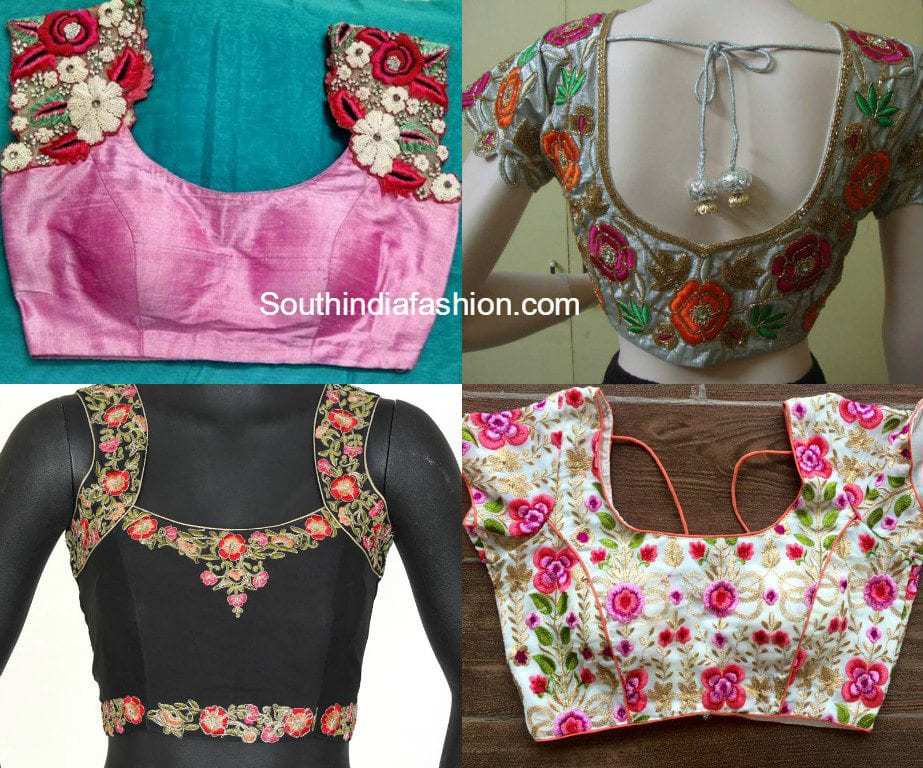 This spring summer is all about florals and make sure you have at least one floral blouse to show off the floral trend. A floral blouse design is not a wardrobe essential only for this season but a timeless piece that you will treasure for the years to come.