From cameras to radio sets to knives and what not?! The random nature inspired objects are flaunted on clothing and accessories almost everywhere. The quirky printed outfits are definitely not an easy one to pull off but our bollywood celebs have always outdone their selves when it comes to wearing edgy and quirky outfits. Here we have rounded off 5 of our favourite celebs who flaunted the quirk in style.
1. Sonam Kapoor
Is there any trend that our fashionista hasn't tried? Name it and our diva has rocked in each one of them. The quirky trend was flaunted by Sonam Kapoor in many different styles and each time she carried the edgy outfits with great style and confidence.
2. Vidya Balan
Vidya Balan has always made a statement with quirky printed outfits. She has flaunted quirky printed sarees and tunics with so much elegance and grace.
3. Mandira Bedi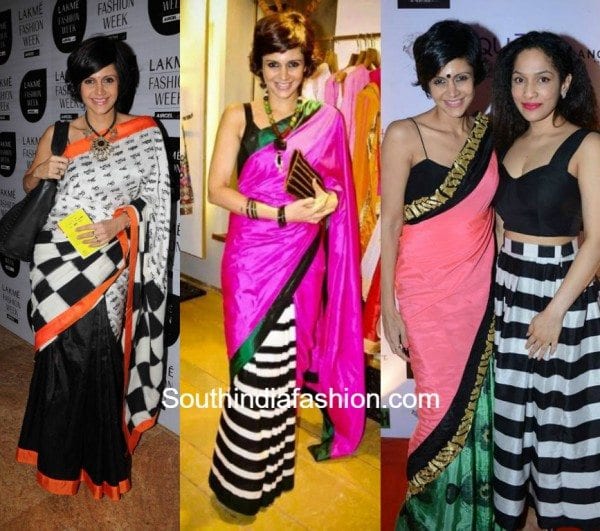 The glamorous Mandira Bedi has flaunted quirky prints a number of times. Styling with the right kind of accessories and the perfect attitude has set her rock the trend.
4. Shilpa Shetty
With her wonderful height and curvy silhouette can Shilpa ever go wrong in flaunting edgy outfits? She sure mesmerized us each time she donned a quirky outfit. From Indian traditional to contemporary fusion outfits, the actress has beautifully carried the quirky look.
5. Madhuri Dixit
When it comes to trying new fashion trends, Madhuri proves that age is just a number. Madhuri has flaunted the quirky trend in the most graceful way wearing a color splash saree which is absolutely suitable to her age. How gorgeous does she look?!
Whatever your age maybe if you love the trend get inspired by our bollywood celebrities and rock in it. With the right styling and a confident attitude, you can flaunt any outfit in style.