Every wedding instantly brightens up with a mehendi and sangeet function. Be it a small get together at home or a big grand party these functions are becoming the most fun parts of an Indian wedding where the brides, bridesmaids and all the wedding invitees dress at their colorful best and have a gala time. In this modern era, where art is highly appreciated, Creative ideas and Do It Yourselves are becoming a huge wedding trend and are incorporated in the best possible ways to make a wedding more fun and entertaining. With all the color and and creativity around a bride has to ensure she stands out from the rest looking the best.
And what better way for a bride to make a statement with handmade floral jewellery?! Yes, the tradition of fresh flower jewellery is forever trending and will remain so. This ancient tradition has been followed by our Goddesses and princesses and is still continuing to do so with our beautiful Indian brides. Floral jewellery can be customized in any design and color based on the theme and they look best especially on such occasions.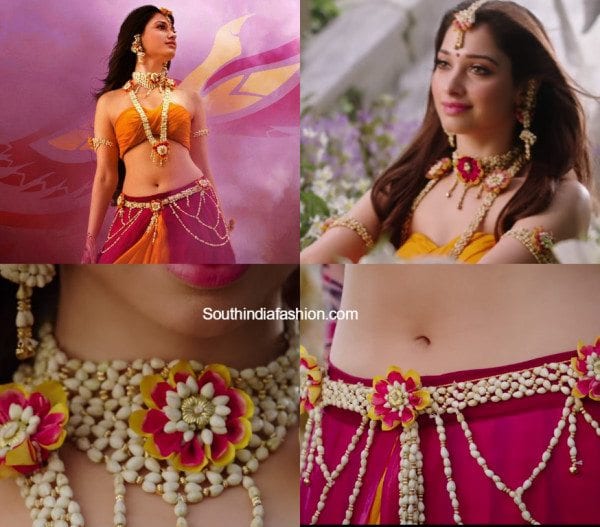 There is a strong connection between a woman and flowers and no bride or a wedding is complete without flowers. So, why not grab the chance of flaunting them as your jewellery?! You can customize beautiful mojras, maang tikkas, necklaces, earrings, rings, bracelets, waist chains, anklets and anything creative.
If you are wearing a gown or going for a vintage theme, adding only a statement floral crown will instantly turn heads. The art of floral jewellery is extremely intricate and you will feel no less than a princess in them.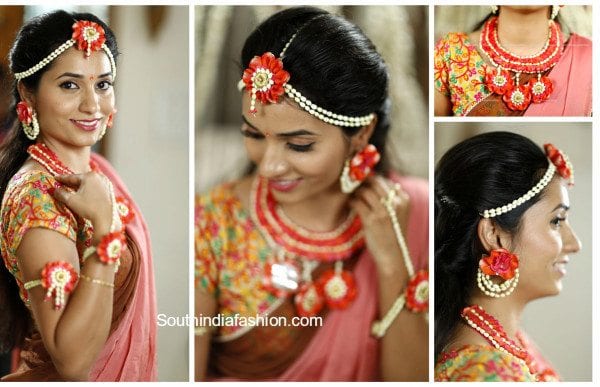 Floral jewellery look extremely graceful and elegant in photo shoots too. So if you are looking for unique and interesting concepts for your sangeet and mehendi, the flowers are sure to make you proud.
Make sure you choose the right flowers with the right embellishments depending on your occasion theme and your outfit. They are sometimes embellished with pearls and stones for the finishing touch.  Also ensure that your floral jewellery arrives on time so you can keep them fresh. They come in variety of designs and can be customized just the way you want.
The beautiful floral bridal jewellery can be worn by anyone in the most creative ways. They look best when worn on your mehendi, haldi or sangeet day which will make you look exceptionally beautiful. So if you love fresh flowers, do not hesitate to flaunt floral jewellery on your special day. Spread the magic and beauty of flowers on your wedding occasions to make a lasting impression!!
Photocredits: www.pellipoolajada.com
Branches: Delhi, Mumbai, Bangalore, Hyderabad, Chennai, Guntur, Vijayawada, Pondicherry, Trivandrum, USA and Singapore
Email: [email protected] or call 91-7306485303