Bandhani is a tie and dye form of art on fabrics, where the fabrics are tied in a pattern, dyed and then untied to unveil different forms of squares, dots and other various motifs inspired from nature. They are usually done on silks, cottons, and flowy fabrics like chiffons and georgettes. The Bandhani print looks beautiful on sarees, dupattas, salwar suits and are no more restricted only to Indian attire; Bandhani printed fabrics look extremely versatile on Indo western outfits too. Here we bring you different styles to flaunt a Bandhani outfit and why you should wear them this festive season.
1. Bandhani Sarees
Bandhani Sarees are a definite must have in every woman's wardrobe. The colorful ombré shades create a vibrant look and are simply perfect for this festive season. A Bandhani saree can be embellished with mirror embroidered borders or sequins. If you do not want too much of Bandhani print, they can also be teamed up with contrast Banarasi or georgette fabrics.
(Shop Bandhani sarees online HERE)
2. Bandhani Anarkalis 
This Diwali, if you want to be in trend, look graceful and stand out from the crowd at the same time; Bandhani anarkalis are the way to go. Gorgeous flowy anarkalis with Bandhani print embellished with gota embroidery or sequins work will surely win you tonnes of compliments.
3. Bandhani Lehengas
If you are a bride or a wedding invitee and want to look different from the rest; Bandhani Lehengas are the way to go! It elements a very Indian feel and flows like a dream on all kinds of body silhouettes.
4. Bandhani Dupattas
Add some fun to your not so interesting outfits with colorful Bandhani dupattas. You can team them up with a plain salwar suit, an Anarkali, a kurta or even wear it as a stole over your classic denims. A Bandani dupatta is a definite wardrobe essential as they come in very handy to mix and match with most of your outfits.
(Shop Bandhani dupattas HERE)
5. Bandhani Indo Western Outfits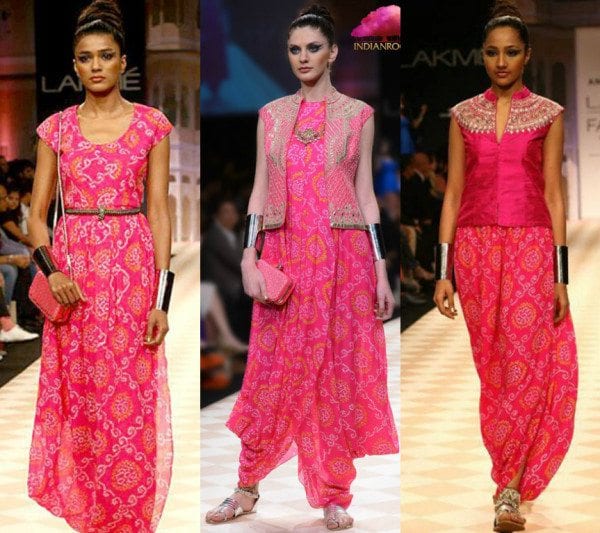 Bandhani prints stand a class apart on Indo Western Outfits as well. They fall like a dream on dhoti  pants, palazzos and other such outfits. This Diwali, wear western outfits made out of Indian fabrics and embroidery for a contemporary feel.
Bandhani fabrics look fabulous on anarkalis, maxi skirts, gowns, dresses and many other outfits. So, put in all your creativity and make the best out of India's beautiful art – The Bandhani!!