From floral dresses to floral accessories there are several different ways to flaunt the feminine and versatile floral prints. The evergreen floral prints element a very fresh vibe and are incorporated almost everywhere from home furnishings to wall decor to clothing, shoes, accessories and lots more. Summer is just a reason to flaunt florals, but we all love to flaunt the fresh and happy print all round the year. But not every occasion and everywhere we can flaunt an outfit with overall bold florals. Sometimes, the delicate prints steal all the attention when they are minimal. Today we show you different ways to add a hint of florals to your ethnic outfits.
1. Floral Sarees
Delicate floral sarees make a wonderful option for both daily wear as well as semi formal occasions. If you want to look a little dressy with delicate florals go for embellishments in pastel shades. Floral saree borders or even half and half floral sarees work wonders.
2. Floral Blouses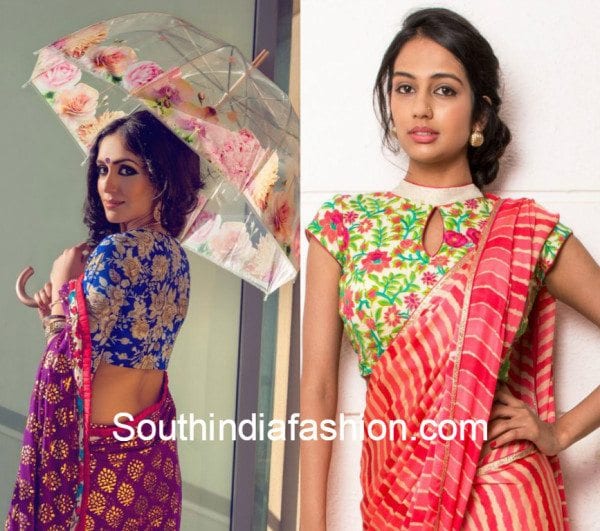 Be it your heavy embellished sarees or even your daily wear cotton sarees, you can never go wrong by teaming them up with floral blouses. Even a small hint of floral print in your outfit can instantly add grace to your outfits.
3. Floral Lehengas 
Stunning lehengas with pixelated floral prints in sheer fabrics are a huge trend and will instantly make a statement. They are also perfect for summer brides and day weddings.
4. Floral Salwars
Salwars or anarkalis with floral printed yoke's look extremely fresh and vibrant. Or you can simply throw on a floral printed dupatta on any plain outfit to let the delicate print steal all the attention.
5. Floral Indo Westerns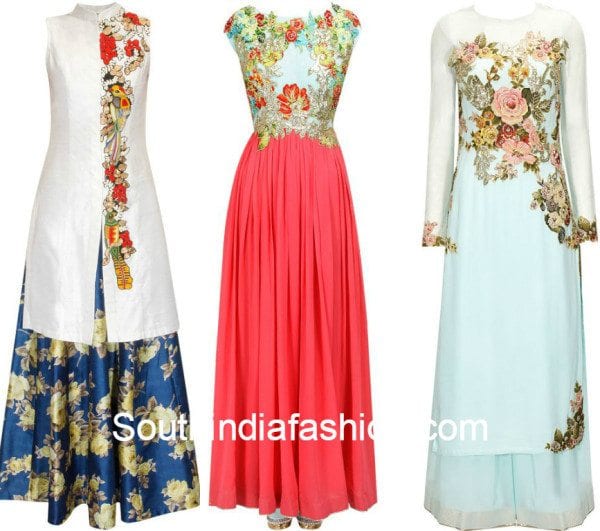 Maxi dresses, palazzos and tunics with a dash of floral prints give a very vintage feel to your outfit. Add a dash of florals in your outfits for a lasting impression. Because when the print is so much in trend and getting so common, experiment with just a little and turn heads.
You can also add the floral print on the lining of your sheer outfits, a floral trouser, a floral scarf and so on. With endless different ways, you will enjoy styling any outfit with floral prints.