Kanchipuram Silk being one of the most auspicious fabrics makes any Indian wedding complete. Whether you're the bride or the wedding invitee, you can never go wrong in a silk outfit. There are so many different and innovative ways to flaunt the silk that you can never get tired of wearing it. And, what's best is that the fabric lasts forever! Yes, a silk outfit is no less than an investment and can be passed on to generations. Today we have rounded off 5 best ways to flaunt silk outfits this wedding season and some tips to carry off the shine in style.
1. Kanchipuram Silk Sarees
Who can ever go wrong in a kanchipuram silk saree? The versatile outfit can be flaunted in so many different styles and drapes and it will only make heads turn every time.
2. Kanchipuram Silk Half Sarees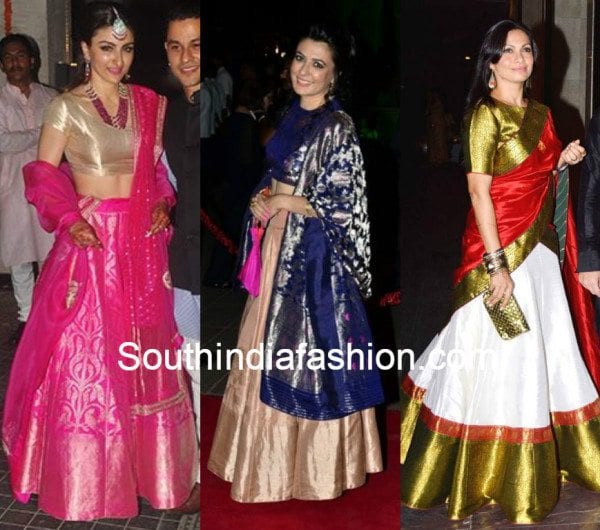 Wear it as a lehenga or as a half saree, a kanchipuram silk outfit teamed up with the right amount of accessories and makeup is sure to make a statement. It adds an instant grace to your traditional look.
3. Kanchipuram Silk Blouses
Experiment with your silk blouses in endless different ways by embellishing them or by adding trendy patterns and tassles. You can also mix and match your kanchipuram blouses with simple handloom sarees and make a statement.
4. Kanchipuram Silk Anarkalis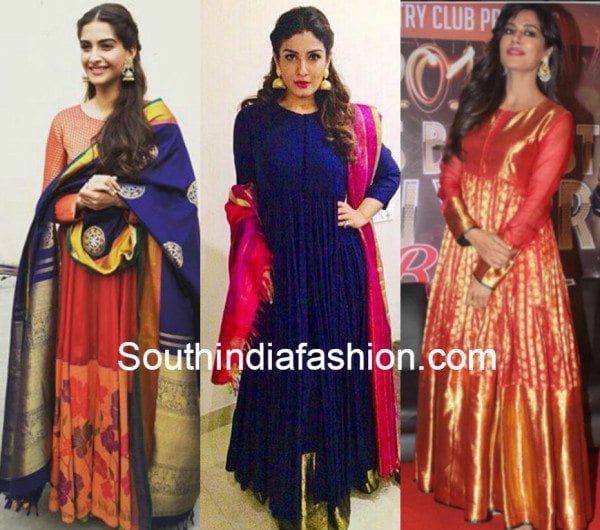 Anarkalis made out of kanchipuram silks look stunning and can be worn in so many different ways. Wear a floor length anarkali as a gown by skipping on the dupatta or if you don't want too much shine flaunt a plain silk anarkali with bold zari borders for a sober and elegant look.
5. Kanchipuram Silk Dupattas
A kanchipuram silk dupatta is a timeless classic piece to brighten up any simple outfit or even a dressy attire. A definite wardrobe essential in every Indian woman's wardrobe especially if you love to mix and match. We absolutely love how designer Bhargavi Kunam has teamed up a silk dupatta with a khadi salwar by designer Gaurang Shah.
A silk is a timeless classic and can be styled in so many different ways. Whatever your style maybe, you can literally make everything from silk and look stunning too. From crop tops, maxi skirts, gowns, dresses to traditional kurtas, tunics, kids attires and just about anything, a silk outfit is sure to make you proud. So go ahead and flaunt your silks this season!!