Jacketting up over your outfits has never been more in vogue and with the fusion trend spreading far and wide, desi outfits can be jacketted up too now. Desi outfits covered in heavily embellished jackets add plenty of oomph and regality to your outfits(in addition to protecting you from the cold!).
Ergo…we've listed out five ways in which you can jacket up your desi outfits. Scroll on, check them out and try them out before the winter ends!
1.Jacketted sarees
Jacketting your sarees is a trend that's been in vogue in the 50's and has made a major comeback recently. Replace your blouse for a heavy embellished jacketted blouse and drape the pallu of your saree over that. Here's how it's done.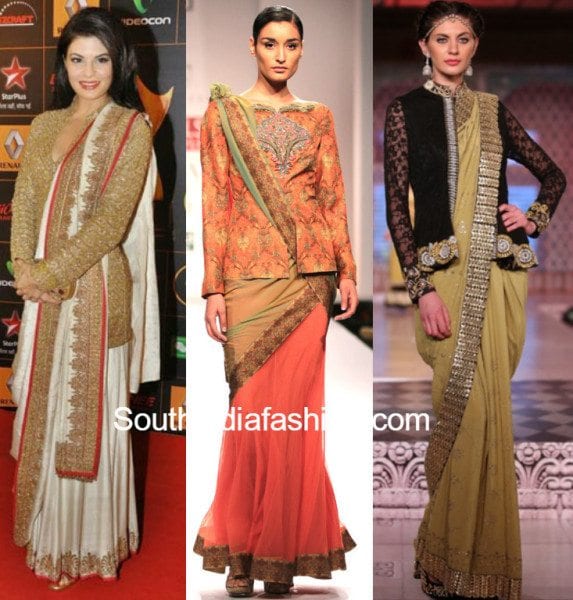 2.Jacketted anarkalis
Jacketting up your anarkalis with either long or short jackets can add to their regality making them look all the more gorgeous. These jacketted anarkalis should give you some good amount of inspiration.
3.Jacketted lehengas
Wearing long and majestic jackets over your lehengas with heavy work on them is all the rage now with designers like J J Valaya creating some gorgeous jacketted lehengas. Belt the jacket up at your waist to make them look all the more stunning.
4. Jacketted dhoti pants
Yet another way you can use desi jackets to amp up the ethnic charm of your outfits is to wear them over dhoti pants. Dhoti pants and jackets go perfectly well together, whether the jacket is a short, reaching to your waist or a longer, reaching all the way till your knees.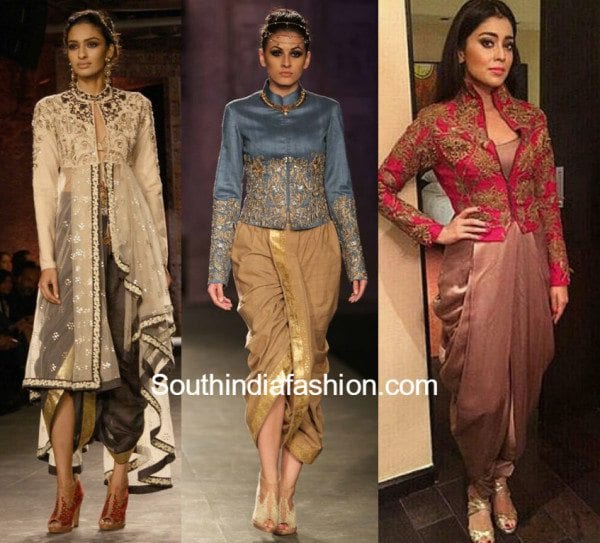 5. Jacketted kurtis
Jacketted kurtis are a great way to add that bit of glam quotient to your everyday wear. Colorful jackets with thread or mirror work on them can make your kurtis look great.