Surprisingly, one of the trending colours this season is the bright and vibrant – Yellow! Yellow is not an easy colour to pull off but sometimes coming out of your comfort zone definitely helps you turn heads. You can spot yellow everywhere lately – home furnishings, western outfits, and the color can look ravishing on Indian outfits too. Let us share with you some tips to flaunt yellow coloured outfits in style.
1.Yellow Sarees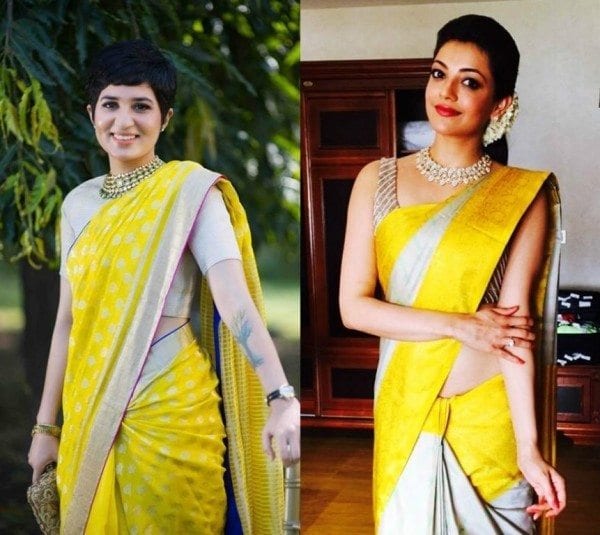 When it comes to sarees, yellow is such a divine colour. Especially for a wedding occasion or any festivity, you can never go wrong in a yellow saree. The colour looks extremely royal on any fabric. Add on gold accessories on a yellow saree for the instant dressy look.
2.Yellow Salwar Suits
Yellow salwar suits look bright and cheerful even on a daily basis. Wear it to work or for lunch, a yellow suit will only add more charm to your cheerful mood.
3. Yellow Lehenga
Whether you're the bride or a wedding invitee. A heavy yellow lehenga will define royalty and class. If you do not want to add on too much of yellow, flaunt them with lovely contrast blouses and dupattas.
4. Yellow Kurtas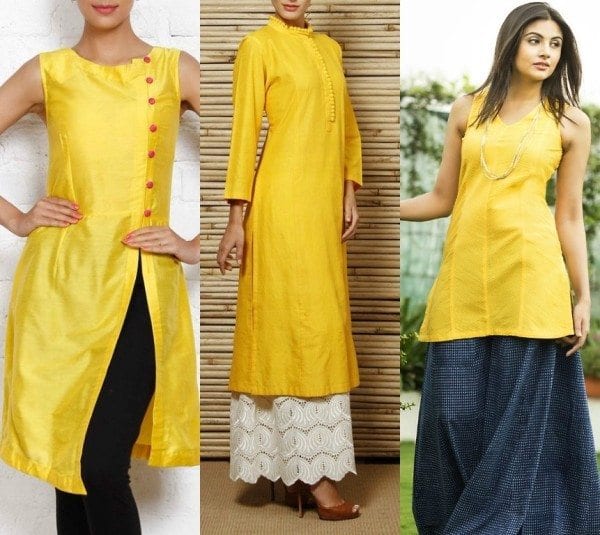 Yellow kurtas make perfect daily outfits. Team them with a chic pair of palazzos, denims or leggings. This happy color will effortlessly brighten up your day.
5. Yellow Anarkali
A gorgeous yellow Anarkali grabs attention instantly. If you do not want to add much of yellow, go with a contrast yoke or a bottom/dupatta. Colours like pink, green, black, blue work as wonderful contrasts for yellow.
The colour yellow is very auspicious too and looks wonderful especially when experimented differently. Throw on a yellow dupatta on a simple outfit or just contrast any outfit with bright yellow bottoms. You can also add a yellow stole or a scarf with Western outfits to make a bold statement. If you do not want to flaunt a yellow outfit, simply adding a touch of yellow to any outfit like these will work wonders.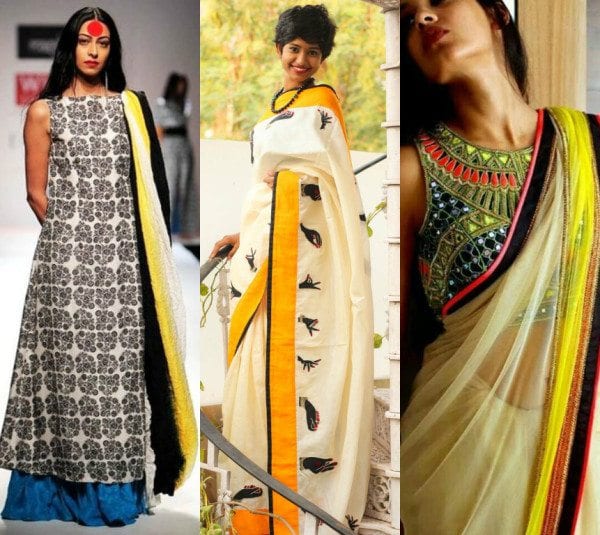 So, go ahead to experiment and flaunt your desi yellow outfits this season!