A blouse is the statement element of a saree. Nothing enhances the look of a saree like a blouse does. We all love to wear statement blouses with plain sober sarees or vice versa.  But, with the festivities round the corner we also want to be comfortable while running between errands. And what better comfort than trendy cotton blouses?! Handloom cotton blouses may sound to be simple but if they are designed well they can transform your whole look from traditional to contemporary making you feel extremely comfortable at the same time. So, here we bring to you tips on how to enhance your handloom cotton blouses and make them your ultimate wardrobe staples.
1. Cotton blouses with patchwork
If you are opting for a plain handloom saree, experiment with your blouses. Choose one contrast color to you saree and then combine fabrics of the same color but with different prints. All you need is a brilliant tailor to make use of it at the neckline, sleeves.etc and see how many compliments you receive.
2. Cotton blouses with patterns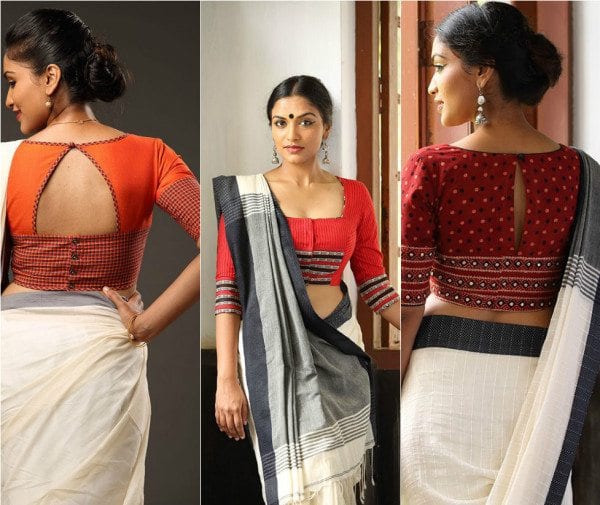 Make the best use of the existing borders or cotton laces and enhance them with different patterns. Back loop patterns with elegant buttons add a smart and elegant look to your outfit.
3. Cotton Blouses with Tie Cord
If you love wearing deep back necks, simply add a tie cord to your cotton blouses. They add a very feminine touch and never go out of style.
4. Jacket style cotton blouses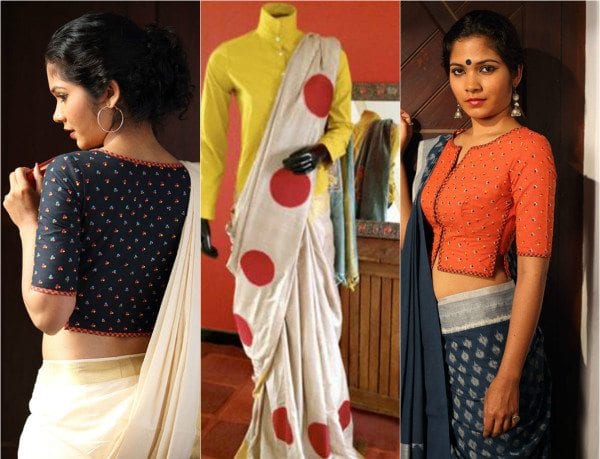 This retro style is back! Teaming up your cotton sarees with elbow or full length jacket style blouses is very much in trend and doesn't seem to fade away anytime soon. So, if you are confident enough to pull off this style; don't miss out on this trend.
5. Plain cotton blouses
If your saree has a statement print, even a simple cotton blouse with a border or a piping or even without it will look evergreen and elegant.
Cotton sarees and blouses are a definite wardrobe essential for every saree lover. So, go ahead and rock the cotton in style!