With bright colored Kanjeevarams replacing their older, darker and lighter versions, we can officially say that this is the season where bright is in for Kanjeevarams! A glaring bright shade of lemon yellow, a super-vibrant shade of baby pink and radium green – weavers are not shying away from making Kanjeevaram silk sarees of the most off-beat and eye-dazzling colours there possible are. As for the wearers, they're flaunting it with much more pride. Scroll on and check out all the brilliant colours Kanjeevaram silks are being painted with lately and fall in love with all their bright-ness!
Yellow is definitely in when it comes to silks, and here's all the gorgeous shades of yellow that Kanjeevarm silks are being made in.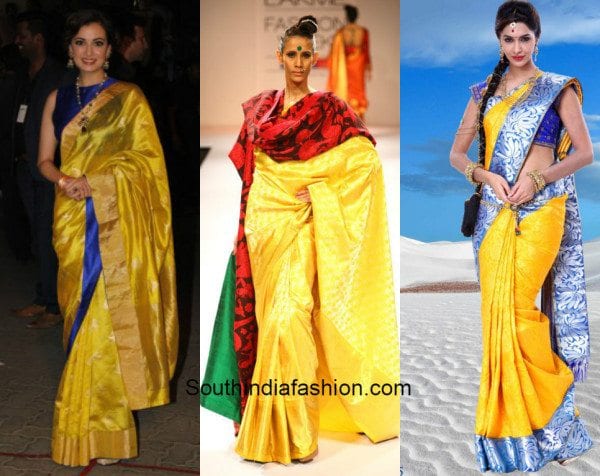 Purple never ceases to be pretty especially when a bright shade of it is woven into a kanjeevaram saree.
Brilliant is what a bright blue Kanjeevaram silk saree is and here's proof!
From radium green to a glaring shade of parrot green, any shade of green that is bright is what is trending at the moment!
Pink Kanjeevarams have always looked spectacular, more so when they are of the bright hues. Here are some stunning pink Kanjeevaram silks.
Now that you've got a good amount of color-inspiration, what colour would you choose for your Kanjeevarams this festive season?