The crop top is one of the most versatile piece of clothing in every woman's wardrobe. It's chic and can be paired up with palazzos, skirts, trousers, and a lot more. In addition, crop tops enhance your silhouette giving you a taller and slimmer look. Here we show you different ways in which to style your crop tops which will help you rock the look.
1.With Pencil Skirts
Wearing the crop top with pencil skirts will give you a formal look instantly making you feel taller and slimmer.
2. With Palazzos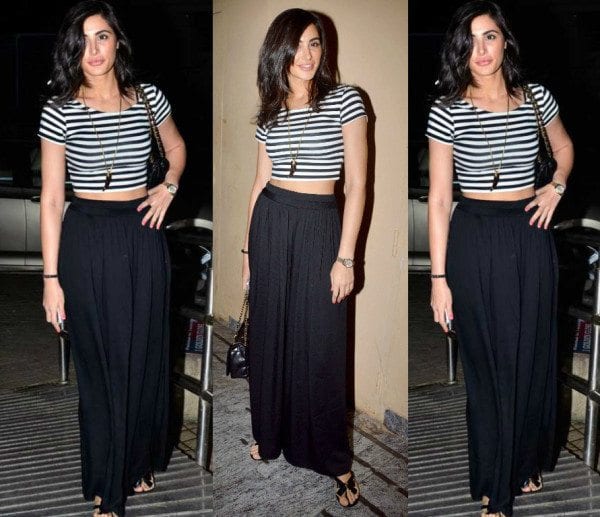 Crop tops and palazzos are a winning combination. Teaming up your palazzos with crop tops will never let you down. It gives you utmost comfort and make you feel fashionable at the same time.
3. With High Waist Trousers
You can team up a crop top with high waist jeans or trousers and adapt the girl next door look.
4. With Midi Skirts
Crop tops paired up with midi skirts give a very feminine feel to your vintage look. Flaunt them with high heels to make heads turn.
5. With Hot Pants
For a playful look, sport a crop top with hot pants or shorts. It will not only give you a younger look but will also make you feel like a glam doll.
6. Cover it with a jacket
If you do not wish to show too much of your skin you can simply throw on a jacket over your crop top for a modest yet trendy look.
7. With Maxi Skirts/Lehengas
Crop tops and long skirts can be a perfect mix and match option. High neck crop tops can be paired with dressy maxi skirts or even lehengas.
8. As saree blouses
If you are conscious about your mid riff being uncovered, you can also wear your crop tops as saree blouses. They give a modern twist to your Indian ethnic look.
There are many different ways to rock your crop tops. So don't limit yourself to basics. Just make sure that if you opt for a fitted crop top, you go loose with the bottoms or vice versa. Experiment with the crop top and enjoy tonnes of compliments coming your way! 🙂