Shibori is one of the hottest prints of the year and is in full swing this season.  On a silk fabric, georgette or cotton; shibori print looks gorgeous and is ever trending. This dying technique inspired from Japan is trending amongst all age groups and is found on western clothing, ethnic wear, scarves, stoles, duppattas, pillow covers, bed spreads, quilts and so on.  If you haven't tried out this print yet, make sure you do because the shibori is here to stay. Here we bring you different ways to flaunt the trendy print in style.
Shibori Dyed Sarees
Shibori dyed sarees give a contemporary feel to your desi look. Team up shibori sarees with floral blouses or even a simple contrast blouse works wonders. You can never look over dressed or under dressed in a shibori saree. Shibori sarees add the right amount grace and a feminine touch to your ethnic look.
Shibori Dyed Silk Kurtas
Who doesn't want to be comfortable and look elegant at the same time especially during festive occasions?! If you want to get that trendy and elegant look, team up a classic shibori dyed silk kurta with a contrast pair of leggings and you're all set.
Shibori Dyed Dupattas
We all have these plain kurtas and salwar suits for everyday use.  Why not give a twist to these simply outfits by adding some zing with a vibrant hued shibori dyed dupatta. They not only complete your plain outfit but also help you mix and match with so many outfits and help you to stand out of the crowd everyday!!
Shibori Dyed Maxi Dresses
Gorgeous flowy georgette gowns or even maxi skirts in shibori look extremely chic and elegant. If you do not want to add too much of print to your outfit simply team up with a contrast yoke and with a maxi skirt go for a contrast crop top. You can use the same concept for anarkalis too.
Indo Western Outfits in Shibori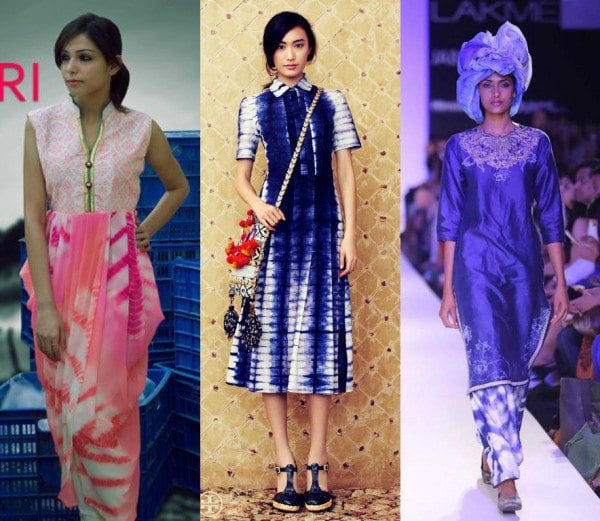 Add a hint of the shibori print of indo western tunics or shibori palazzos or even dresses. The versatile print perfectly blends with every style and will never let you down.
There are so many different ways to jazz up your outfits with shibori prints. Add some shibori on your outfit or on your décor, you will never get bored of it! So go ahead and treasure the most beautiful art – The Shibori!