One of those beautiful fabrics that was made in our country, Bandhani only keeps getting more popular with each passing day. For all their intricate and subtle beauty and charm, (and the gorgeous colours they come in), Bandhani Sarees, Dupattas, Skirts and Lehengas are an ever-favorite with our women. If you're one of those people who've got an incurable case of love for Bandhani, take a look at this collection of Bandhani Sarees and their patterns to fall deeper in love with everything Bandhani!
Native to Rajasthan and Punjab, the Bandhani Sarees have been worn since centuries and some in some really bright colours like yellow, pink, blue and red.
Of late, Bandhani Sarees have been subject to a slight modern twist mixing and matching colours and patterns. Half and half bandhani sarees with half of the saree being bandhani and the other half in another material are also much in vogue lately.
Cotton Bandhani Sarees with a slight zari border are the best of all the Bandhani sarees for all their grace and old-world charm.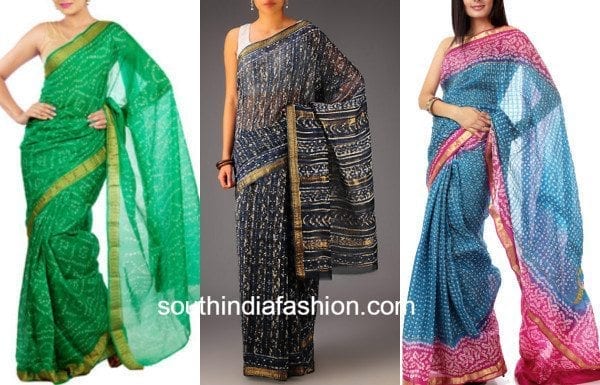 The only way to make a Bandhani Saree look more beautiful is to add some good amount of work to them. Be it gold work or mirror work, it only ups the glamour and grace of the Bandhani.
For all their gorgeousness, Bandhani Sarees are definitely worth being a part of our wardrobes, especially if you love wearing ethnic, desi weaves!