If you want to make your plain Saree look stunning, there's one thing you can do that always works without fail – team it up with a mirror work blouse! A mirror work blouse can make any saree and just about any attire look gorgeous. Isn't that reason enough to get yourself a mirror work blouse the coming festive season?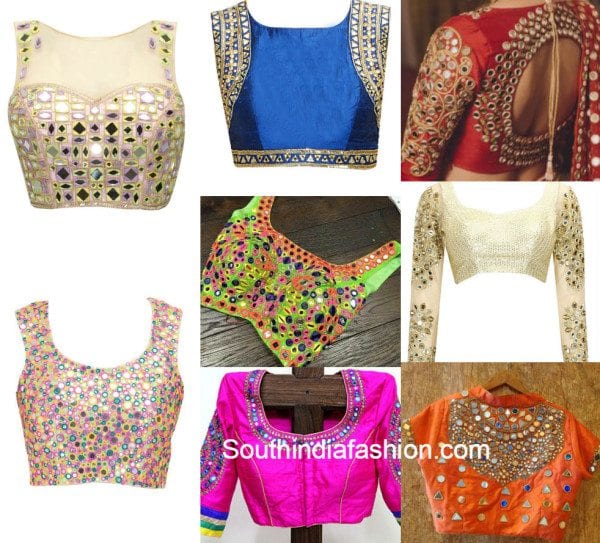 Here are a few ideas for some mirror work patterns on blouses that you should try out!
1. All Over Mirror Work Blouse
Covering up all of your blouse with mirrors is a great way to use mirror work to its best. It can make just about any saree look stunning.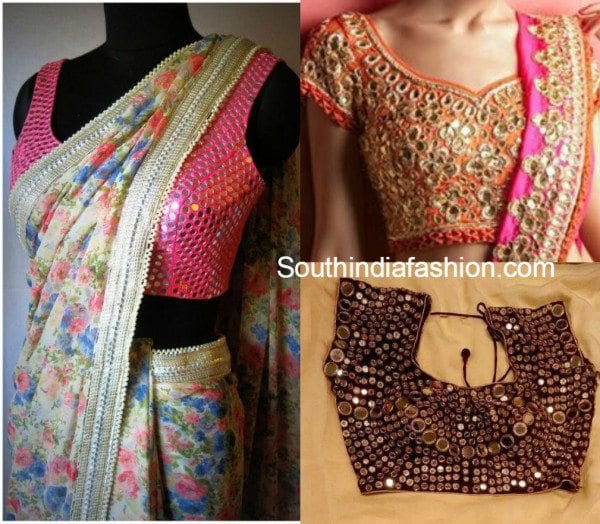 2. Mirror Work Along the Blouse Borders
Yet another gorgeous way to add mirrors to your blouse is to surround the neckline and the edges of the sleeves with mirrors.  It adds a definite sheen to blouses that are printed or blouses of bright colors.
3. Mirror work Blouse with Round Cut Out on The Back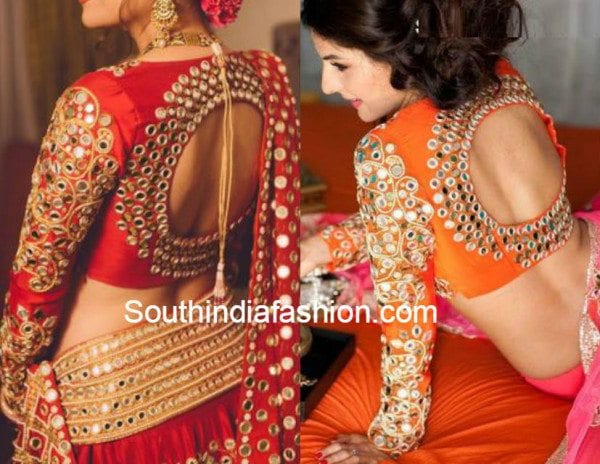 If there's one thing other than covering all of the back of your blouse with mirrors to make your blouse look beautiful, that would be to make a round cut on the back of your neck and surrounding it with mirrors.
4. Collar Neck Mirror Work Blouse
To add a certain sheen to your saree and make the mirrors add some good amount of gorgeousness to your saree, get a collar neck mirror work blouse. Team it up with a simple georgette, chiffon or net saree for it to look its prettiest.
5. High Neck Mirror Work Blouse
A high neck blouse blouse always adds a certain elegance to your attire. Get a high neck blouse stitched and add loads of mirrors around the neck (and all over the blouse too). Try teaming high neck mirror work blouse with simple plain sarees for it to look its best.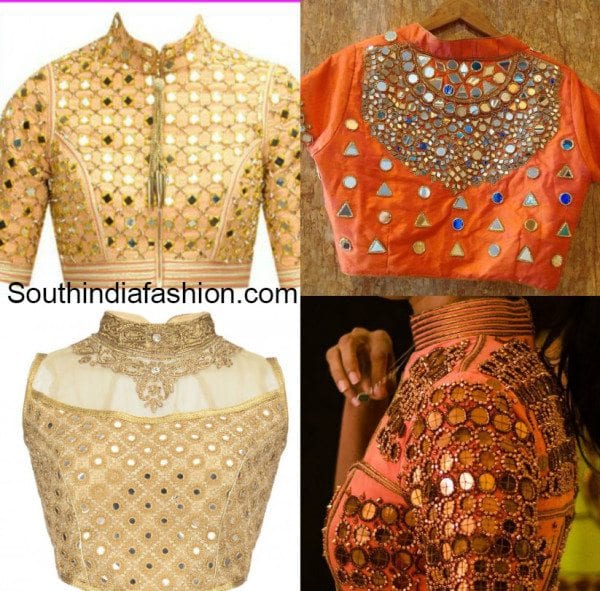 6. Sheer Net Mirror Work Blouse
Going sheer can make any blouse and just about any work look great. Try out the sheer blouse with mirror work done on it. It is bound to make the saree look amazing!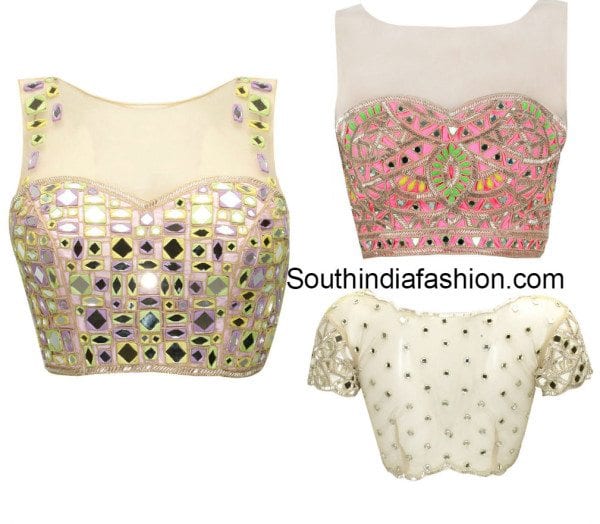 7. Sleeveless Mirror Work Blouse
A sleeveless blouse which is covered in mirrors entirely on the front and the back can make just about any saree that is paired with it look pretty. A blouse of this kind is a wardrobe-must-have!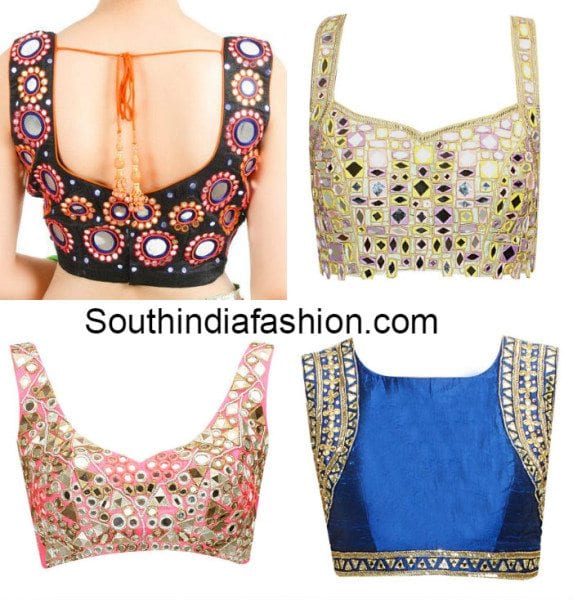 8. Boat Neck Mirror Work Blouse
The boat neck pattern which is much in vogue lately can be embellished with a whole lot of mirrors near the neck and the sleeves. That's a definite way to put mirrors to their best use when you're teaming them up with chiffon sarees.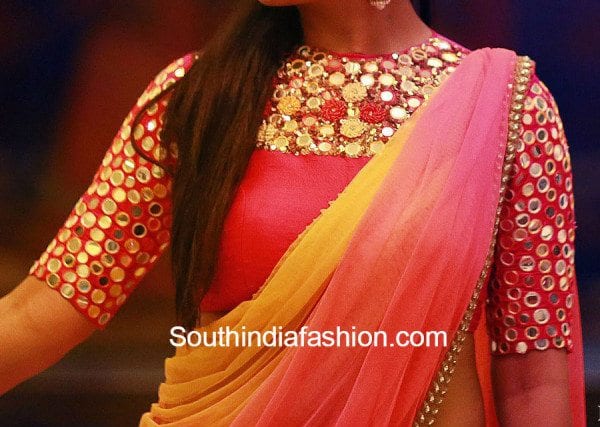 9. Full Sleeves Mirror Work Blouse
If you want to try out a full-sleeved blouse with mirror work on it, get the sleeves covered entirely in mirrors. There can be nothing more gorgeous than that!
10. Multi Color Mirror Work Blouse Designs
Yet another wardrobe-must-have if you have a vast collection of sarees. The multicoloured mirror work blouse looks best with any saree that you pick amplifying its beauty many folds.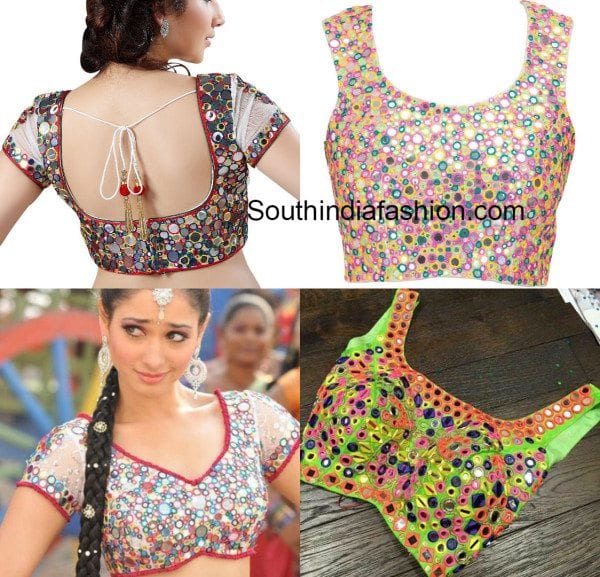 So which one of these mirror work blouse patterns did you like the most?