Nothing adds beauty to your kanjeevarams like some gorgeous maggam work done on the blouse. It can in fact make a simple cotton silk saree look grand. However, you should choose your maggam work pattern carefully so that it can contribute its best to the Saree.
To help you with just that, we made a collage of some beautiful maggam work design patterns that you should try out for the coming wedding and festive season.
1. All Over Maggam Work Blouse
Covering all of the back of your blouse and bits of the frontal part with maggam work will add a definite grandeur to your saree. A kanjeevaram is what you should team up such a blouse with and it works best when you're the bride or the one of the bridesmaid.
2. Maggam work along the blouse borders
The best way to go minimal with your maggam work and make it look beautiful is to get the work done only along the borders of the neck and sleeves.
3. High Neck Maggam Work Blouse
Choosing a high neck pattern for your blouse and covering your neck in some gorgeous maggam work designs is all the rage lately. It adds a certain sheen to your neck. The work sometimes goes on to cover part of the sleeves and a part of the back.
4. Peacock Design Maggam Work Blouse
Peacock-shaped maggam designs have been popular ever since maggam work was done on blouses and we needn't emphasize on how much beauty they add to the blouse. Here are a few inspirations for peacock designs.
5. Elbow Length Sleeves Maggam Work Blouse
Elbow length sleeved blouses are very much the trend lately, especially with kanjeevarams. Get your sleeves fully covered in maggam work to make your saree look beautiful. The vanki blouse is one of the elbow designs you should definitely have in your wardrobe.
6. Sheer Maggam Work Blouse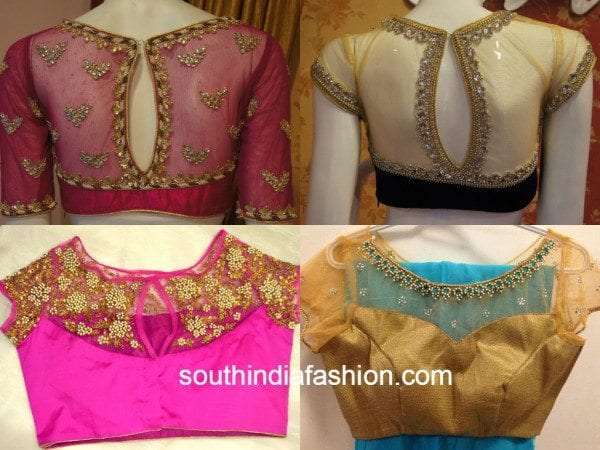 As much as maggam work looks good on silk fabric, it looks even better on sheer or net fabric. So go sheer on your blouse, at the back or at the collar and get some beautiful maggam work done on it to make it look beautiful.
7. Get only half of your blouse's back covered in maggam work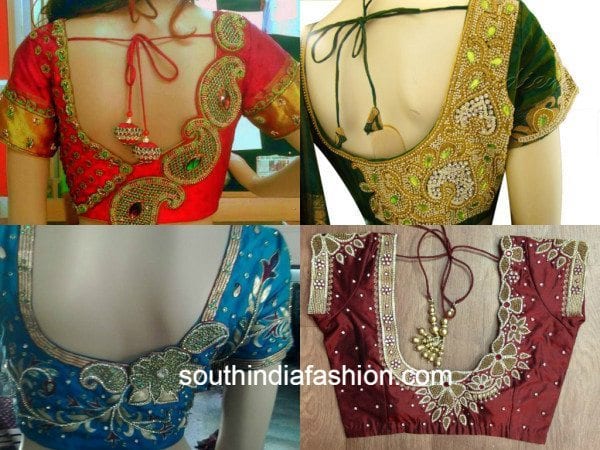 Covering up the right half of a back of the blouse in maggam work while either leaving out adding some minimal maggam work on the half has been the norm these days – mostly because the other half of the saree gets covered in a pallu. Get one of these half-back maggam designed blouses with beautiful patterns made out of flowers, birds, leaves or other such patterns.
8. Mash up your maggam work with stone work
Nothing can be more beautiful than stone work and more so when it is mashed up with some maggam work! So try and mix up your maggam work with some stones and some pearls to make your blouse look all the more beautiful.
Now that you have a plethora of ideas for getting some gorgoeus maggam work done on your blouse, try a few out and don't forget to share the result with us!