In all the richness of Indian silk sarees, we love how there are a whole different types of them each with its own unique history and each with its own incredible beauty. Paithani Silk sarees which are the combination of the grandeur and art are easily one of the most loved silks of the country. Bright colours weaved with animal, flower and bird prints are what make them so alluring.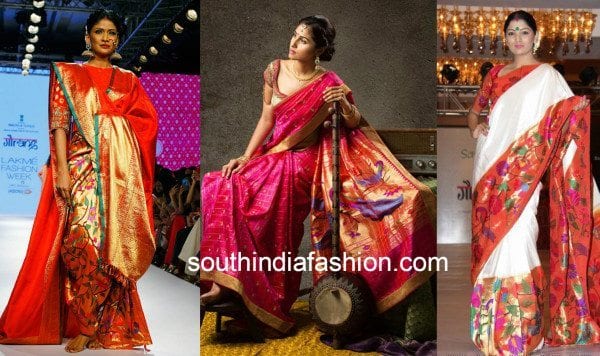 Originally from Maharashtra, Paithani silks made their way into the rest of the country winning hearts for all their granduer. Nizams, who were especially in love with these weaves got them custom-made creating a lot more patterns of them. Today, we have some of the best Paithani silks which have been influenced by some other local weaves and traditional clothing.
Here are some stunning designs of Paithani Silk sarees that will have you fall in love with the weaves.
Peacock Design Paithani Silk Sarees
Peacock design is one of the most commonly used on Sarees, but it is on Paithani Silk Sarees that they look their best. Colorful peacocks weaved onto the rich gold add a fun element to saree making it beautiful.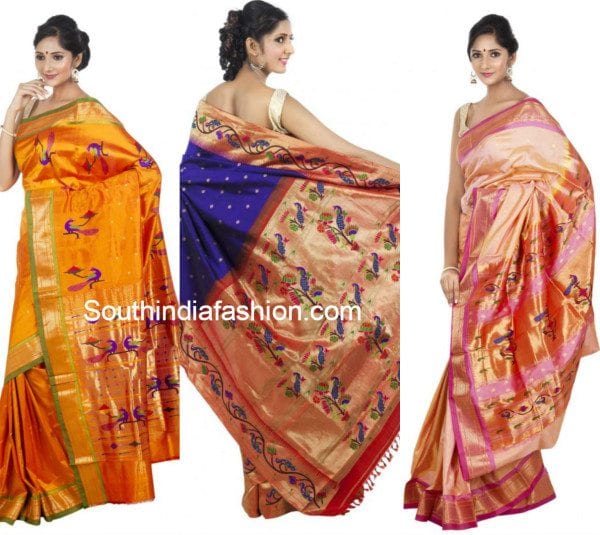 Floral design Paithani Sarees
Colourful florals weaved onto the paithani silks can make them look pretty like no other. The very basic form of weaving Paithanis – having florals and leaves weaved on to them is the very reason everyone loves them so much.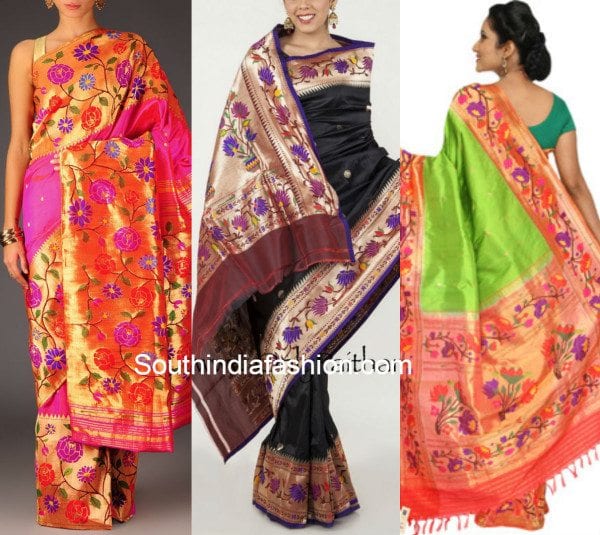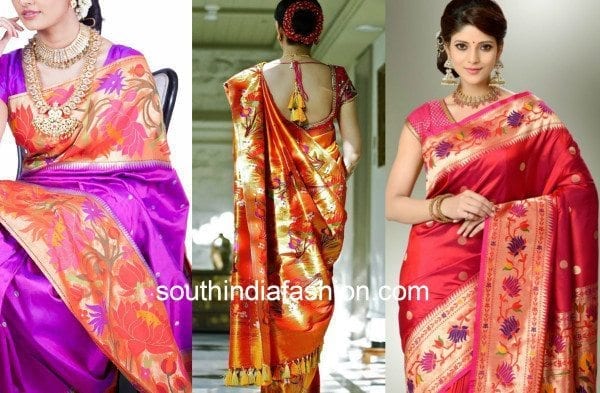 This floral Paithani lehenga by Bhargavi Kunnam is loaded with pretty-ness!
Black Paithani Sarees
There is a very unique and mysteriously beautiful appeal to black paithani sarees. When we team the black saree with a bright shade of pink or orange and get some gorgeous flowers or birds weaved onto them, they look their loveliest best. A black paithani silk saree is a wardrobe-must-have.
Gaurang Shah's Paithani Sarees
Just like Gaurang Shah makes any of the traditional silks look their grandest with his designs, he's made some gorgeous paithani weaves as well. With thick and long borders of paithani silks attached to lovely shades of kanjeevaram fabrics, his sarees show us just how beautiful Paithanis can get to look if you design them right.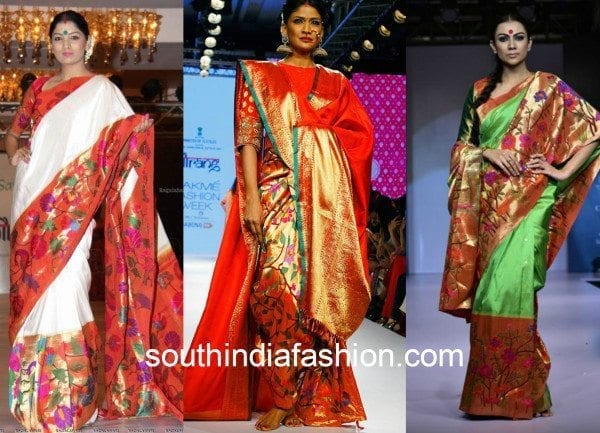 Celebrities wearing Paithani Sarees
Our celebs have often been seen wearing paithanis for shop opening ceremonies and other events. Lakshmi Rai, Kajal and Pranitha, all look pretty in a similar shade of paithani silk saree that they've been spotted in.
For all their beauty and grandeur, a paithani saree is worth being a part of your wardrobe. Do you not have a paithani saree already? It really is high time you get one for yourself!
Paithani Silk Sarees Online Shopping Sites:
onlypaithani.com (BUY HERE)
unnatisilks.com (BUY HERE)
Shatika.co.in (BUY HERE)
touchofclass.co.in(BUY HERE)