The Saree might be the oldest form of clothing there is, but it gets a new make-over every now and then which makes them stay in vogue eternally. We find new ways of draping them and new designs in which to make them, all of them enhancing their gorgeousness.
As for 2015, it has been an interesting year for the Saree with celebs flaunting some older and some newer Saree trends all of them making the Saree even more beautiful with every passing day. Here's a list of all the gorgeous top 10 Saree trends of 2015 that you should try out for the coming festive season.
1. Net Sarees
Net Sarees have been in vogue from the past three years nearly and in 2015, they continue to stay among one of the topmost saree trends of the year. Without being heavy on us, net sarees make us look all dressed up. To add to the glitz and dazzle of a net saree, we can add some beautiful stone or thread work on them.
2. Half and Half Sarees
Half and half sarees are one more of the saree trends that people just can't seem to get enough of. With one design on at its pallu and one design from waist down, we got to love the half and half sarees for how they add a very futuristic, modern touch to the saree.
In most cases, the pallu part of the saree is made out of net or velvet fabric while the pleats part is made up of georgette, net or silk. With gorgeous embellishments on the pallu, they turn out to look and make us look stunning!
3. Silk Sarees
The silks are back in vogue and how! All kinds of silk, especially the traditional weaves which have up until recently been worn only by a few people are now being worn by the young, old, modern and traditional women all in their own unique styles.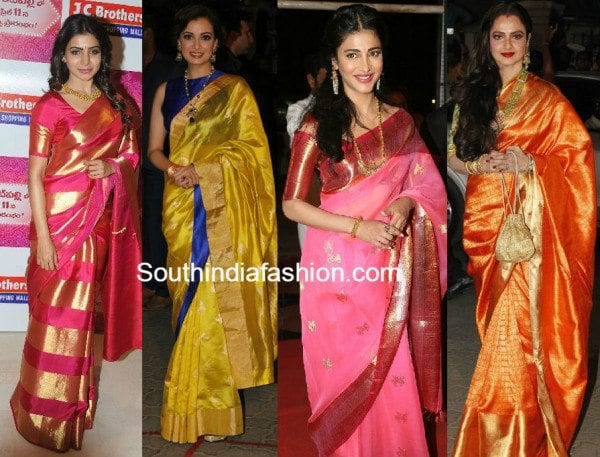 4. Printed Sarees
Prints which have become popular with the kurtis and tops have now cast their influence on Sarees too! Animals, vehicles, flowers and just about anything and everything is being printed on Sarees these days and we love how that adds a very chic and urbane vibe to the saree.
5. Lace Sarees
There can be no fabric that is classier than the lace. And when you make a saree out of lace, it really has got to be the classiest kind of saree there is, when it is worn right and worn with the right blouse. Lace along with being elegant also adds a very dressy-ness to your saree which can make it apt for grand events.
6. Mirror Work Sarees
A sure-shot way to making a saree look blingy and beautiful is to weave a few mirrors here and there to it. Just like mirror work blouses, vests and kurtis are trending, mirror work sarees are all the rage lately. Some gorgeous mirror work sarees are being designed lately and you should definitely get one for yourself for the festive season that's coming up.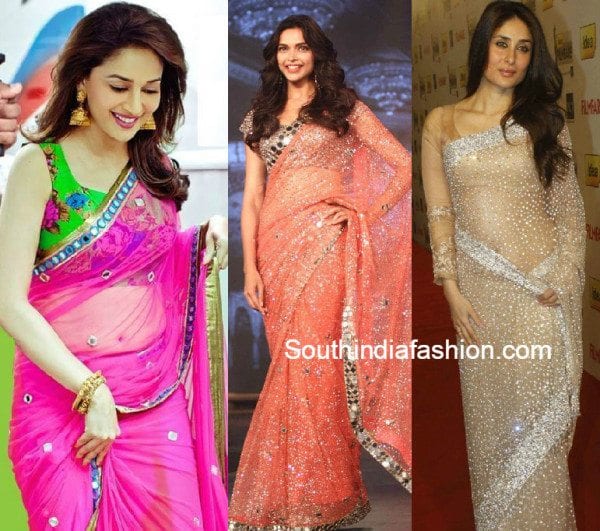 7. Chiffon Sarees
For every-day wear, chiffon sarees have always been what Indian women have always opted. With all the bright and beautiful colours, designs and borders that chiffon sarees are coming in lately, they are still the most worn sarees both for every day and party wear as well. Easy to handle, drape and gorgeous and flowy to look at, it is easy to see why Chiffon sarees are everyone's favourite pick!
8. Dhoti Sarees
Among the off-beat Saree trends that have been invented in the last two years, the dhoti is a creative work made up of sheer brilliance. Thanks to stylistas like Sonam Kapoor, Deepika and Samantha donning it on the red carpet, the dhoti saree got really popular with every one. If you've secretly wanted to wear a dhoti saree but have been too shy to get yourself a dhoti saree all these days, its time to shake it off and get one of these sartorial wonders for yourself!
9. Lehenga Sarees
They aren't lehengas but they're as gorgeous, flowy and dressy as lehengas. What more could you ask for than the lehenga sarees if you're a fan of the much raging half saree trend? Lehenga sarees aren't just an offbeat trend to try, they are also really comfortable to wear and can make you look much younger. One of the saree trends of 2015 that we just can't fall out of love with!
10. Saree Gowns
Yet another master creation that we lot who love sarees as well as dresses are going to absolutely love are the saree gowns. These are pretty much gowns that are weaved into the shape of a saree. When two of the most amazing things – a saree and dresses are combined, pure awesomeness is what is created, and that's what saree gowns are!
Tags: latest fashion trends in sarees, 2015 saree trends, whats trending, fashion trends 2015, south indian saree fashion trends 2015, latest sarees, top most fashion trends in sarees 2015