If you've watched Srimanthudu, you'd agree with us that Shruti Haasan's outfits were what stole most of the attention all the while that she appeared on the screen. Making a very simple and ethnic statement, Shruti's clothes were just perfect for her role. For one thing, when we decide to go desi, we know that there are a lot of ideas we can steal from these pretty outfits that she wore. Most of the outfits were from 'Haute Curry' line of clothing by Shoppers Stop for which Shruti herself is the brand ambassador.
Here's a dekko into our pick of some Shruti Hassan's outfits in Srimanthudu.
The long and flowy cotton skirts that Shruti wore were the best of them all. They make a perfect summer style for college going teenagers.
This yellow printed skirt teamed with a yellow tank top and a white shrug made her look beautiful. The green bangles she wore went well with the skirt.

This is one other perfectly done up look that had desi and chic-ness blended beautifully into it. The ethnic maxi skirt went really well with the collared sleeveless top. We got to love the side-swept braid as well.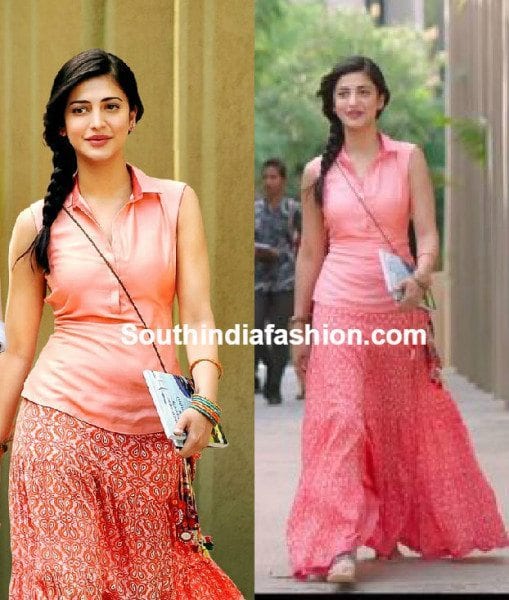 There were a lot of instances where Shruti wore sleeveless colorful kurtis with leggings and dupatta to go with them. Did you notice that there was a certain effervescence these bright colours brought out in her? We love those multi color kurtis. We also loved those pretty sling bags that she flaunted.
Most of Shruti Haasan's  kurtis in Srimanthudu movie are from Haute Curry brand.
Buy Haute Curry Kurtis HERE or HERE!!
Patialas are definitely back in vogue and Shruti Hassan's gorgeous flowy green patiala would make sure of that!
Just like all of Shruti Haasan's outfits in Srimanthudu, this white saree despite being so gorgeous and shimmery has a certain simplicity to it. Needless to say, Shruti looked gorgeous in it.
Keeping it minimal was definitely the theme behind Shruti Haasan's outfits in Srimanthudu. This simple and beautiful brown and green georgette half saree is proof of just that.
Talk about keeping things simple and chic! This white top and jeans are something that worked much in favour of the theme in question.
Tags: shruti haasan in srimanthudu, shruti haasan dresses in srimanthudu, shruti haasan in haute curry kurtas, haute curry kurtis, half sarees in srimanthudu, sarees in srimanthudu, skirts in srimanthudu, shruti haasan srimanthudu