After denims, the sartorial invention that happens to be a blessing in disguise was definitely leggings. In addition to being chic and stylish, leggings are super-comfy to wear around. We got to love them for their versatility more than anything else.
How not to wear your leggings:
Before we show you what to do with your pair of leggings, let us also let you in on some pointers on what you shouldn't be doing with your them, lest you spoil their purpose and beauty.
# Try not to team up them up with tops that are too short that do not reach below your waist. It is important to remember that leggings aren't pants.
# Teaming them up with crop tops is a big no as well unless you have the body or the courage to pull that off.
# For your legging to be perfect, it is important that they aren't too tight or too loose, lest it could ruin the look.
# Make sure your leggings aren't made out of loud colours and patterns in such a way that the attention's shifted to them instead.
# Wearing leggings under tight-fitting, body-hugging tops isn't a good idea as they are tight by themselves and tight on top as well as bottom is definitely a huge no!
We show you 5 amazing ways in which you can use those pair of leggings lying in your wardrobe :
1.Wear them with tunics 
If you'd like to pair up your tunic with a pair of underpants, leggings are your go-to choice. Tunics look great when worn with leggings as it gives a certain definition to the whole outfit. Adding a belt to the tunic+legging duo can only make the whole outfit ooze a very chic statement of its own.
2. With Kaftans
Kaftans which have made a comeback are all the rage these days. And honestly, a kaftan can look complete only when it has been paired with leggings. Match your kaftans and leggings with high-heeled stilettos and you're going to make a very unique and classy fashion statement!
3.To add beauty to dresses
If you'd like to add another piece of clothing to your dress because you'd like to cover your legs up for a reason, leggings are a great choice. Without ruining how beautiful your dress looks, they can add a very natural appeal to your dress, if the colour is rightly matched.
4.Team them up with a Kurti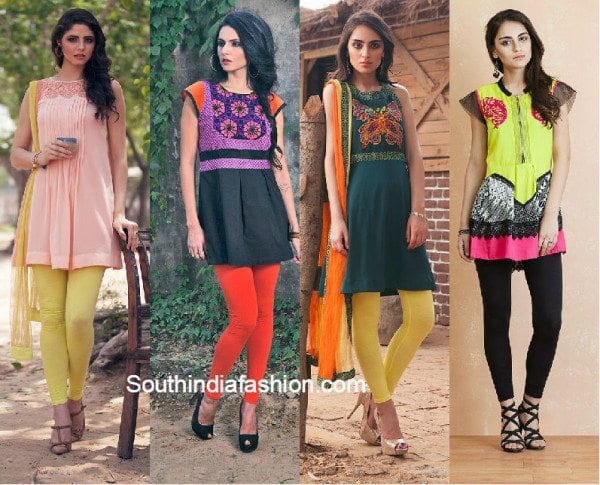 Ever since the legging made its way to India, it has been worn along with kurtis. And surely, the best way to wear a legging is really with your kurta. Be it with simple cotton kurtis or grander festive kurtis, nothing has complemented the kurtis like the leggings and the duo sure are a match made in sartorial heaven!
5. With Long Button Down Shirts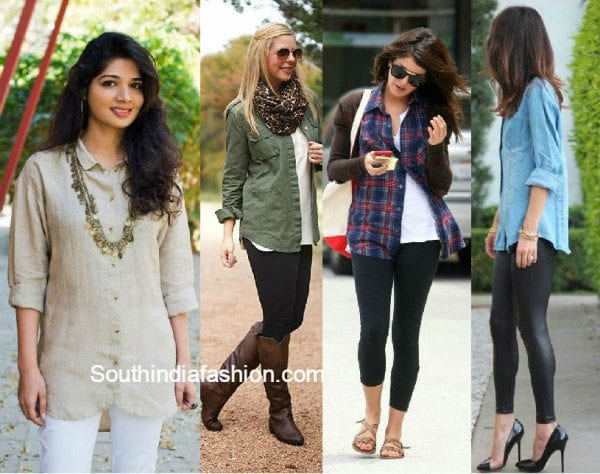 Leggings and long, slouchy shirts make for the perfect combo. The reason being that the shirts which are lose long going along really well with skin hugging leggings. Belt it up at your waist to add that little bit of chic-ness to the outfit.
6. Team them up with Cardigans or Long Sweaters
A good way to wear your leggings is to team them up with long and flowy cardigans. With cardigans being so loose and dressy, they complement the body-hugging leggings perfectly well.
Ever since they've first been made, the world has fallen so in love with leggings and has been using them so much that today, we're wondering what we could have done without them. It is however, important that they be worn right so that they look as great as they deserve to.