Among all the uber-cool and hipster-ish clothing that was worn in the 60's, palazzos were and are a favourite with many fashionistas. And boy, don't we love how they've made such a huge comeback now?
Surely, palazzos are back and with a bang. Through the last year and this year, we've seen people all over the world flaunt this sartorial wonder. By now, nearly every woman in the world must have owned atleast a pair (or about a few tens) of them. We show you ten amazing ways in which to wear those gorgeous pair of palazzos that you own.
1. Wear it with a Tee
The simplest way to wear your pair of palazzo pants is to team them up with a simple tee. It is a sure shot way to make your palazzo-look not go overboard and to keeping things casual.
2. Team it up with a tank top
Palazzo pants when teamed up with tank tops make for yet another simple, yet really chic statement. This is another way to keep things with your palazzos very casual. Add a belt just like Anushka Sharma hear did to make it all the more chic.
3. Wear them with a long-sleeved shirt
A rather elegant, flamboyant way to wearing your palazzo pants is to team them up with a long sleeved shirt. Pair it up with a lace shirt if you're wearing the pants to a party or with a regular long sleeved tee to keep your attire simpler.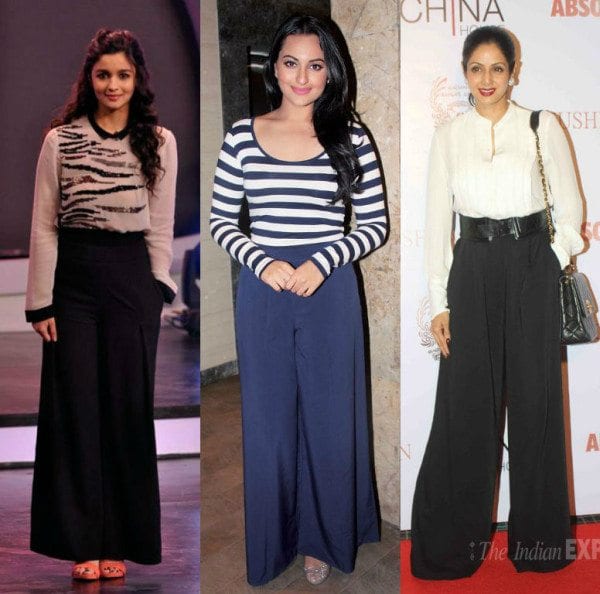 4. Palazzo pants go best with a crop top
There is n better way to wear your palazzo pants than perhaps with a crop top. They go together so well that it brings out a certain chic-ness and elegance both at the same time to your attire. Long sleeved or short sleeved, lace or velvet, wear your crop top in as many ways as you'd like to experiment with your palazzo pants.
5. Long kurtas and palazzo pants make for a classy combination
The most desi way to wear your palazzo pants is to wear them with a kurta. Despite the fact that a kurta is long and flowy and so are the palazzos, they go perfectly well together bringing out a very elegant ethnicity to the outfit.
6. Palazzo Suits
If you can wear palazzo pants with a kurta, why not wear a palazzo suit? Next time you decide to wear a salwar kameez, ditch those leggings and opt a palazzo pant instead. This really novel and plush way to way your salwar suit sure is going make quite a few heads turn around.
7. Layer it up over your palazzo pants
Palazzo pants are a great way to keep yourself warm during the winters while also helping you stay fashionable. All you have to do is layer up over the top that you're wearing over the palazzo pants. Use denim jackets or thicker, longer winter jackets and it is going to make for that perfect winter outfit.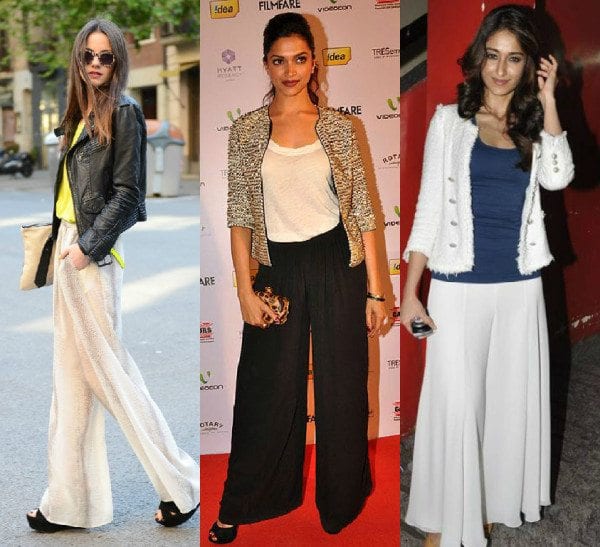 8. Go formal with your palazzo pants
When we said that you can use your palazzo pants in multiple ways, we meant it. You can actually make formal, work wear out of your palazzo pants by suiting it up or by teaming it up with a formal shirt. Aishwarya Rai shows you how to go formal with your palazzos with her Cannes outfit of this year.
9. Pair it up with a long, floor-length jacket
Floor length embellished jackets are much in vogue these days. The best way to wear these jackets is to team them up with palazzo pants. Leave the jacket unbuttoned from the belly to the bottom to get the look right. Karishma Kapoor's navy blue palazzo pants and floor-length jacket show you just how beautiful this could look.
10. Match your top with the palazzo pants to make a jumpsuit
A very dapper way to use your palazzo pants is to make a jumpsuit out of it. All you have to do is team them up with a top of the same colour and then spruce it up a little more by adding a belt at the waist. This can also make for good work wear.
Now that you know how to pair your palazzo pants with nearly every single top that you have, is it time to replace your favourite jeans with palazzo pants yet? We would say that it probably is!
Tags: palazzo Pants, Indian outfits with palazzos, indian palazzo pants, long kurta with palazzos, salwar with palazzos, crop top with palazzo pants, tank top with palazzo pants, deepika padukone in palazzo pants, shraddha kapoor, genelia in palazzos, sonakshi sinha in palazzo pants, bollywood actress in palazzos, celebs in palazzo pants