Are you looking for ways to jazz up your saree collection with off-beat styles and designs? Then check out the latest collection of sarees and blouses from the clothing brand Nayantaara. With contemporary embroidered blouses featuring varied sleeve types, necklines, and add-ons like belts, ruffles, and polka dots, this collection is perfect for someone who is looking for the latest saree and blouse designs. Keep scrolling to go through the collection.
Style it with a belt
Adding a matching belt to your ethnic saree is a stunning way to add some drama to your saree look. These sarees from the Nayantaara come with pre-designed matching belts to create a chic look to your ethnic wear.
This organza powder blue silk saree comes with embroidered sleeveless blouse and belt in hues of gold. To add further drama, the belt comes with elegant ruffles.
Get a celebrity look with this olive green organza saree paired with an embroidered blouse and belt.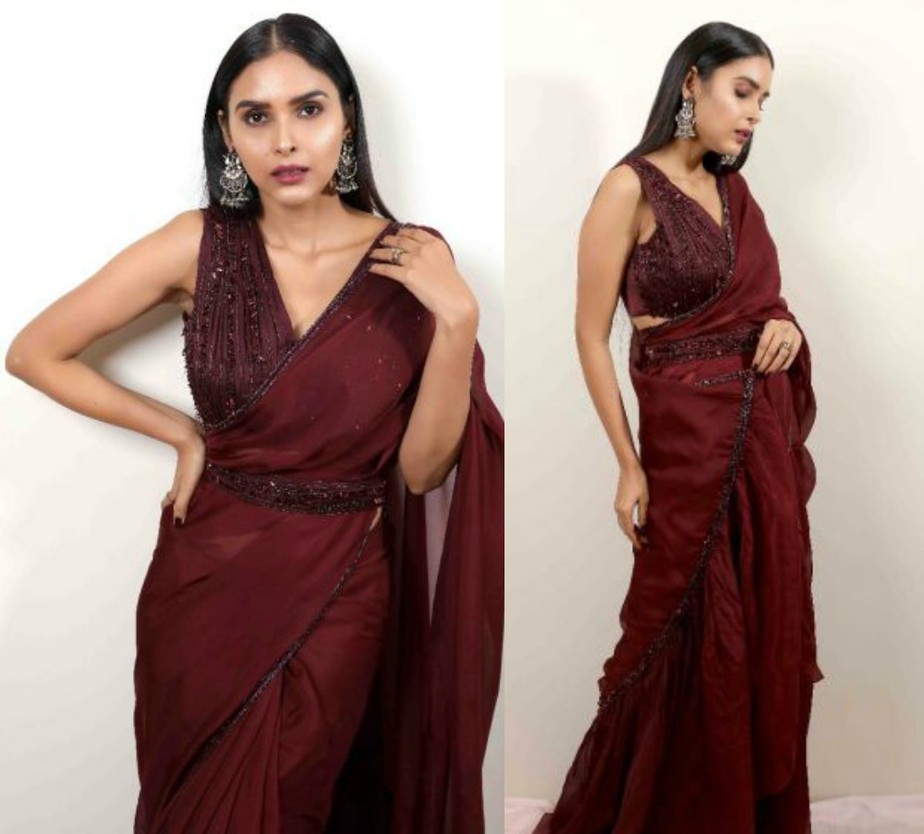 This elegant wine shaded saree features satin saree paired with a hand-embroidered blouse and belt. It is an ideal choice for your next cocktail party.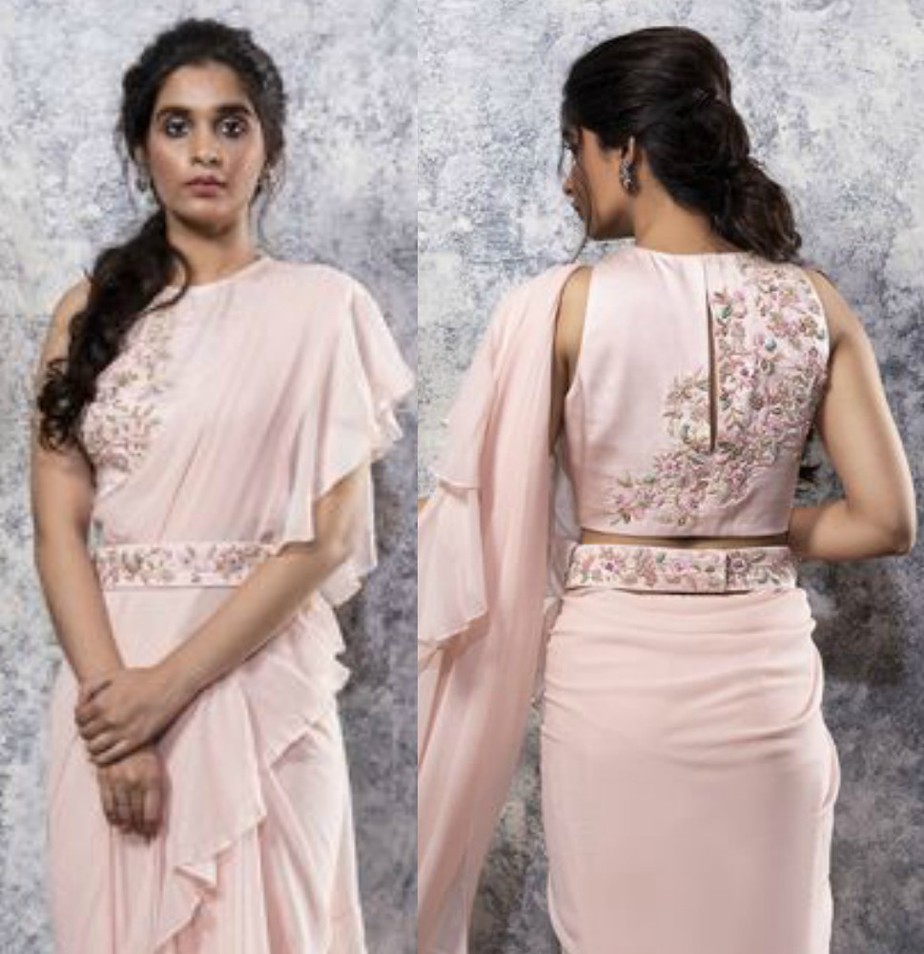 Add a twist to your regular pastel collection with a ruffled saree. Add more drama to your ensemble with an embroidered blouse and a matching belt.
Create a retro vibe with polka dots
These polka dot sarees are perfect for summers and casual outings.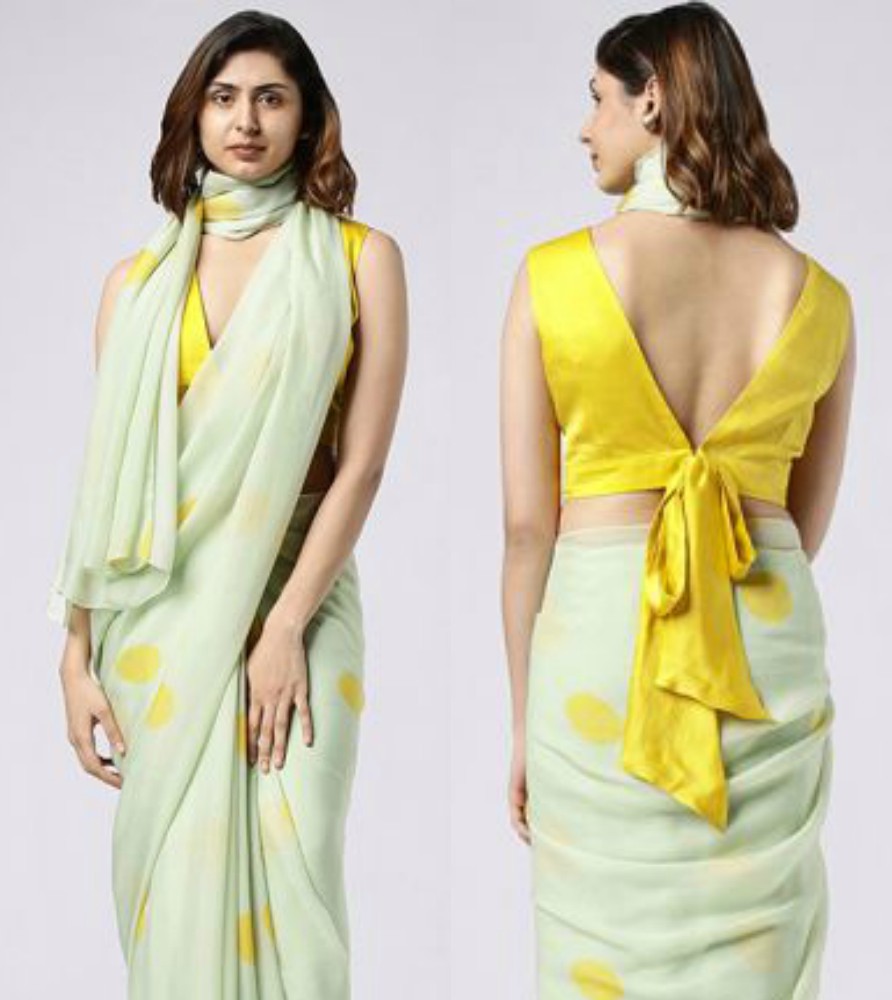 This green paper silk saree features yellow polka dots and is paired with a stylish sleeveless blouse. Also, the blouse comes with a plunged neckline and a deep v-neck back with a knotted bow.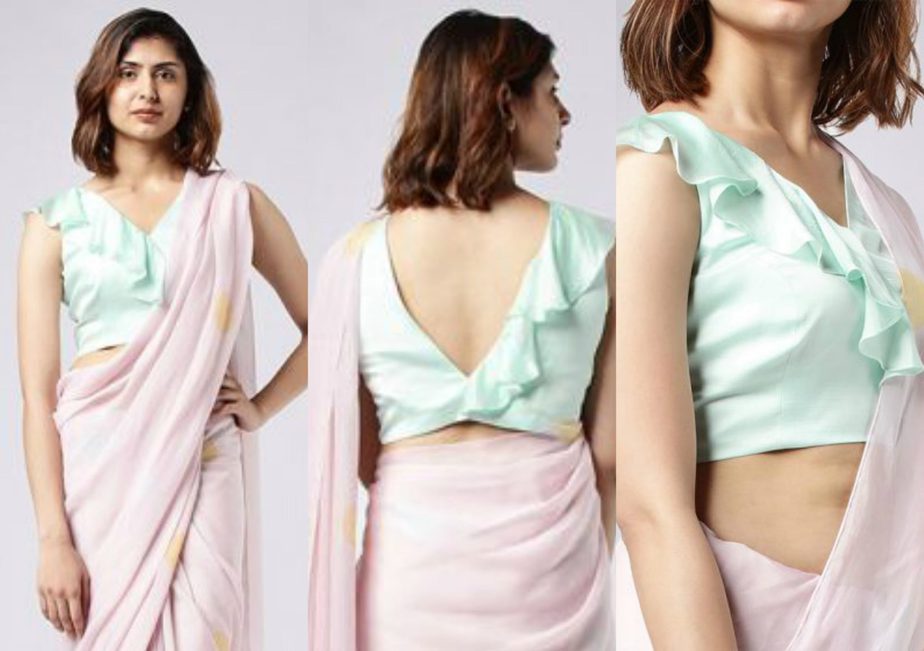 This pastel pink polka dot paper silk saree is perfect as summer wear. The pastel blue blouse features ruffles and a deep V-neck.
Another casual summer wear saree from Nayantara that features large polka dots. This paper silk white saree is paired with a green satin sleeveless blouse.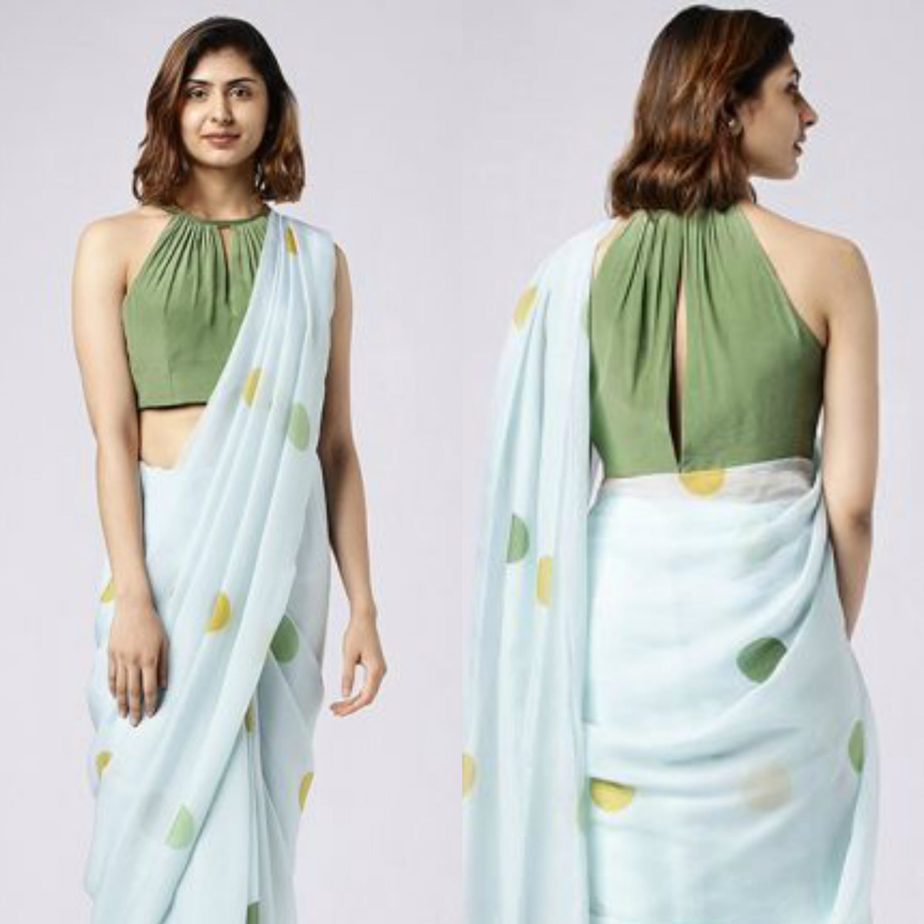 This ensemble us how to combine a classic polka dot saree with a contemporary style blouse. This pastel blue paper silk saree is paired with a green gather halter neck blouse.
 Ruffles
Ruffle sarees are the latest trend in contemporary stylish sarees. These sarees are comfortable to wear and look chic.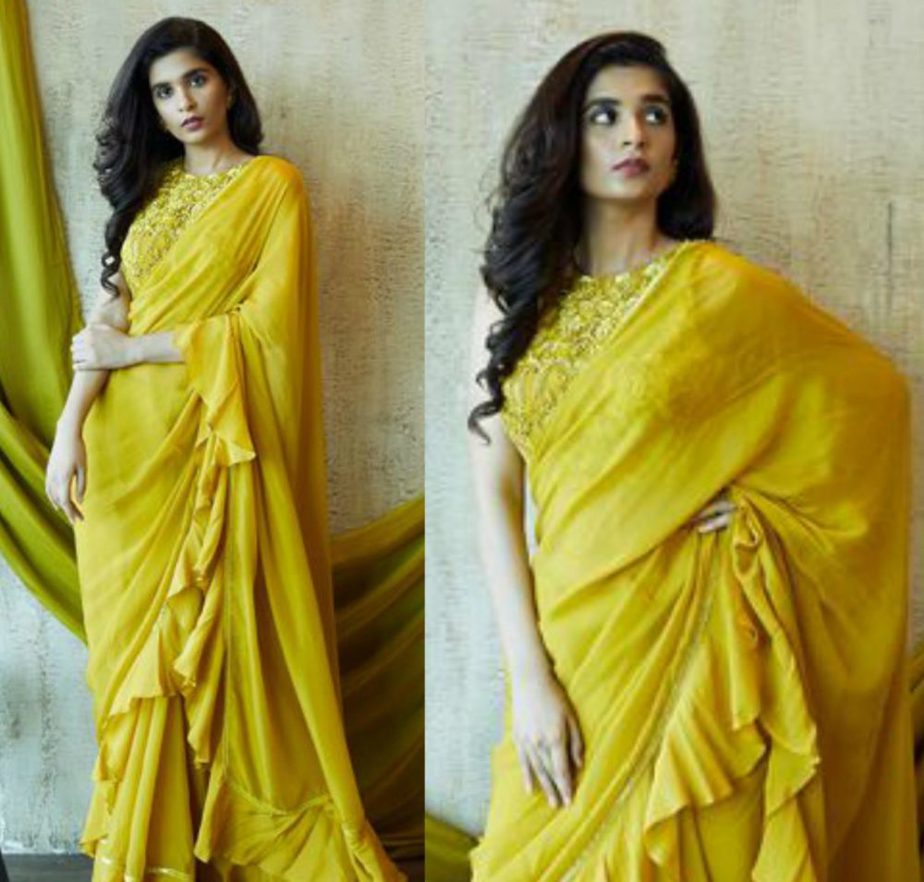 This mustard yellow saree from the Nayantaara collection can brighten up your ethnic event with its unique ruffles. Additionally, the saree comes with an embroidered sleeveless blouse.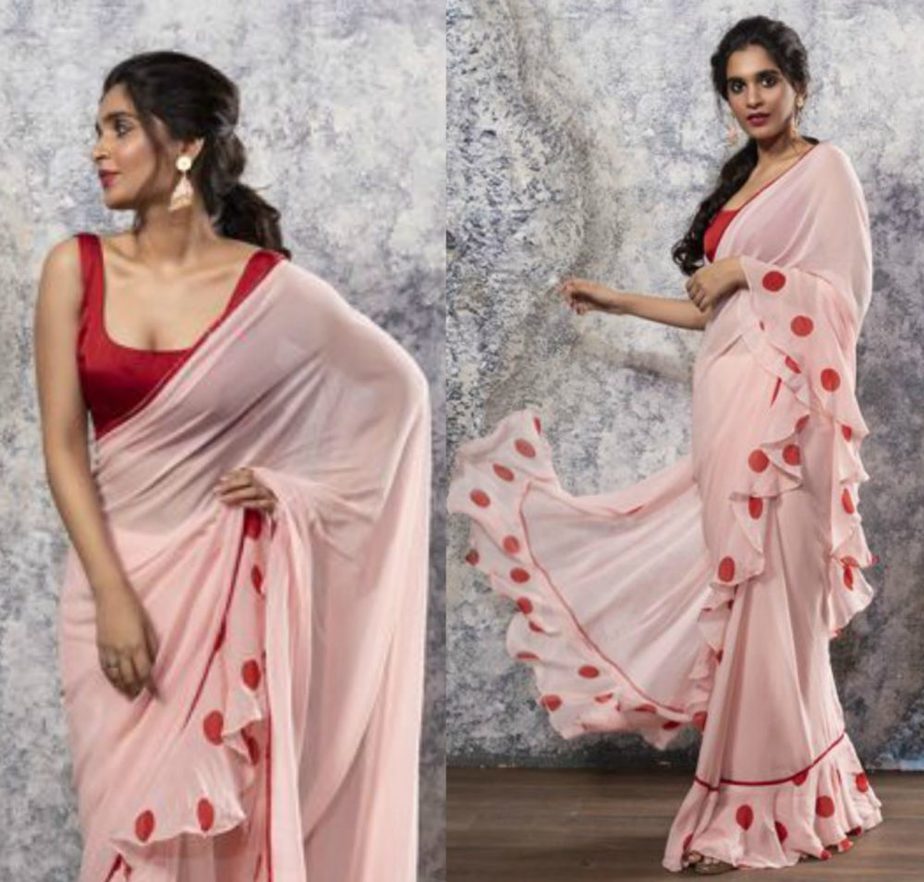 This pink Georgette saree features ruffled border with red large polka dots. Paired with a sleeveless red blouse, the ensemble looks ethereal.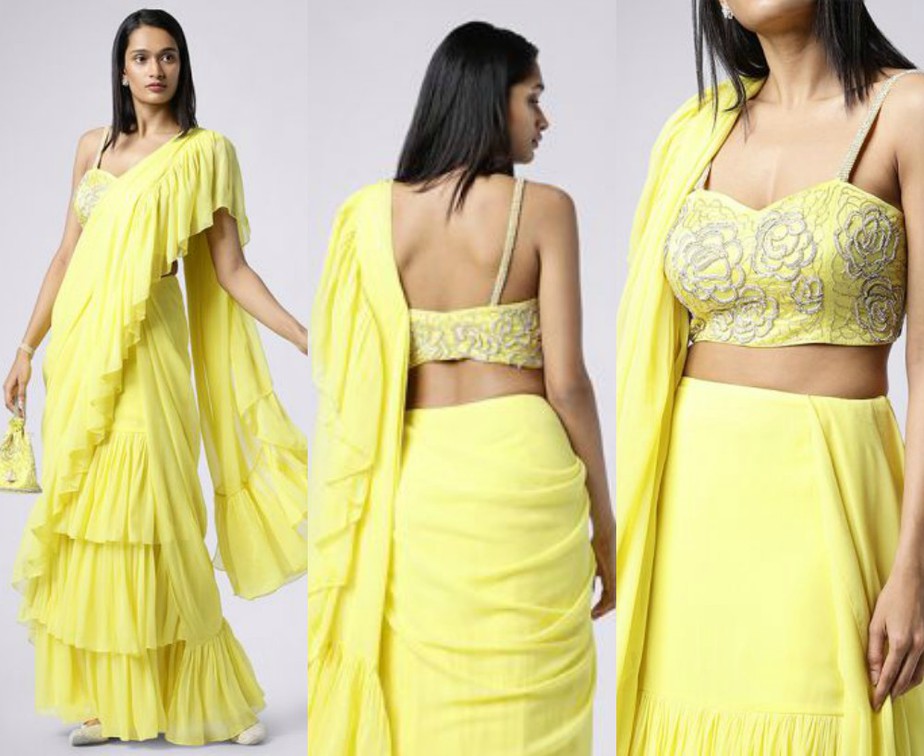 This pre-draped saree is ideal for those who do not know how to drape a saree. The yellow sleeveless embroidered blouse adds a glamorous touch to the look.
Playing with Sleeves
Even a plain simple saree can look stunning with a stylish and unique blouse. Here are a few blouse sleeve designs from the Nayantaara saree collection that are offbeat and unconventional. If you want to create a unique look, check out these pictures.
Increase your glam quotient with this red raw silk and organza saree. It comes with an intricate hand-embroidered gather sleeves blouse. Perfect for a cocktail party, this saree is a must-have in your closet.
Want to give a modern twist to your ethnic style? If yes, then try this pastel pink saree with bishop sleeved yellow striped blouse from the Nayantaara collection. In this look, you are sure to make heads turn.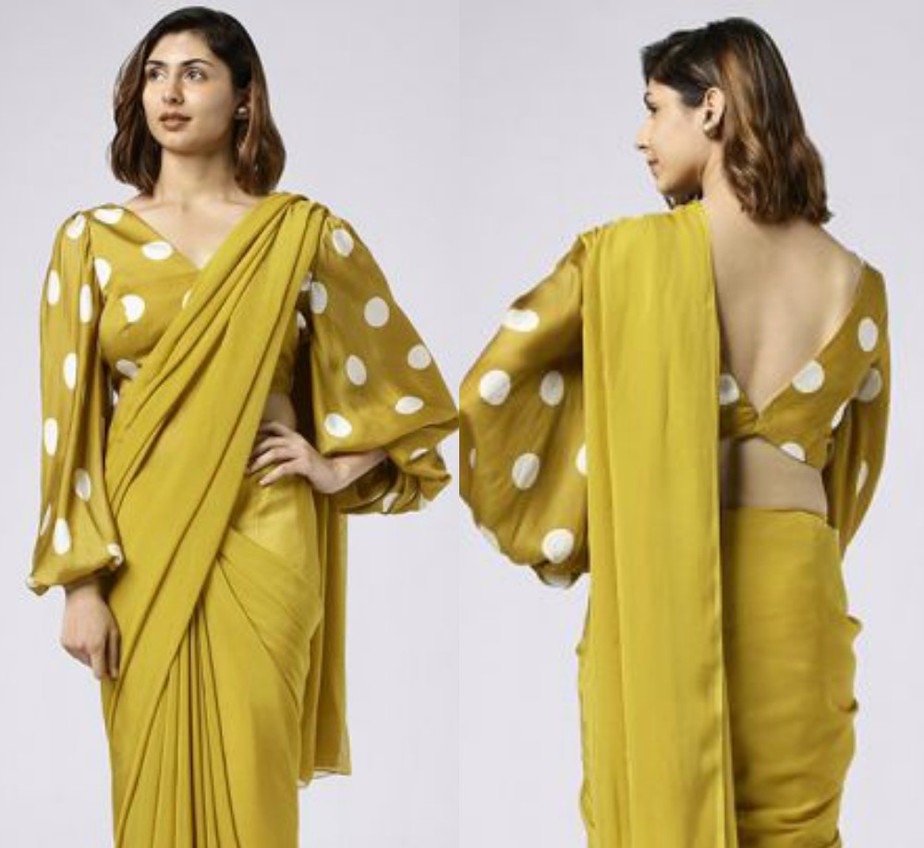 Create a stylish retro look with this mustard gold paper silk saree and polka dots blouse. Also, the unique blouse features deep v-neck back and long lantern sleeves.
This lavender saree with subtle polka dots is perfect for those who are looking for elegant pastels. It comes with a grey blouse featuring gigot sleeves to further enhance the elegance.
Like what you saw? Click here to add these stunning looks from the Nayantaara collection to your wardrobe!