Vidya Balan has been blessing our Instagram feeds with her e-promotional looks for Shakuntala Devi lately. Considering her love affair with sarees over the years, it is safe to call her The Saree Brand Ambassador. In the biopic, Balan also donned saree looks portraying the role of Shakuntala Devi who stuck to her traditional roots by making all public appearances in sarees.
The actress has been spotted in more than fifteen sarees for promotions. So, here we are with a list of our favorites and tips on how you can slay them too.
The Chanderi Love Affair
Looks like even promotions are incomplete without a classic chanderi saree. The actress looked magnificent in a violet chanderi saree with zari and moti hand embroidery on borders as well as the blouse. So, need an outfit for a family party? You know your pick!
The Mathematical Equation
Yes, you heard it right! Only Vidya Balan could stun us all in a mathematical equation saree that took over a month to be woven with silk yarn. The Sambalpuri bandha saree had various equations and formulae printed on the fabric designed by a local brand named Utkalamrita. If you are up for trying something never seen before, this is the best suited choice.
 The Hand Painted Botanicals
The saree connoisseur proved to be the epitome of elegance in a beautiful organza silk saree by Raw Mango. The pale pink saree featured hand-painted botanicals transferred digitally and paired with a poplin cotton blouse and minimalist jewellery. While this classic edition is the perfect outfit for your next office party, it can also turn heads at a small get-together.
The Black Beauties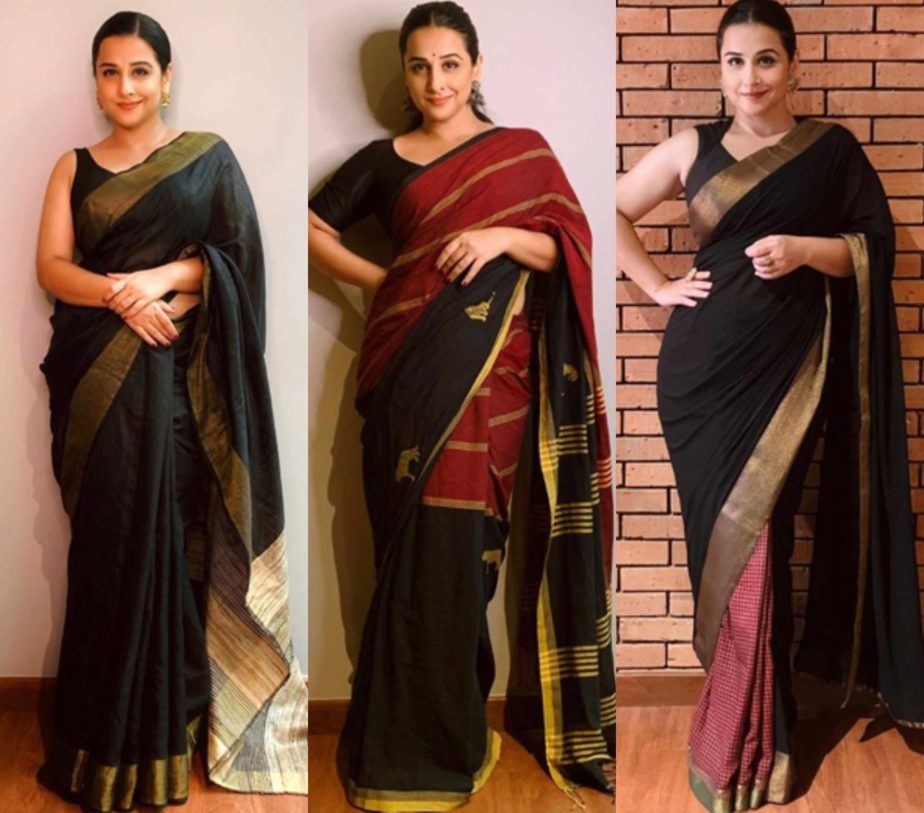 One can never go wrong with all blacks. Spotted in five black sarees, Vidya Balan aced each one of them. Whether it was a cotton saree from a weaver exhibition or going vocal for local for a couple of brands, the simplicity was breathtaking. Go ahead and make one of these super comfortable outfits your staple for day to night looks.
The Colourful Prints and Patterns
In lieu of promotions, Vidya Balan played well with colorful prints and patterns. One of the posts featured Karaikudi Chettinad cotton saree with madras checks along with the perfect amalgamation of mustard, green and red from a weaver. Another one showcased Anavila linen saree in a soothing pink shade with block printing. You can go ahead with any of these for your next day outing.