Jewellery
and accessories have taken the
fashion
world by a surprising storm. With so many styles and types of chic
jewellery
and accessories, styling your saree becomes a fun game. From chic chokers, German silver jewellery, stacking boho accessories – there is so much! When it comes to styling your saree, the traditional jewellery is no longer the only option. There are varieties of chic jewellery and accessories to style your saree look with.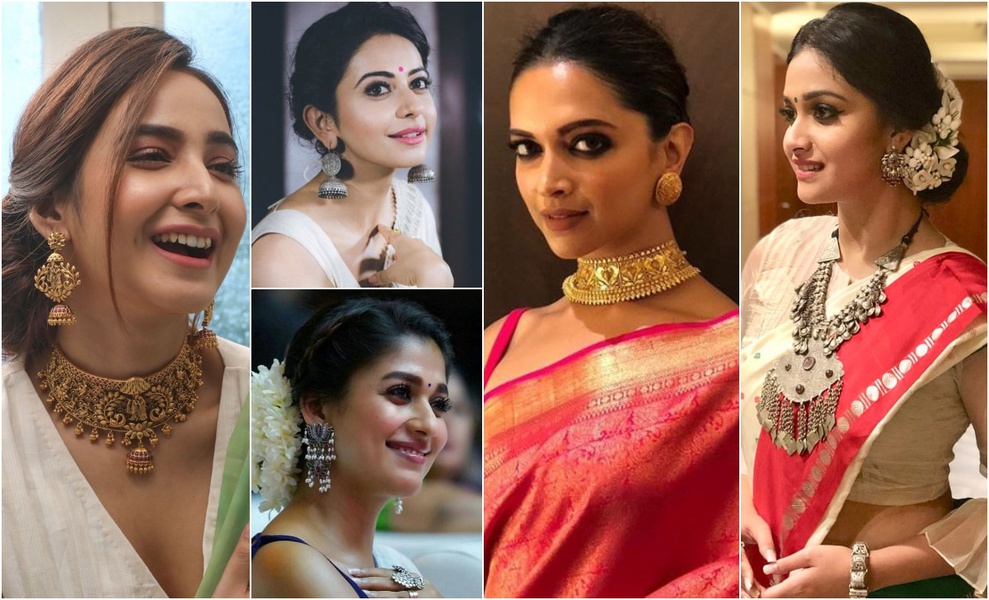 Here are some of the chic jewellery and accessory options for your saree look –
Chokers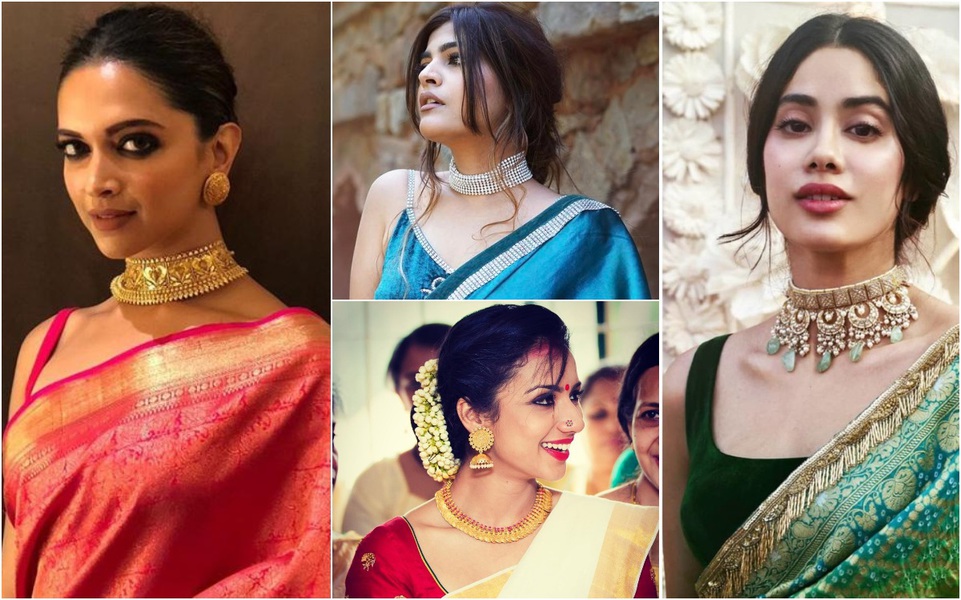 Chokers are a must-have these days. Be it
Deepika
's stunning gold choker or Janhvi's off-beat choker. Both so different, yet make the saree look outshine
elegantly
. Chokers look perfect with a scooped neck or deep neck blouse and when you have a slender neck.
Experiment with traditional chokers as well as contemporary ones and you won't regret
. Even a simple choker is enough to add a fashionable spin to your saree look.
Statement Makers
There's nothing as effortless as this oldest trick in the book. Statement-makers can make or break your saree look, so pick the right one. See what goes with the hue of your saree, if it is gold, ensure that it's in sync with the zari's tone as well. The easiest way to nail a statement-making look is not to overload the accessories. Pick 1-2 and let them be the highlight. Too many jewellery will disturb the look as well as steal the limelight from your saree.
Go Boho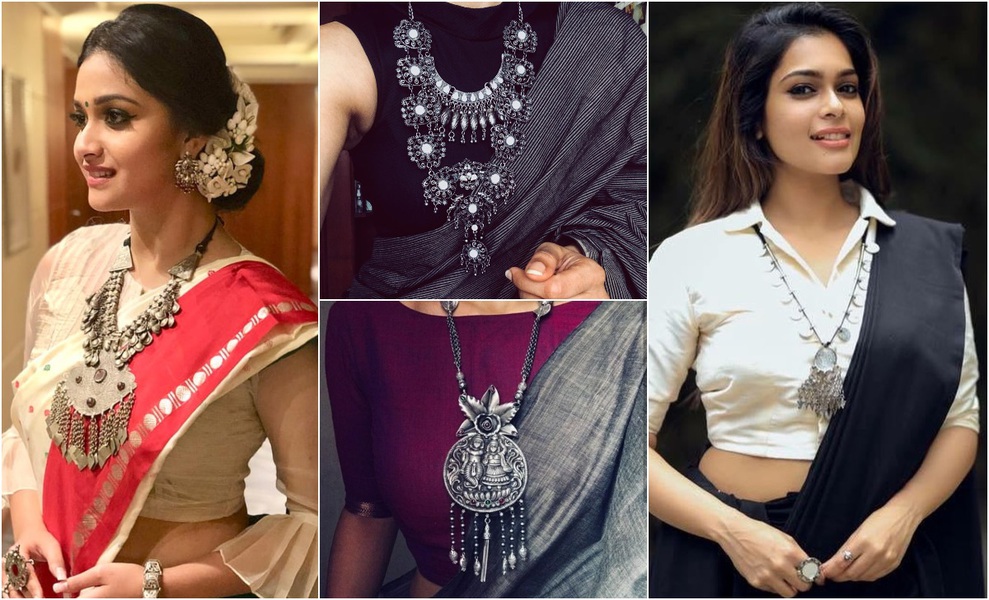 Boho or Bohemian jewellery has become a huge trend these days. They are ethnic and tribal and have a rustic feel with loose fringes to them. Boho jewellery usually has dangling ends, ghungroos, tribal pendants, and beads. When styled with your saree, they add a twist of modern touch to the look. If you are someone who prefers chic jewellery, then try this one!
German Silver Jewellery
German silver jewellery is subtle and manages to create a stylish look every single time. No other chic jewellery can beat the charm of antique German silver jewellery. Actresses like
Nayanthara
, Vidya and even Kareena tried them out on various occasions. From long chains to statement earrings and stacking necklaces – all go well with a saree look.
Up your Stack Game
Stacking necklaces and chains is something we often do with our western outfits. But this trick works
just
as
magically
with a saree look. Layer up chokers with necklaces and look stylish, elegant and graceful. Remember that the tone, texture, and hue of each accessory should be the same. It is only then that it will look like an ensemble and well-styled with your saree look.
Off-beat Designs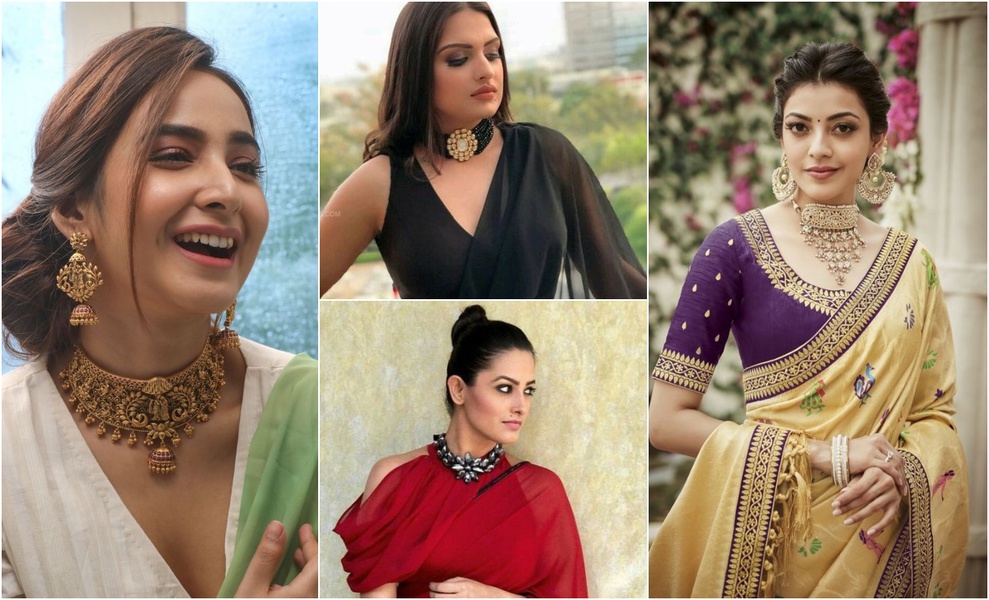 Ditch those regular styles and designs and pick the contemporary ones. If you plan on adding chicness to your saree look, off-beat jewellery might
just
do the trick! From chunky pendants to contemporary chic jewellery – look for something unique. So, if you want to stand out from the crowd, these off-beat designed accessories might be your easy trick.
These are some chic jewellery options to consider next time while you style your saree look.