Kanjeevaram or Kanchipuram sarees are one of the finest silk sarees in India. Each saree is unique, elegant and timeless! It is no wonder, brides often choose this luxurious saree for their big day. They never go out of vogue and are like an heirloom to pass down generations. Above all, our celebrity divas are also smitten by the magic and grace of Kanjivaram Sarees. Most preferred silk sarees, many actresses drape Kanjeevarams for events, awards, and weddings. And they never fail to impress and mesmerize us with their style!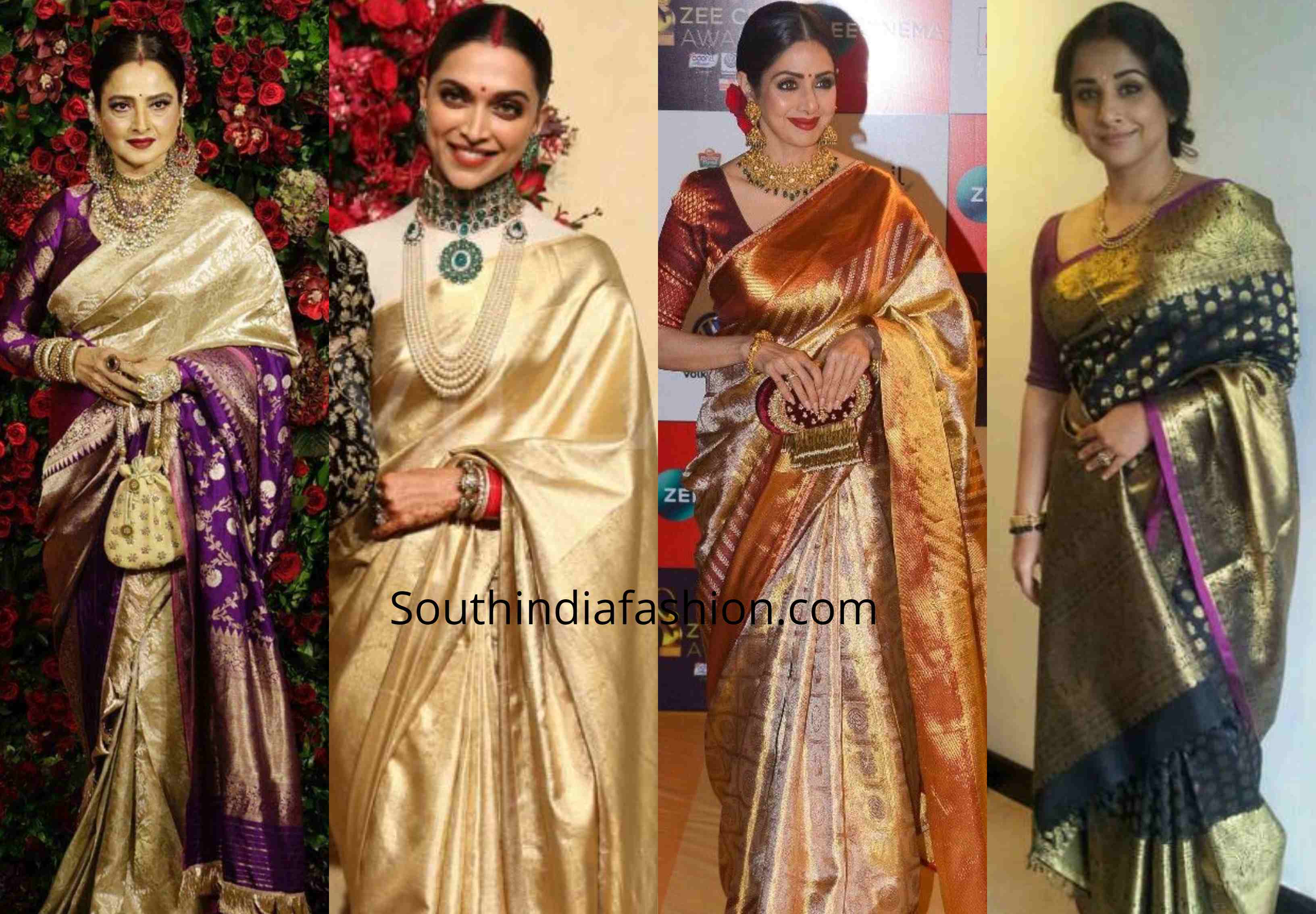 Here are 6 celebrities who have not only worn Kanjivaram sarees but dazzled in it like true divas –
Rekha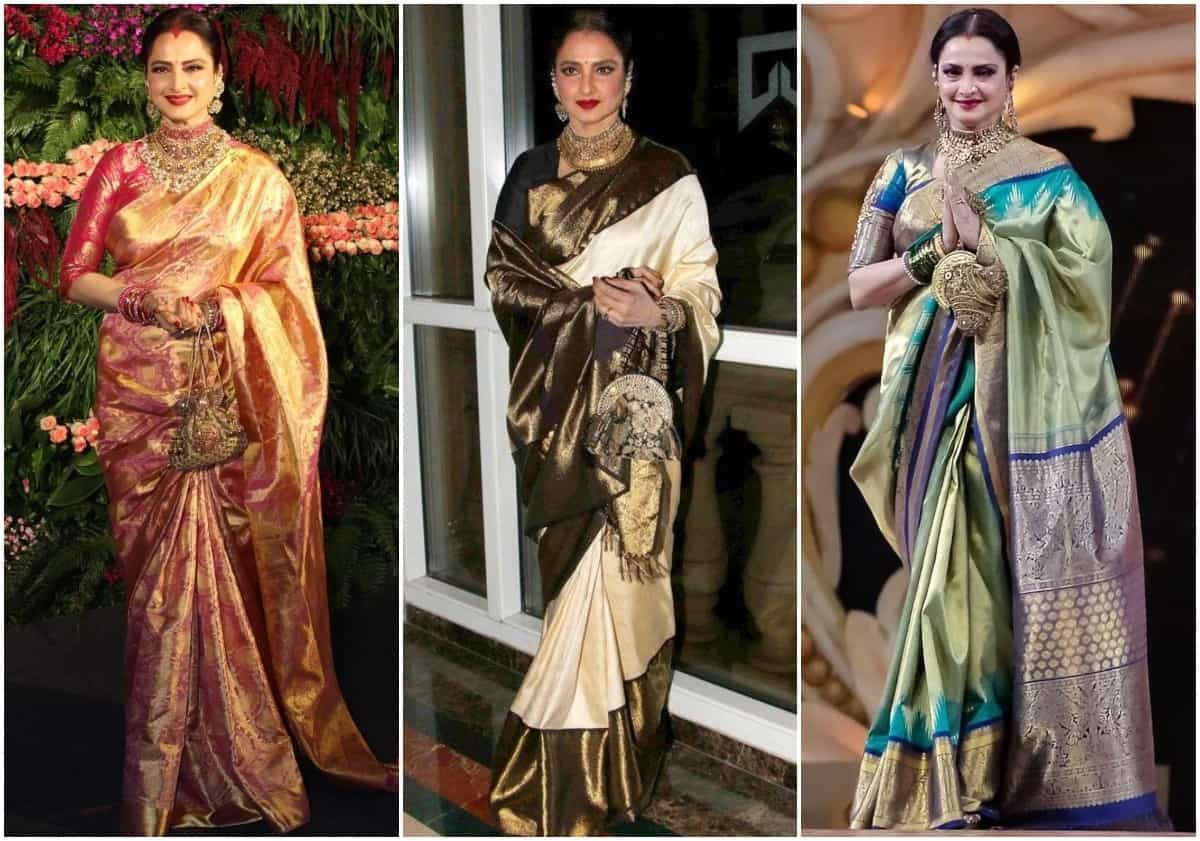 The epitome of beauty and ultimate kanjeevaram fan, Rekha has set some high goals! She often wears kanjivaram sarees in rich colors – Gold, Royal Blue, Bronze, Green, Ivory, Pink, and Burgundy. She finishes her look with royal jewellery pieces. Statement jewellery like heavy gold, kundans, choker necklaces, and traditional temple jewellery.
Vidya Balan
Walking on the trend set by Rekha, Vidya Balan is no less than a South Indian Kanjeevaram beauty! She even confessed that she is an ardent fan of Kanchipuram sarees like her role model Rekha. In fact, her love for Kanjeevaram was visible and adored even internationally! For instance, she wore a fabulous bronze kanjivaram saree to the Cannes Red carpet. She charms with the classic elbow length blouses, statement earrings, and low hair bun.
Deepika Padukone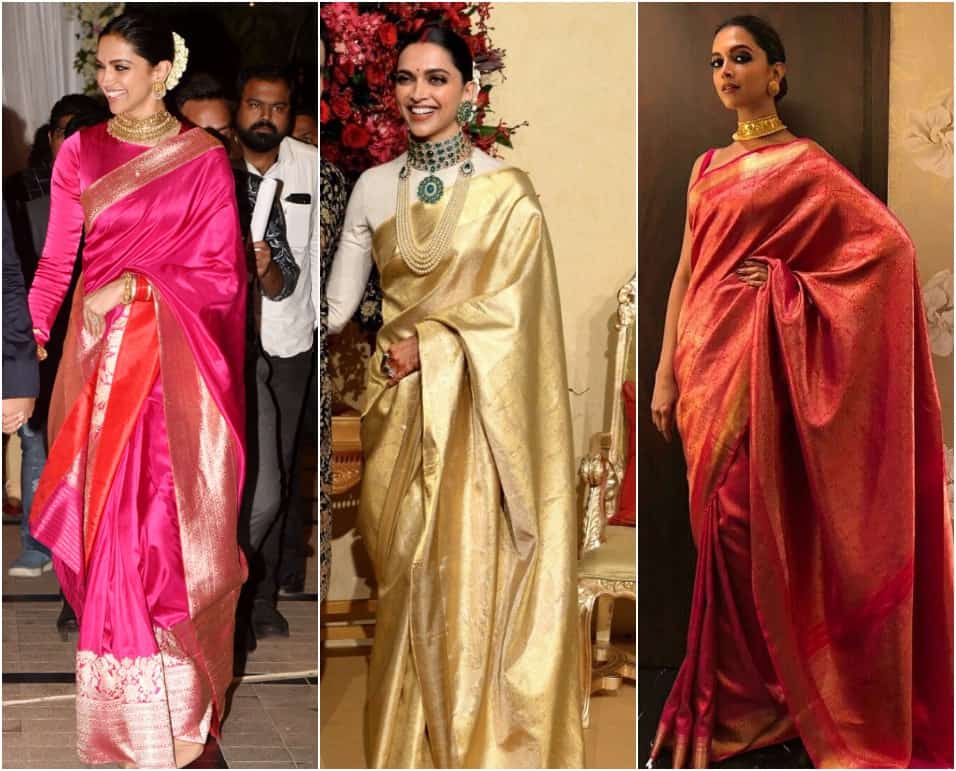 Another diva, Deepika Padukone wears her silk sarees in utmost grace and elegance! She wore an all-golden saree for her wedding reception and mesmerized us all over again. However, she keeps her style simple yet traditional! With nothing but center-parted sleek bun with flowers and statement chokers. She even wore a heavy red kanjeevaram for her wedding. And styled it with traditional temple jewellery and looked breath-taking!
Samantha Akkineni
Samantha Akkineni is famous for her grace and charm in a saree. She is also often seen wearing kanjeevaram sarees in a variety of colors and style. For her wedding, she wore a golden Kanjeevaram saree with embellished borders with contrast maroon embroidered blouse.
Hema Malini
The dream girl of Bollywood never fails to impress with her collection of silk sarees. Hema Malini often prefers wearing light-weight Kanjeevarams for weddings and other events. Above all, keeping her look usually simple, she lets her saree be the highlight and in focus! Her beauty and the saree's grace is all in its simplicity.
Sridevi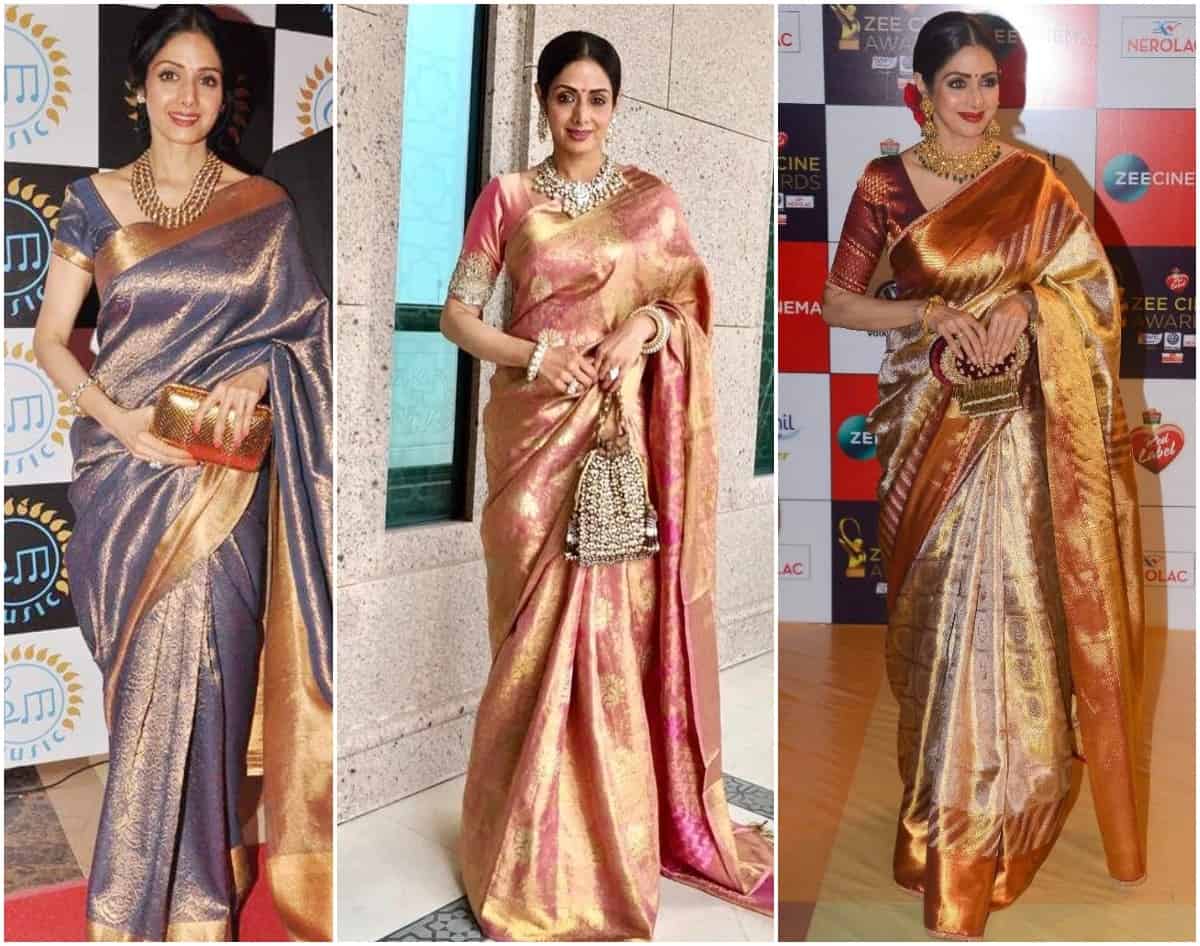 The charismatic beauty, Sridevi loved donning the silk sarees for every big event. Looking all pretty and graceful, she picked sarees of golden-tone in vibrant colors. She even wore a rich-looking heavy kanjeevaram when she went to collect her Padma Shri Award. Above all, she finished her look with a studded potli bag or a clutch. In other words, her elegant and sophisticated charm was a definite delight to adore!
In conclusion, Kanjeevarams/Kanchipuram sarees are the quintessential must-have in your wardrobe!