Whoever said silk sarees were boring and not for the younger ladies did not see these pictures. Gear up ladies as this post is going to change your views on silk sarees forever. If you want to see how donning a trendy silk saree blouse can transform your outfit game altogether, check out how Shriya Saran paired rich kanjeevaram sarees by VRK silks with trendy blouses: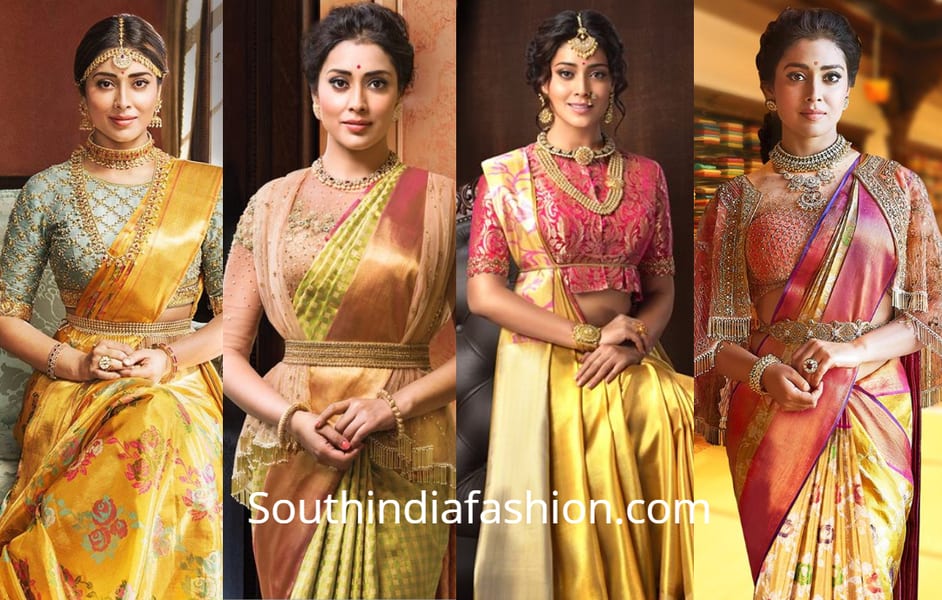 Pink Brocade Trendy Silk Saree blouse
This is such a gorgeous attire worn here by Shriya Saran. She has paired this beautiful pink brocade blouse with a golden Kancheepuram Saree. We love the ruffle detailing below the blouse and the palla style which perfectly shows off the blouse. The entire look with the jewelry is perfect for a bride who wants tradition with style.
Mint Embroidered Trendy Silk Saree blouse
This beautiful and bright floral silk saree paired with a mint embroidered blouse is as gorgeous as it can get. We love how the bright yellow looks with a pastel blouse. This is a perfect wedding outfit for summer brides.
A cape affair
The golden silk saree is paired with a bejeweled waist belt and a beautifully embroidered cape blouse with fringe detailing.
We just love how Shriya Saran has styled it with pulled back hair and classy jewelry. It will be a perfect addition to a bride's trousseau.
Sequinned silk saree blouse
If a Rajputani Princess ever wore a silk saree, this is how we imagine she would have worn it. The gold zari embroidered saree looks beautiful with the full sleeved sequinned blouse with sheer sleeves. We also love how she has worn a Borla with the look.
Bridal silk saree blouse
This gold kaanjivaram saree is perfect for a bride. She paired it beautifully with a beige embroidered blouse with elbow length sleeves. We love how the neutral tones of the blouse bring the perfect balance to the glitz of the gold ensemble.
Contemporary Trendy Silk saree blouse
We just love this off white kanjeevaram  saree with a gold border paired with what looks like a sheer embroidered jacket blouse. The jacket is overlapping the pallu on one side only and the draping gives a very slimming effect. This outfit can be worn by anyone who loves contemporary outfits.
Royal Maroon silk saree blouse
This yellow gold zari saree is paired with this beautiful full sleeved blouse in the rich hue of maroon.
Princess cut Trendy silk saree blouse
This beautiful saree in sunset hues has been matched to perfection with this princess cut high neck gold blouse.
Gold silk saree blouse
This classic silk saree in the combination of off white and red with a gold border is paired with a gold and beige embroidered blouse with sheer sleeves. This saree can be worn with this blouse by all age groups be it the bride or even mother of the bride.
Shrug style trendy silk saree blouse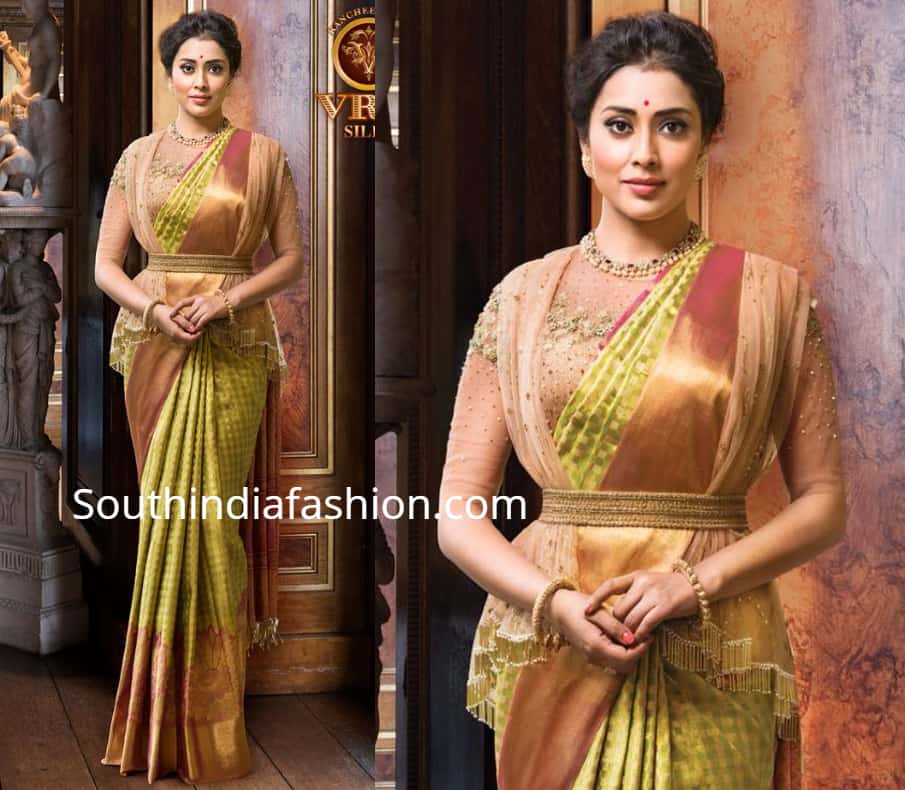 This amazing saree in citrus hues has been styled with a elbow length sleeves blouse with a similar color shrug. It also comes with a waist belt to define the waist.
Tassel Cape style blouse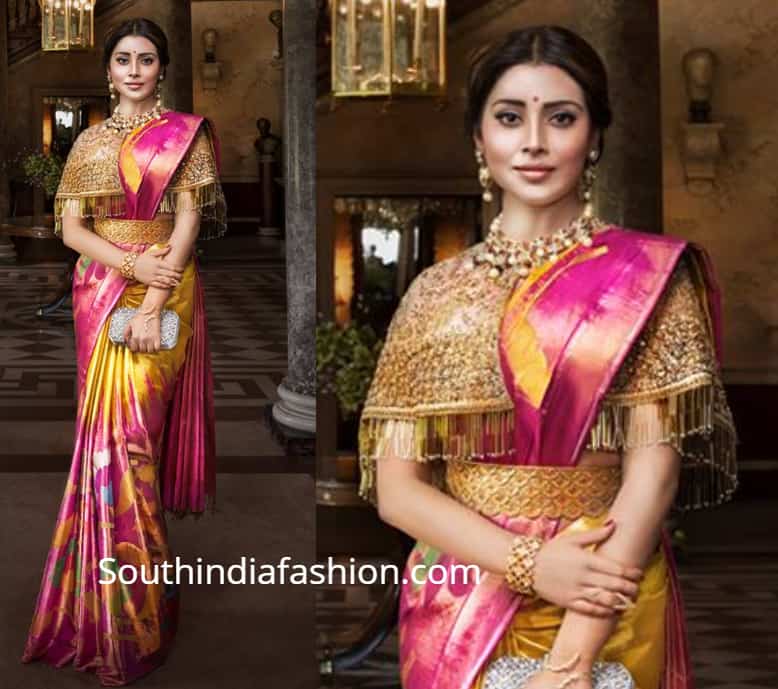 Have you ever seen an ombre silk saree? well, here it is. VRK silks have seriously outdone themselves with this particular piece. We love the beautiful hues of pink and yellow paired with this sequinned tassel cape. The cape style blouse is truly an investment piece as it can be worn with so many other outfits other than this saree.
Outfits Details:
Sarees by – VRK Silks
Blouses designed by – Sithara Kudige