The royal high neck blouses are very hot in trend and a class apart.  Flaunt the high neck with fantastic and innovative collars and you will only be surprised with the number of compliments you receive. This stunning style looks amazing on women with slimmer silhouettes and is best suitable if you want to flaunt a sophisticated, stylish yet comfortable look. Be it for formal office wear, party wear or any festive or wedding occasion, the collar saree blouses will glam up your saree look just as efficiently as any other stylish blouse design. And what's even better is, this versatile blouse design can be flaunted by anyone at any age and occasion. Collar saree blouses can be mix and matched and styled in so many different ways for various different occasions.  Read more to know the various kinds of collar blouses and some simple tips to wear them.
SHOP READY MADE COLLAR NECK BLOUSES ONLINE HERE!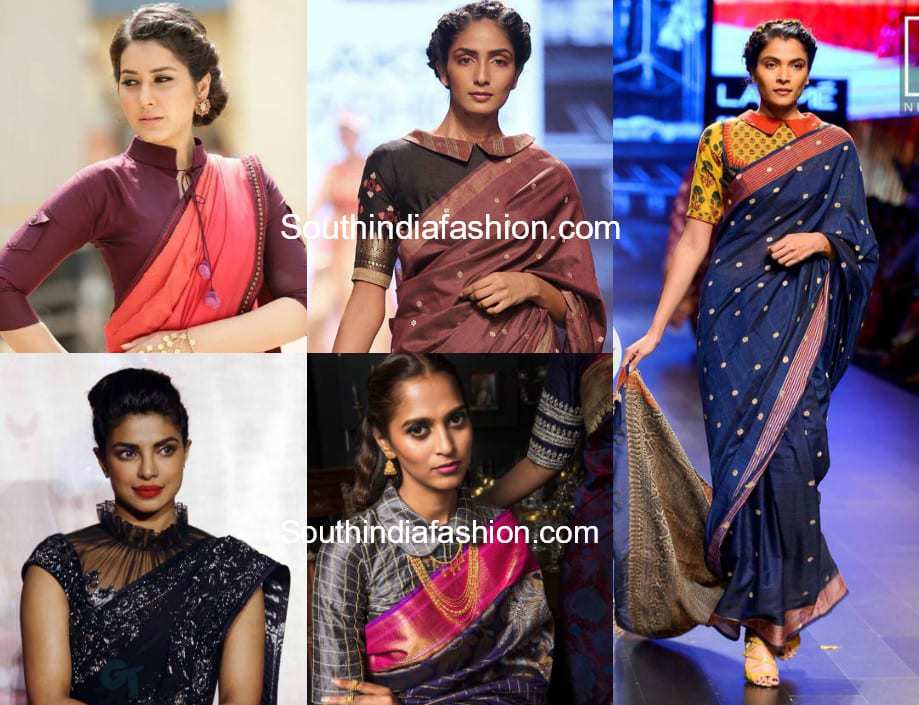 Collars like chinese collars and shirt collars look best with sarees like handloom, cotton, linen, silk and if carried well you can even flaunt them with flimsy designer sarees. The collars look best when they are sported with sleeveless blouses, 3/4th sleeves and full sleeves.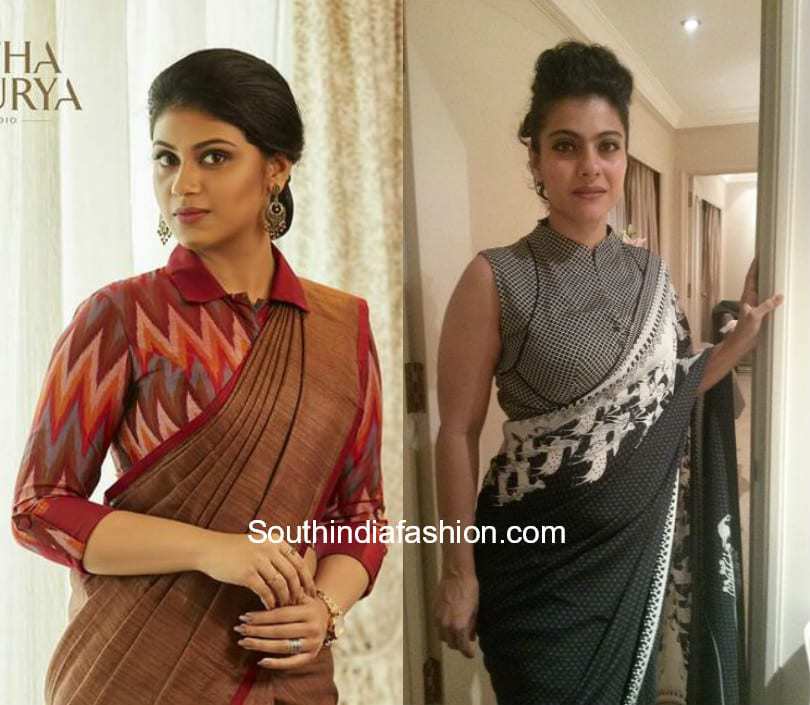 Some do not like the idea of wearing collar saree blouses as it may feel very suffocating, that's when you have an option to flaunt the open collar blouses with front buttons. The open collars look equally modest and are comfortable too. Pleat up your saree pallu and flaunt the collars to make a statement.
For any formal or party occasion, embellish your collars with delicate embroidery or embellishments. The bling collars will stand out and dress-up any saree look. Sleeveless or chic cap sleeves are the best options to sport as party wear saree blouses. To try out a bold and edgy look, you could also flaunt a frill collar instead of a chinese or a shirt collar.
Collar blouses look fabulous on any fabric. Plain collar blouses, printed collar blouses or collar blouses with patchwork will steal the show.
Collar blouses are super tricky and give you endless options to dress up. Embellish them or accessorize to be the highlight or simply leave it plain and let the design do all the talk. So would you invest in the classic collar blouses for your next occasion? Share your thoughts in the comments below.
SHOP READY MADE COLLAR NECK BLOUSES ONLINE HERE!