Kanchi Organza sarees have a sheer elegance and simplicity which is just perfect if you want to flaunt a traditional look and be comfortable too. The light weight concept of the saree with the look of a kanjeevaram silk makes it perfect for summer weddings and events. Inspired by our celebrities, we bring you 7 beautiful kanchi oraganza saree looks. Scroll down to know why we love them and for ideas to recreate such timeless traditional looks.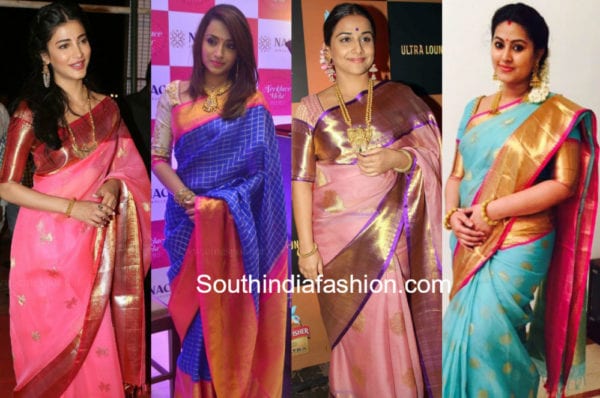 Celebrities in Kanchi Organza Sarees
1. Vidya Balan in Onion Pink Kanchi Organza Saree
Actress Vidya Balan is well known for flaunting her best traditional avatars in timeless sarees. She wore an onion pink kanchi organza saree by Gaurang Shah enhnaced with temple jewelry and a hair-bun adorned with flowers to compliment her look. The actress did complete justice to the traditional look.
2. Trisha Krishnan in a blue Organza Kanjivaram saree
We simply adore actress Trisha's desi avatar and this one is definitely one of our favorites. Trisha Krishnan wore a blue organza kanchi saree from Golden Threads featuring a contrast pink and gold border paired with a white embroidered blouse. Statement gold jewelry rounded out her look.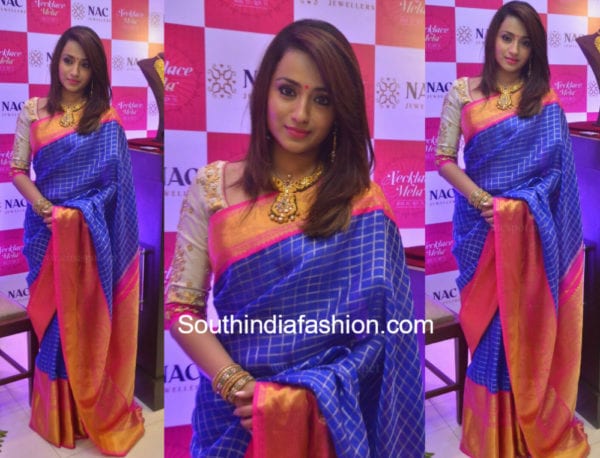 3. Vidya Balan in Yellow Organza Kanchi Saree
Another favorite look of ours by Vidya Balan is in the yellow organza kanchi saree again by Gaurang Shah. She made a bold statement to the saree look with contrasting green necklace and earrings. From the colors to the styling, what's not to love about this look?!
4. Sneha Prasanna in Light Blue Kanchi Organza Saree
Sneha Prassana rocked the traditional desi avatar in a light blue kanchi organza saree by Dasari Parvathy. The saree featured a contrast pink and gold border and pallu. She finished off her look with traditional gold jewellery and a classic braid adorned with mogra. We are mesmerized by the traditional charm in her look.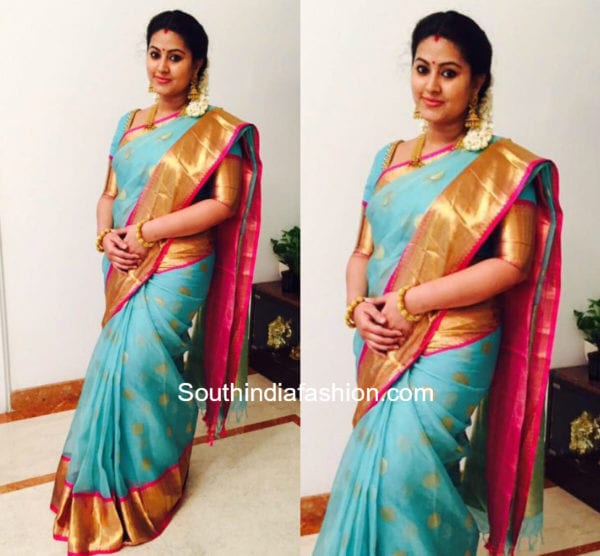 5. Shruti Haasan in pink Organza Kanjivaram saree
How gorgeous does actress Shruti Haasan look in this pink organza kanjivaram saree. She paired up the timeless Gaurang Shah saree with an elbow sleeves blouse and accentuated the look with gold jewelry.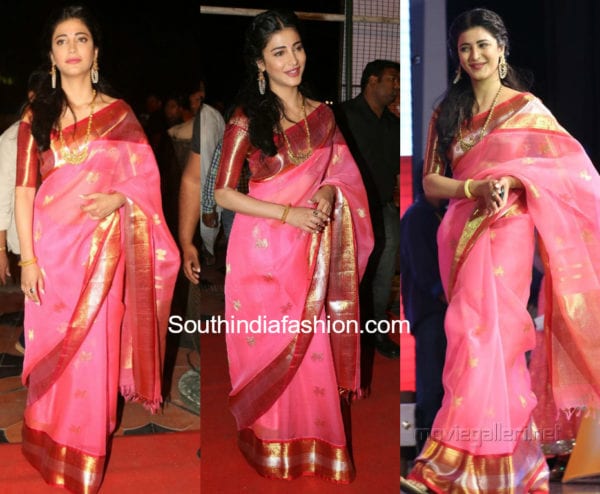 6. Jeevitha Rajasekhar in a grey Kanchi Organza saree
Jeevitha Rajasekhar wore a grey kanchi organza saree with a silver, gold and cheery red border and pallu. The subtle color with bright border and pallu balanced out her traditional do.
7. Shilpa in a royal blue Organza Kanchi saree
At a recent wedding event, Hyderabad socialite Shilpa wore a royal blue organza kanchi saree accessorized with a gold mango necklace. She further accentuated her look with a potli bag and finished off her look with bold make-up.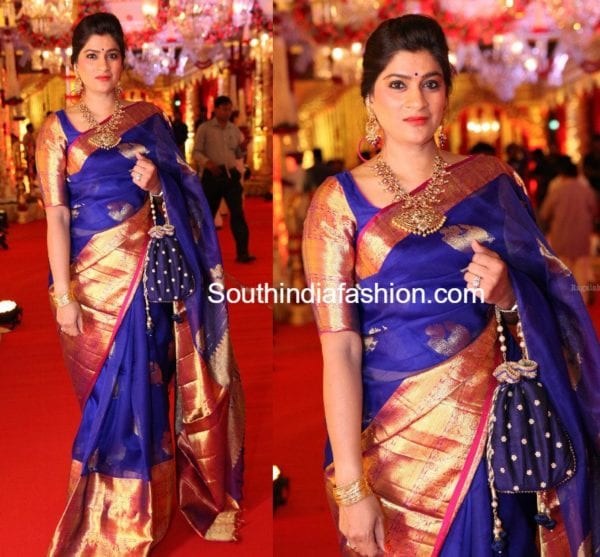 Kanchi Organza sarees are easily available to buy online or at your local silk saree stores. Price of pure Kanchi organza sarees range from Rs.25000 and up  depending on the quality and amount of zari used.
This summer festive and wedding season, choose to wear the traditional look in stunning organza kanchi sarees with timeless gold jewelry. Temple jewelry and antique designs are highly trending and are a timeless investments. So how are you styling your traditional sarees this season?!