Want to flaunt the latest outfit? And yet be comfortable too?! The anarkali gowns will do wonders to your look. Be it any age or any occasion, one can easily dress up or down in the stylish anarkali gowns. The western gown alike Indian ensemble elements immense grace and comfort thus making you to be hassle free and yet look at your ethnic best. This versatile outfit is the ideal choice to flaunt at weddings, festivities, for bridesmaid outfits or even if you are a wedding guest. The evergreen anarkali gown style is here since quite a while and is only getting bigger. So in this article, we bring you some inspiring anarkali gown styles and reasons why you can never go wrong in them.
1.Super Comfortable
The anarkali gowns are super stylish and give you utmost comfort which is one of the main reasons why this style will never go out of trend. This dressy outfit easily allows you to skip on the dupatta and flaunt it at different occasions depending on the style. Who wouldn't want to flaunt a hassle free and a comfortable outfit like the anarkali gowns?!
2. Anarkali Gowns are Versatile
From casual day event to night parties to weddings to even red carpets, the anarkali gowns are worn literally everywhere. The Indo-western look can be worn in many different ways and looks good in every fabric and every color. Elbow sleeves, full sleeves, sleeveless anarkali gowns look great.
3. Easy To Style
The elegant anarkali ensmeble can be styled in endless different ways. Enhance it with statement accessories or embellish the neckline and border with bold embroidery or simply layer your anarkali gowns with jackets and shrugs for a modern look. They are so easy to style and one can never look over-dressed or under-dressed in them.
4. Suitable to any body silhouette
From taller body silhouettes to shorter, healthier or slimmer, be it any body type, the stylish anarkalis are very flattering and will never let you down. One can style the anarkali gowns in numerous different ways according to your personal style and occasion. Wear high heels with your anarkali gowns as it will enhance the look of the outfit.
If you want to achieve a slimmer look with the anarkali gown, then opt for flowy fabrics like chiffons and georgettes. And if you want to look healthier, go for fabrics like silks and brocades because such fabrics will help you to make a statement with the flare.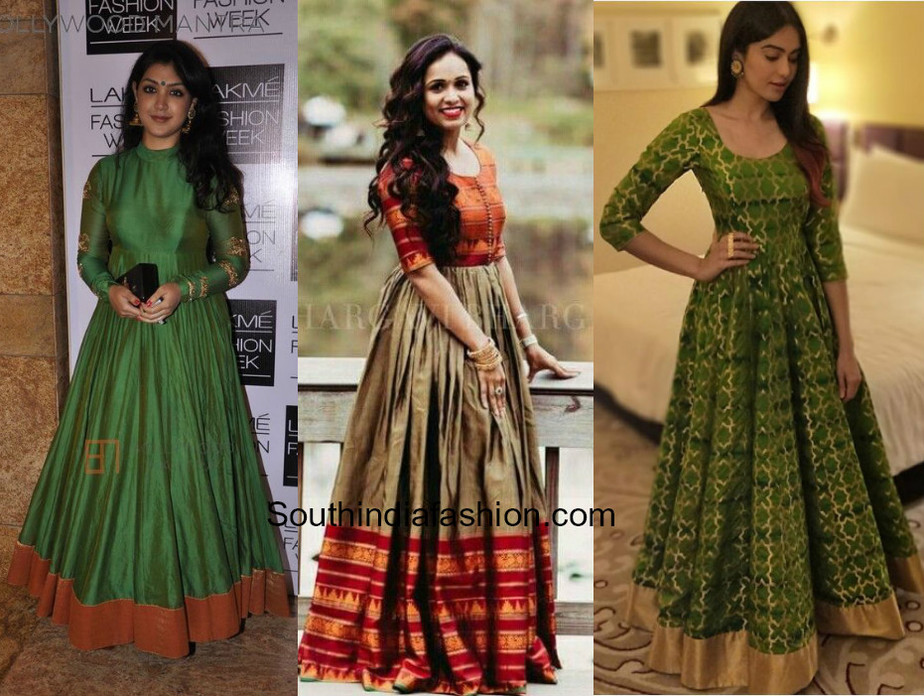 No matter what your body type, occasion or style is, the classic anarkali dresses will never go out of trend. So if you are looking for a timeless investment, you know what to count on.
Shop Anarkali gowns online HERE!