Our Bollywood celebrities play a major role in giving us fashion and style inspiration. It is not easy to curate a saree look. From choosing the right blouse, the right accessories and the hair-do, it is very important to style your saree look right. And who better than our bollywood celebrities can help us work it right?! With the plain sarees a huge rage, we have rounded out a few plain saree looks and some tips and tricks to style your plain saree right.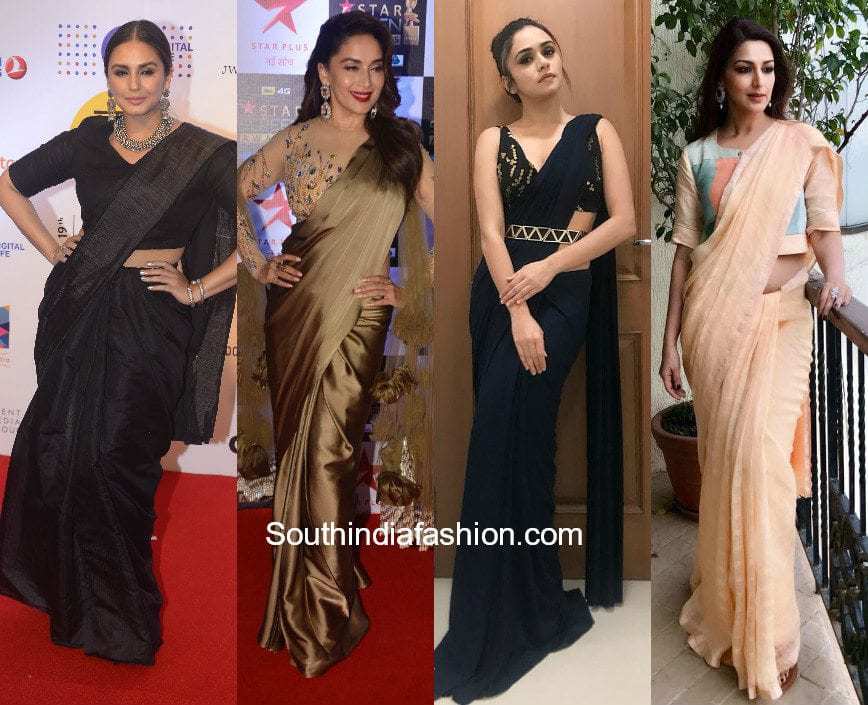 We all own atleast one plain saree in our wardrobe but rarely do we feel like styling it. Plain sarees are one of the most versatile pieces in our wardrobe as they can be easily dressed up or down. Wear it with a simple blouse or jazz it up with a statement blouse and edgy accessories.
Plain sarees come in a variety of fabrics like cotton, handloom, silk, chiffon, georgette and so on. Team up the right blouse based on the fabric. You can also mix and match your statement tassel blouses, brocade blouses or sequins blouses for a party look. And if you want to keep your look subtle, go with a matching embellished or plain blouse. Plain cotton sarees can be teamed up with contrast cotton blouses with embellishments for a casual day look.
Amp up your plain saree look with edgy accessories like embellished belts, bold clutches and statement jewelry. You can also experiment your plain sarees with interesting and stylish drapes than going with the usual style.
Plain sarees are one of the easiest trend to style and flaunt by anyone at any age. You could reuse your plain sarees like no other and wear them at almost every other occasion. So pull out your plain sarees and rock in them.