A red lehenga is perhaps the first lehenga option that comes to your head when you go wedding shopping. It is tried and tested and suits almost all skin tones and is a typical bridal color. Though there are many colors that are chosen right now, a red lehenga can never lose its splendor. There are 5 red lehenga patterns that we would want to check out if red is your choice.
1. A Touch Of Tradition
When there are lehengas of net, organza with heavy embroidery done, try options like a heavy Banarasi lehenga or a Kanjeevaram lehenga that has its own charm. These lehengas are timeless and look great when paired with heavy antique jewelry.
2. Intricate And Heavy
These are the perfect choice for bridal lehengas as they are heavy with zardosi or any kind of work that you want done on your lehenga. The red color is visible only here and there due to the extensive embroidery and as a bride you can carry this off very well.
3. Flowery tales
When you are getting a customized lehenga the best is you can decide what kind of embroidery you want done. Floral embroidery detail can be done for anyone as this suits all. You can try the latest whole larger flower style or the smattering of vines and flowers.
4. Wedding Stories
When it comes to customized lehengas, the trend now a days is to have wedding stories, names and a lot of things on your lehenga. It could be a beautiful barat scene or your love story all over your lehenga. This is unique and would take your wedding up a notch and of course, your lehenga would be the talk.
5. Simple Lehengas
If you are not very keen on wearing red for the ceremony, but want to have a red lehenga as a part of your trousseau then we would suggest a simple lehenga that you can wear for other functions or any pre-wedding festivity.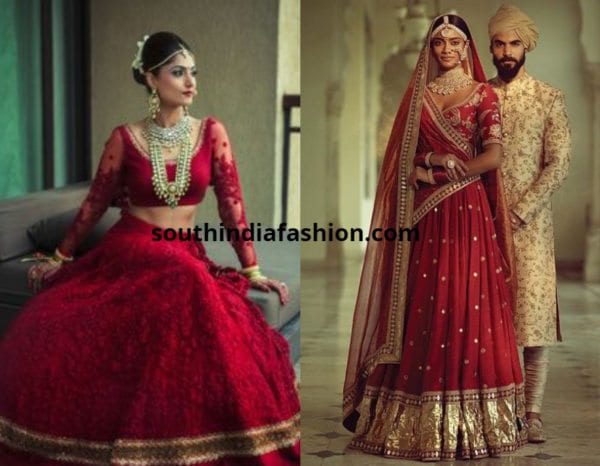 These trending red lehenga patterns will sure help you with designing your bridal lehenga!!