When we talk about Kanjeeveram sarees the main colors that pop into our head are red, green, pink and blue. What we do not think about is the whole other palette of colors that are waiting to be explored and we are sure each of these colors will make you look as beautiful as the main colors you choose. One such color is royal purple. Purple Kanjeevarams are a royal treat to wear.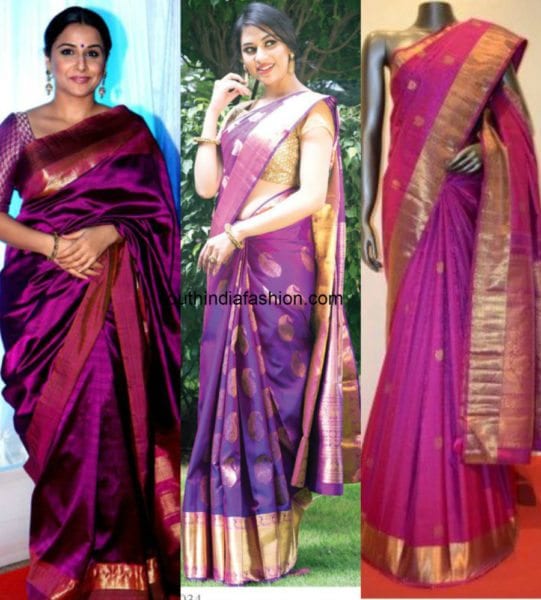 Purple Kanjeevarams are beautiful when worn. It cannot go wrong with any kind of body type or skin tones. We feel that a purple or violet family Kanjeevaram saree works beautifully with multiple contrast borders. We are quite partial to the purple with gold borders though. Purple Kanjeevarams also looks great when you wear it as a double weave by adding shades of pink, blue teamed with the contrast borders of the inline color of pink or blue.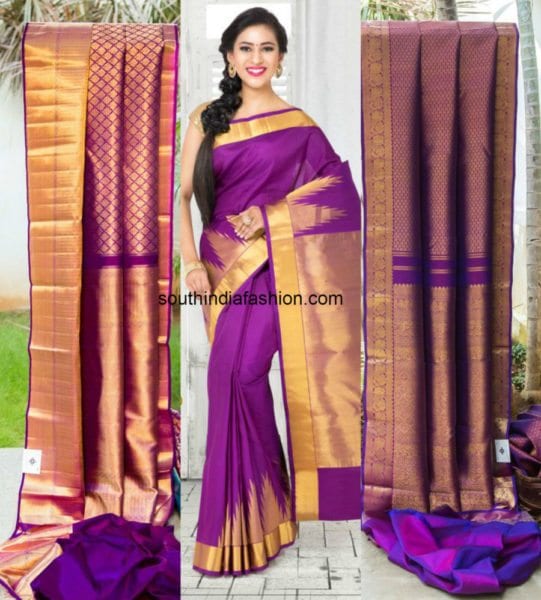 As a bride you should be picking up a purple Kanjeevaram saree for one of the festivities. If you are one of those brides who want to stand out options like an orange contrast blouse with heavy work and antique jewelry will make you look the perfect bride.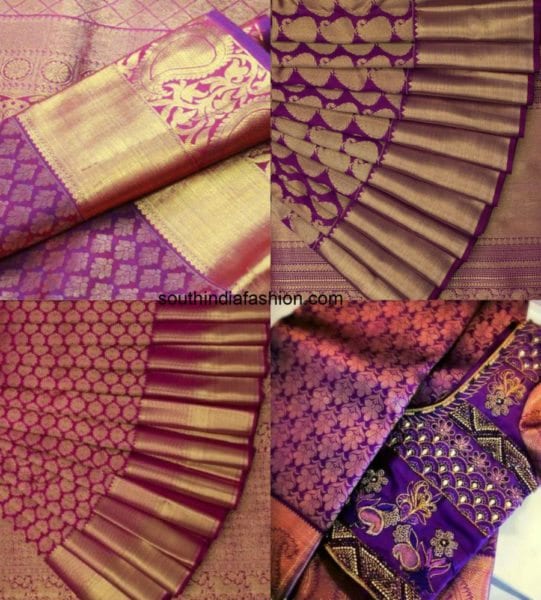 When you are wondering what kind of blouses would suit a purple Kanjeevaram saree go for easy choices like gold, purple by itself, green or pink. When you are trying out a purple blouse, you can go with heavy maggam work in gold or contrast tones. Even as a part of the bridal camp you can opt for purple tones which would look perfect if your brides are choosing colors like gold, pink. These would not clash with bridal colors and overall you will get beautiful pictures too!!
Accessorize with heavy gold jewelry and totally rock the purple Kanjeevaram look. It would be a fresh look!!