If you want to try out on one of this season's top most trends, the kalamkari maxi gowns are the one to go for. Kalamkari maxi gowns serve to be one of the most effortless and graceful outfits suitable for your daily wear or even semi-formal occasions. This day to night staple is super comfy and will never let you down. What more can you ask for? Check it out and flaunt them in style. Here are a few tips and tricks to work you kalamkari maxi gowns with grace.
Kalamkari involves a lot of print so to break the monotony go with a plain fabric yoke or sleeves. You can also experiment with high-low hemlines to add a pattern to the outfit. Experimenting with delicate borders and laces will also accentuate the outfit.
Kalamkari maxi gowns with plain borders or vice versa are an ideal option if you do not want your outfit to look too loud. Just a hint of the fabric on your outfit will be an instant head turner. So if you want to make a subtle statement with prints, the kalamkaris are the way to go!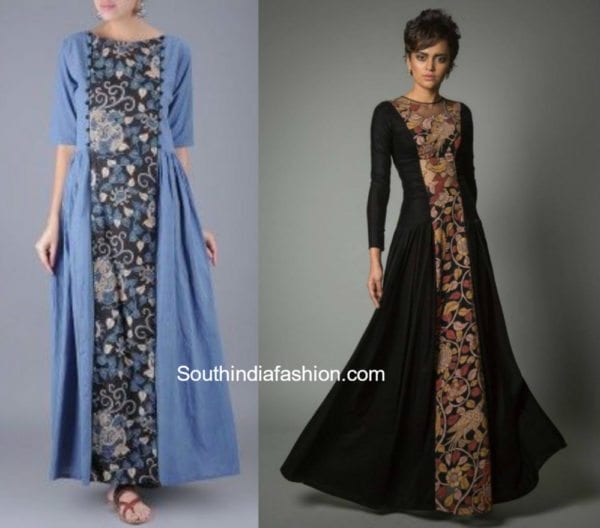 Layering is another trick if you want to add more style to your kalamkari maxi gown. Layer your gowns with a cape or simply throw on a contrast dupatta for a dressy look.
Simple kalamkari gowns make a wonderful option if you love accessorizing. Go bold with your accessories by pairing it up with a statement belt or jewelry. You could also keep it simple if you want to flaunt a subtle look.
So if you are looking for a suitable kalamkari maxi gown based on your comfort and occasion, these simple tips and tricks will help you win the look. The evergreen kalamkaris look exuberate on any age and grace every occasion. So go ahead and flaunt them in style.